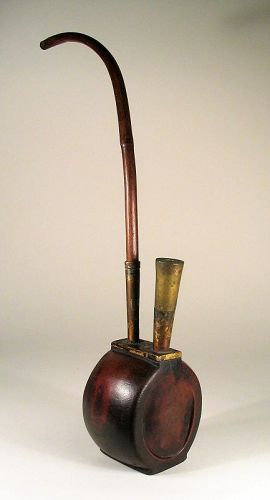 Antique Chinese Bamboo Pipe
MS63
DESCRIPTION: A Qing dynasty bamboo pipe, possibly used for either opium or tobacco, with a bulbous body crafted from a large segment of giant bamboo. Mounted onto this segment are heavy brass fittings, one for the tubular tobacco bowl with its long brass shaft descending into the body. The other brass tube holds the long, bent bamboo stem that is used to draw the smoke out. Very good condition with a nice patina. DIMENSIONS: 16" high assembled (40.5 cm). The bamboo body is 3 ¾" wide (9.5... Click for details
$265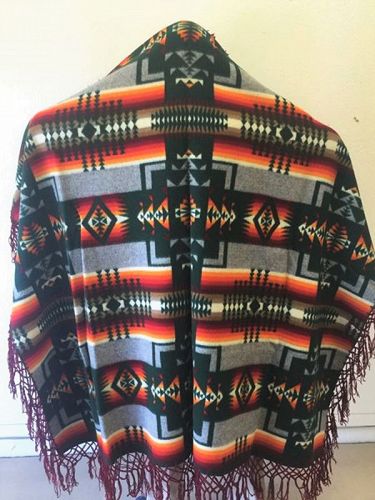 Pendleton Wool Blanket, Robe or Throw
W-TX10
DESCRIPTION: Great reversible pattern Pendleton blanket with horizontal rows of red, orange and white chevrons. The background is dark green on one side and grey on the reverse, edged with a dark red crisscross fringe on all sides. Perfectly sized for either a twin bed blanket or a wearable wrap. Pendleton label, late 1900s, good condition with no holes or tears. DIMENSIONS: 67" x 70" + 6" fringe.
$295
Eight Periwinkle Blue Fiesta Ware Dinner Plates
A-CP4
DESCRIPTION: A hard to find set of eight periwinkle blue (color retired) Fiesta dinner plates. Nothing says Americana or "Country Cottage" like Fiesta dinnerware, which can be mixed and matched with other Fiesta colors. Periwinkle blue was introduced by Fiesta in 1989 and discontinued in 2006; this set's logo would date these plates to pre 1992. CONDITION: Light ware, no chips, good condition. DIMENSIONS: 11.5" diameter each. A-CP4 $185 for set of eight
$185 for set of eight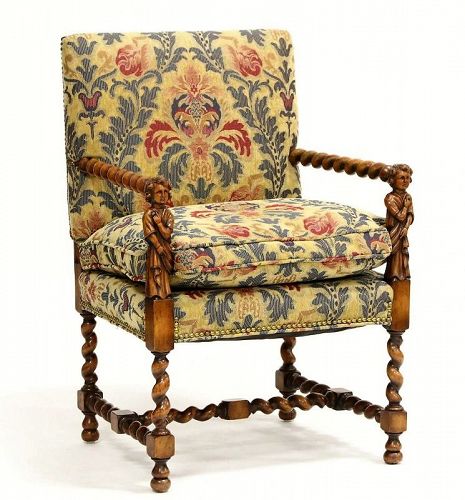 Antique William and Mary Arm Chair
W-CH4
DESCRIPTION: An early 20th century William and Mary style arm chair with hand carved walnut "barley twist" legs, stretchers and arms, the arms terminating in carved figural arm supports. Blue, red and beige tapestry style upholstery covers the back and seat cushion, all finished with nail head trim. This is a quality accent chair that will add Old World ambiance to your home. Collection of Dr. O'Quinn & Nathan Smith, Raleigh, NC. CONDITION: Minor surface wear; upholstery in good, clean... Click for details
$1,450
Large Antique Split Oak Field Basket
A-BSK12
DESCRIPTION: Beautiful melon-shaped split oak basket with a sturdy bentwood handle and oak-wrapped wide rim. This early 1900's folk art basket is in great condition with no major losses noted. DIMENSIONS: 18" long x 14.5" wide; height with handle is 13.75", without is 8.75".
$570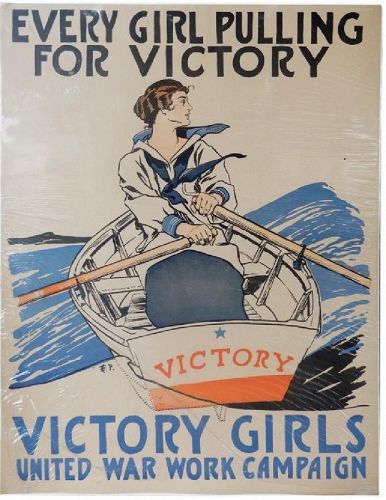 WWI Lithographic Poster, Victory Girl
A-WD2
DESCRIPTION: E. (Edward) P. (Penfield) WWI patriotic lithographic poster, "Every Girl Pulling for Victory", featuring a young woman rowing a boat named "VICTORY." Caption at base reads, "VICTORY GIRLS, UNITED WAR WORK CAMPAIGN." Signed lower left; very good condition, no fading or defects visible. DIMENSIONS: 27 1/2" H x 22 1/4" W.
HISTORICAL BACKGROUND: The United War Work Campaign was a joint effort undertaken by seven voluntary organizations active during World War I: the... Click for details
$1,480
3 Previous
1
2
5
8
11
12
13
14
15
24
33
42
50
Next 4