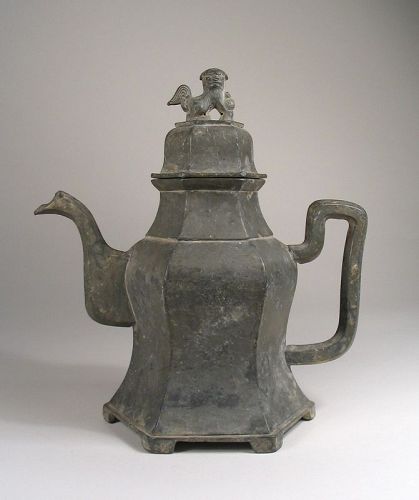 Antique Chinese Pewter Teapot, Qing
BB162
DESCRIPTION: A heavily cast, six-sided Chinese pewter teapot, the domed lid mounted with a foo dog and the base raised on six feet. Latter Qing Dynasty (19th C.) and in good condition with light usage wear. DIMENSIONS: 8 ¼" high (21 cm) x 7 ½" wide (19 cm).
$270.00
Oaxacan Mexican Hand Carved Jaguar Dance Mask
W-FIG17
DESCRIPTION: A vibrant, expressive Mexican folk art mask of a yellow and red jaguar with big blue eyes, wide mouth and erect leather ears. Hand carved and painted, this vintage mask depicts a fanciful American jaguar, a popular theme for Mexican artists. The paint condition on this mask is excellent; wire is attached for hanging. View the final three photos to compare this mask with our Mexican Jaguar Mask #W-FIG4; they make wonderful companion pieces! DIMENSIONS: 11.5" tall (29.2 cm) x 10"... Click for details
$520.00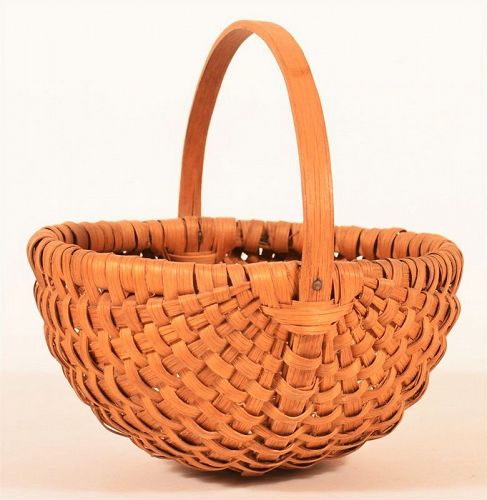 Antique Woven Splint Oak Egg Basket
A-BSK1
DESCRIPTION: An antique circular form egg gathering basket of woven splint oak with bent splint oak handle. Good condition with only minor wear. DIMENSIONS: 9-1/4" high x 9-1/4" diameter
$385.00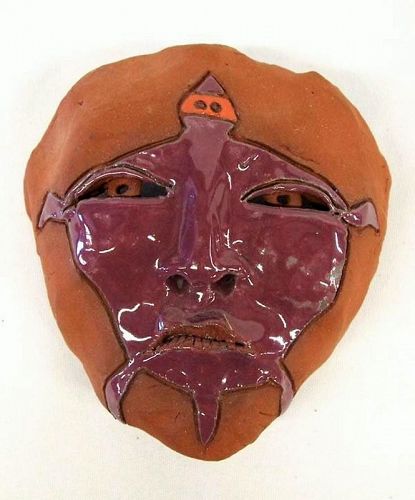 Glazed Redware Mask, "Cold Morning," by LaFontaine
W-FIG35
DESCRIPTION: An artist made redware mask, the face glazed with a purple turtle figure. Signed on the back, "Cold Morning," La Fontaine, January 2008. Artist Glen LaFontaine (b. 1947) is a Native American visual artist working primarily in clay. Excellent condition and ready to hang. DIMENSIONS: 5'' L x 5''W x 2'' D
$250.00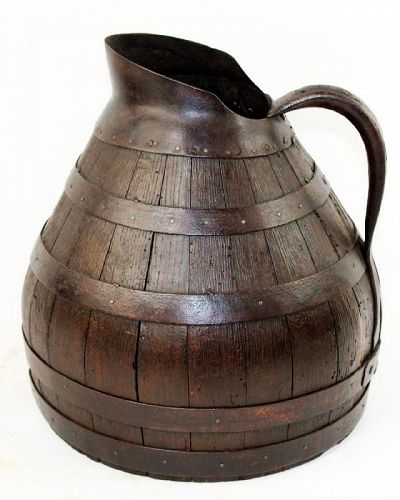 Antique French Alsacian Wood & Iron Wine Pitcher
A-DA3
DESCRIPTION: An antique French wine pitcher crafted like a barrel from staves of wood bound by five hand wrought iron hoops. The top hoop forms the neck and spout, the handle is iron wrapped wood. Originating from the Alsace region in eastern France, this pitcher is a wonderful compliment to any French, country or farmhouse décor. DIMENSIONS; 15" high x 12 1/4" diameter.
$775.00
Pair Vintage Mexican Piglets Salt & Pepper Shakers
W-CP8
DESCRIPTION: A charming pair of earthenware hand-painted piglet salt and pepper shakers, each pig sporting a bow tie and cap. Good condition, "MEXICO" stamped on base, cork stoppers. DIMENSIONS: Each approximately 3" high.
$65.00 Pair
3 Previous
1
3
4
5
6
7
8
9
10
18
26
34
43
Next 4