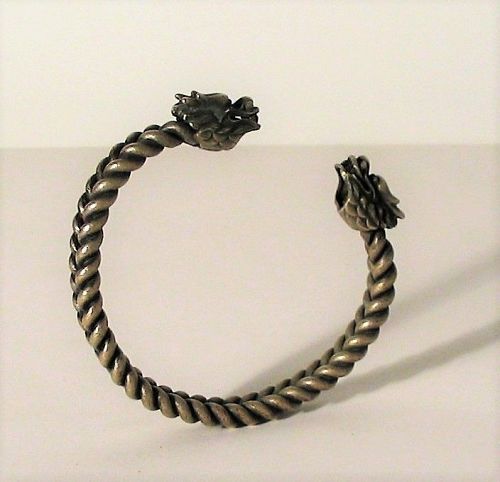 Late 19th C. Silver Chinese Dragon Bracelet
JO48
DESCRIPTION: An antique silver Chinese bracelet, crafted from two sturdy silver rods, each twisted and joined to form a braided pattern, with each end terminating in an etched silver, four-horned dragon head. DIMENSIONS: 3" exterior diameter (7.6 cm); 2.5" interior diameter (6.4 cm).
$230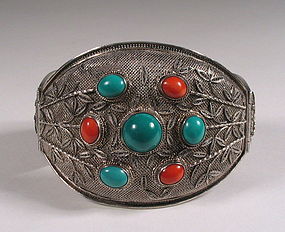 Chinese Silver Filigree Bracelet with Turquoise & Coral Stones
JO64
DESCRIPTION: A lovely, large cuff bracelet crafted from a fine silver filigree mesh with a large center turquoise stone and six smaller stones of turquoise and coral. Around these are raised silver bamboo sprigs decorating the front and two hinged sides. This bracelet is closed with a silver clasp and secured with silver chain. Stamped "SILVER, MADE IN CHINA" on opposing plaques at the clasp. Very good condition; c. 1920's. DIMENSIONS: Interior circumference is 7 3/4" (19.7 cm); adult large... Click for details
$1,050
Complete Ensemble of Chinese Silver, Coral and Turquoise Jewelry
JO65
DESCRIPTION: It's extremely rare to find a complete suite of matching antique Chinese jewelry; it's even more rare to find them in their original box. This beautiful set consists of a matching silver filigree bracelet, a pair of earrings, a pin and a ring, all having natural turquoise and coral stones set between delicate scrolling silver wire work. The inside lid of the box is stamped, "The Old Friend, 18 Brass Street, Peiping." Dating from the 1920's, the whole suite is in excellent... Click for details
$2,150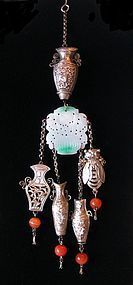 Exceptional Chinese Silver and Jade Needle Case, Qing
JO67
DESCRIPTION: Silver needle cases first appeared in China in the 1700's. Elaborate embroidery has a long tradition in China, and young girls began intensive training in needlework skills by age seven. Given the importance of embroidery in her life, a silver needle case was often presented to a girl as part of her dowry.
This particular case is an extraordinary example. Most silver needle cases held only one container for needles, while this elaborate case has a total of five large... Click for details
$1,495
Chinese Coral and Cloisonne Silver Filigree Bracelet
JO69
DESCRIPTION: A 1920's Chinese export bracelet with colorful cloisonne floral designs in various shades of blue surrounding four red coral cabochons, set on fine silver filigree and mesh wire work. Expertly made with great detail and genuine stones, this beautiful bracelet is in perfect condition with no enamel losses or cracks to the stones. The underside of the slide-in locking clasp is stamped "MADE IN CHINA, SILVER." DIMENSIONS: Inside circumference is 7" (17.8 cm), or adult medium size.... Click for details
Sold Sold, Thank You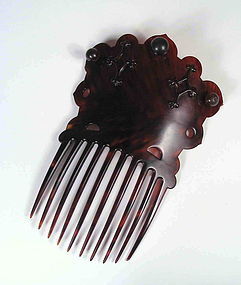 Chinese Export Tortoise Shell Comb, 19th C.
SAO206
DESCRIPTION: A large, ten pronged tortoise shell comb made for the European market (Victorian era, circa 1880-1890). The fashion of the day included large elaborate combs placed in upswept hair, and this one is a real beauty! The curved prongs and scalloped crown are from a single piece of shell which is mounted with three large round beads and two carved triangular designs. Very good condition with only a couple of tiny nits that are difficult to even see. DIMENSIONS: 6 ½" long (16.5... Click for details
$465
1
2
3
Next 4