Small Antique Chinese Brass Box with Carved Carnelian
JO55
DESCRIPTION: An attractive oval brass box, the hinged lid decorated with a carved carnelian stone at the center with raised brass leaves on either side. Signed at the interior lid, such a box might have been used for snuff, jewelry, cosmetics or medicines. This attractive little box is in excellent condition and dates from the first quarter of the 20th C. DIMENSIONS: 2 ¼" long (5.7 cm) x 1 1/8" wide (2.9 cm) x 1" high (2.5 cm).
$265.00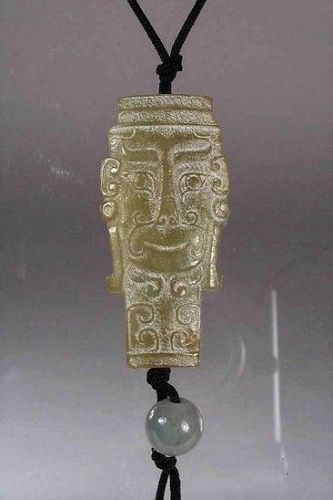 Chinese Jade Mask Pendant / Toggle
JO33
DESCRIPTION: A Chinese celadon jade pendant, both sides well carved in the form of an archaic mask and strung on a black nylon cord with a round celadon jade bead. Such amulets have a long history in China and would have been worn as a mystical protector against all unseen evil and bad luck. This handsome jade pendant is quite wearable and in excellent condition. DIMENSIONS: 2 ¼" long (5.7 cm)
$295.00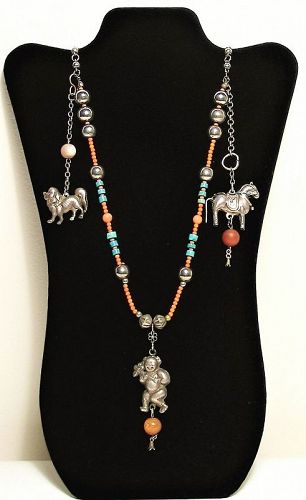 Antique Chinese Silver, Coral and Turquoise Necklace
JO68
DESCRIPTION: A beautiful antique Chinese necklace strung with pink coral, turquoise and silver beads. Three silver figural pendants hang from the necklace, including a foo dog, a horse with saddle and bridal, and a child holding a large flower, each with agate beads. Qing Dynasty, excellent condition. DIMENSIONS: 28.5" end to end (72.5 cm).
$735.00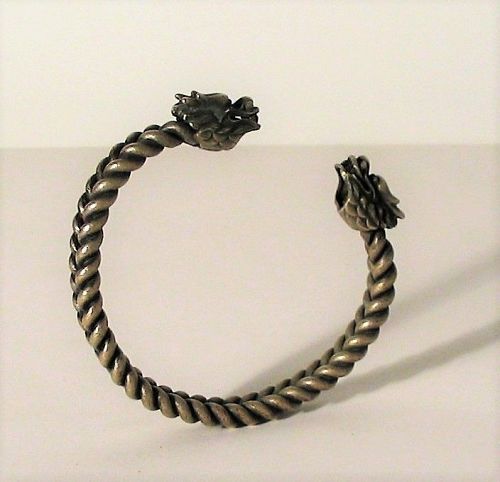 Late 19th C. Chinese Silver Tribal Dragon Bracelet
JO48
DESCRIPTION: A Chinese minority tribe antique silver bracelet, handcrafted from two sturdy silver coils, each twisted and joined to form a braided pattern, with each end terminating in a silver, four-horned dragon head. The woven coils, simulating the dragons' bodies, and the gap between the horned heads allow the bracelet to be "sized" to any wrist. Very decorative and an authentically old piece of tribal jewelry. DIMENSIONS: 3 1/8" exterior diameter (8 cm); 2.5" interior diameter... Click for details
$230.00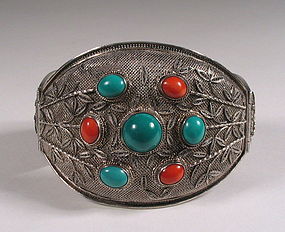 Chinese Silver Filigree Bracelet with Turquoise & Coral Stones
JO64
DESCRIPTION: A lovely, large cuff bracelet crafted from a fine silver filigree mesh with a large center turquoise stone and six smaller stones of turquoise and coral. Around these are raised silver bamboo sprigs decorating the front and two hinged sides. This bracelet is closed with a silver clasp and secured with silver chain. Stamped "SILVER, MADE IN CHINA" on opposing plaques at the clasp. Very good condition; c. 1920's. DIMENSIONS: Interior circumference is 7 3/4" (19.7 cm); adult large... Click for details
$1,050.00
Complete Ensemble of Chinese Silver, Coral and Turquoise Jewelry
JO65
DESCRIPTION: It's extremely rare to find a complete suite of matching antique Chinese jewelry; it's even more rare to find them in their original box. This beautiful set consists of a matching silver filigree bracelet, a pair of earrings, a pin and a ring, all having natural turquoise and coral stones set between delicate scrolling silver wire work. The inside lid of the box is stamped, "The Old Friend, 18 Brass Street, Peiping." Dating from the 1920's, the whole suite is in excellent... Click for details
$2,150.00
1
2
3
Next 4