Three Large Antique Maple Kitchen Spoons
A_UTL1A
DESCRIPTION: Three antique wooden kitchen spoons, hand carved from maple wood. These have been waxed showing a beautiful patina, and new leather straps are attached for display. DIMENSIONS: Largest = 17" long x 4" wide; smallest = 14.5" long x 2.25" wide.
$120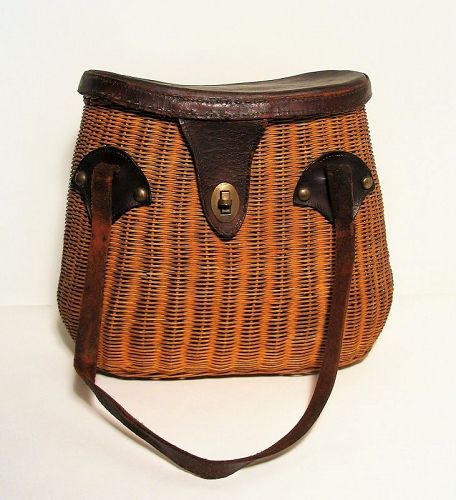 Wicker Fishing Creel with Leather Lid
A-UTL13
DESCRIPTION: A good woven wicker fishing creel with leather straps and sturdy saddle-shaped lid attached to the rounded creel body. Such antique fishing gear can make attractive and functional decorative accessories for lake cabins and seaside homes. Early 20th C. CONDITION: Good condition with almost no losses to wicker; minor scuffing to leather; interior silk lining degraded. DIMENSIONS: 12.25" wide x 10.75" high x 6.5" deep.
$195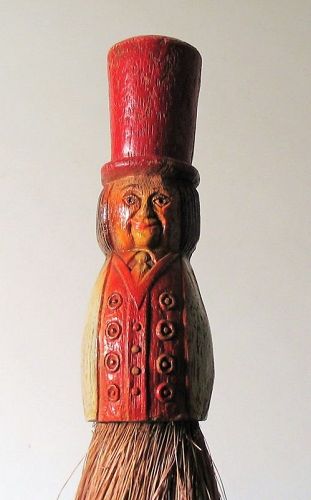 Antique Lint Clothes Brush with Carved Figural Handle
A-UTL5
DESCRIPTION: A whimsical lint clothes brush, the wood handle carved in the form of a gentleman in a formal jacket wearing a red top hat. Most of the original paint remains; the long brush bristles are horsehair. DIMENSIONS: 8" long x 1.5" diameter.
$60
Antique French Wicker Fishing Creel
A-UTL11
DESCRIPTION: A good woven wicker French fishing creel with lid having a rectangular hole and leather straps attached to the rounded creel body. A long sturdy canvas and leather strap threads through two holes in the back for wearing over the shoulder. The metal maker's tag on top reads "MF, FERAX, MANUFACTURE FRANCAIS" stamped on a raised fish. Early 20th C., good condition with very minor losses to wicker. DIMENSIONS: 13.25" wide x 9" high x 7" deep.
$185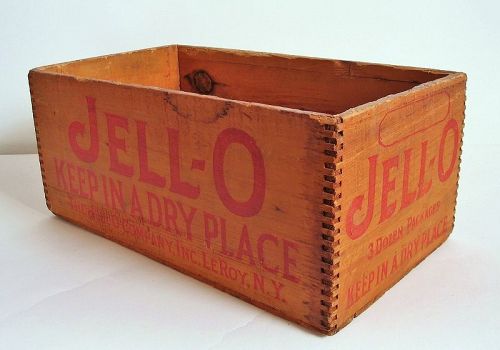 Vintage Jell-O Advertising Crate
A-BSK13
DESCRIPTION: Vintage wood advertising crate with "Jell-O" and other messages stenciled on four sides; dovetailed corners. Good condition, expected usage ware, sturdy. DIMENSIONS: 14" long x 6" high x 8"deep.
$195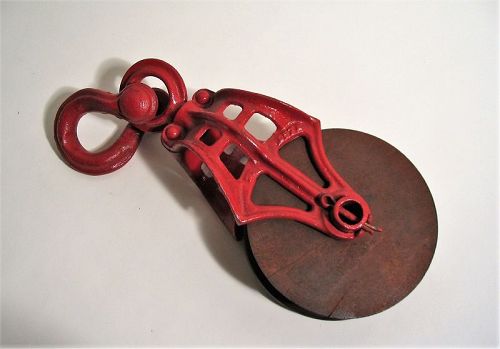 Vintage Red Metal Pulley with Wooden Wheel
A-UTL7
DESCRIPTION: This wonderful old pulley reflects the beauty of vintage industrial design and today would make a decorative accent in a farmhouse or industrial setting. The pulley is an ancient simple machine that, when used with a rope, will reduce the amount of force needed to lift a load. On this pulley, the heavily cast, pierced metal shaft and swivel eye are painted red, and are attached to a grooved wooden wheel with a snatch pin. Excellent, workable condition. DIMENSIONS: 13 ¼" long;... Click for details
$120
1
2
3
4
Next 4