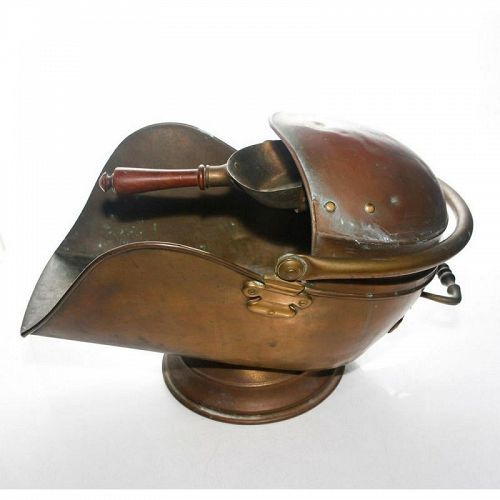 Victorian Copper Coal Scuttle Bucket and Shovel Scoop
A-MTL12
DESCRIPTION: A handsome Victorian era (c. 1890) copper coal scuttle with brass handle and hinges, having a built-in copper "pocket" on the top to hold a shovel scoop. These coal scuttles are practical today for removing ashes from your fireplace, and making a warm "hearth and home" statement. This one shows use with scattered small dents and a base repair. DIMENSIONS: 13.5" High x 19.5" long. A-MTL12 $315
$315.00
Early Slate Game Board
A-FA1
DESCRIPTION: A handsome, engraved and painted slate checkers and chest game board, the solid board with beveled corners and alternating brown squares with round felt pads on back four corners. Sourced in Vermont, very good condition. DIMENSIONS: 15 1/4" x 15 1/2".
$985.00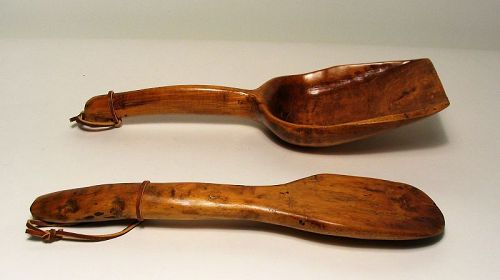 Pair Antique Maple Kitchen Utensils
A-UTL1B
DESCRIPTION: Nice old wooden spatula and shovel-shaped scoop, hand carved from maple wood. These have been waxed showing a beautiful patina, and new leather straps are attached for display. DIMENSIONS: Scoop = long x 4.24" wide. Spatula = 12" long x 2 5/8" wide.
$75.00
Two Pair Antique Wood Ice Skates
A-UTL4a
DESCRIPTION: Two pair of antique ice skates, one large pair with original leather straps and curled tips, plus one smaller wooden pair. Stamped on the blade of the larger pair is "BATAVUS, HEERENVEEN." Batavus is a Dutch bicycle manufacturer which began in 1904, and was located in Heerenveen, a town in the north of the Netherlands. In the 1930's, Batavus diversified to include tricycles, motorcycles, and ice skates. Heerenveen went on to gain international prominence in speed skating,... Click for details
$90.00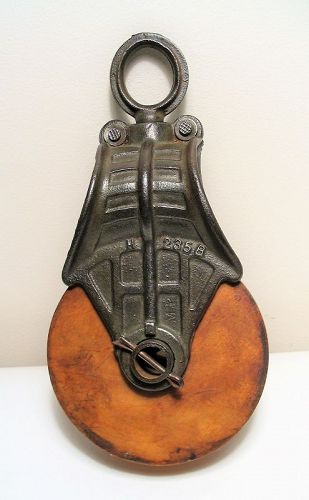 Vintage Cast Iron Pulley with Wood Wheel
A-UTL8
DESCRIPTION: A tribute to vintage industrial design, this attractive pulley, with a heavily cast iron shaft and swivel eye, is attached with snatch pins to a smooth, grooved wooden wheel. The pulley is a simple machine that, when used with a rope, will reduce the amount of force needed to lift a load. These make wonderful decorative accents within a country, farmhouse or industrial decor. In excellent working condition, no rust. DIMENSIONS: 12" long x 6" wide.
$135.00
Vintage Pair Tall Wooden Exercise Clubs or Juggling Pins
A-UTL6
DESCRIPTION: A good pair of wooden exercise clubs / juggling pins, each painted with a wide horizontal orange stripe between two thin black stripes. Good condition with normal wear. DIMENSIONS: Each is 18" tall x 3" diameter.
$100.00 Pair
1
2
3
4
Next 4