Two Pair Antique Wood Ice Skates
A-UTL4a
DESCRIPTION: Two pair of antique ice skates, one large pair with original leather straps and curled tips, plus one smaller wooden pair. Stamped on the blade of the larger pair is "BATAVUS, HEERENVEEN." Batavus is a Dutch bicycle manufacturer which began in 1904, and was located in Heerenveen, a town in the north of the Netherlands. In the 1930's, Batavus diversified to include tricycles, motorcycles, and ice skates. Heerenveen went on to gain international prominence in speed skating,... Click for details
$90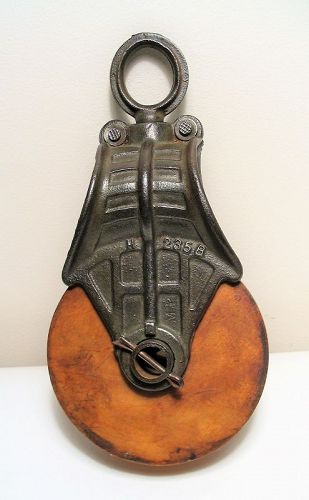 Vintage Cast Iron Pulley with Wood Wheel
A-UTL8
DESCRIPTION: A tribute to vintage industrial design, this attractive pulley, with a heavily cast iron shaft and swivel eye, is attached with snatch pins to a smooth, grooved wooden wheel. The pulley is a simple machine that, when used with a rope, will reduce the amount of force needed to lift a load. These make wonderful decorative accents within a country, farmhouse or industrial decor. In excellent working condition, no rust. DIMENSIONS: 12" long x 6" wide.
$135
Vintage Pair Tall Wooden Exercise Clubs or Juggling Pins
A-UTL6
DESCRIPTION: A good pair of wooden exercise clubs / juggling pins, each painted with a wide horizontal orange stripe between two thin black stripes. Good condition with normal wear. DIMENSIONS: Each is 18" tall x 3" diameter.
$100 Pair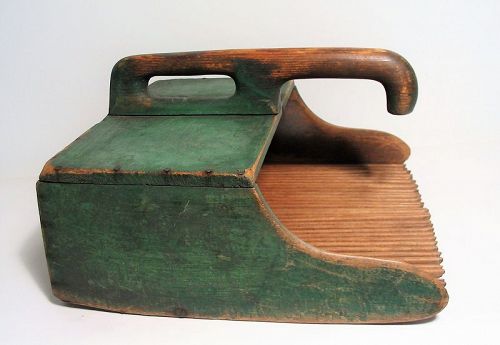 Antique Cranberry Scoop in Original Green Paint
A-UTL2
DESCRIPTION: An appealing antique cranberry scoop in original green paint, constructed in a lovely sculptural form with attached handle and a scoop with multiple slim prongs to strain out water without losing the cranberries. CONDITION: Usage wear in all the right places; split to board holding prongs. DIMENSIONS: 13.25" wide x 13.25" long x 7.5" high.
$585
Three Large Antique Maple Kitchen Spoons
A_UTL1A
DESCRIPTION: Three antique wooden kitchen spoons, hand carved from maple wood. These have been waxed showing a beautiful patina, and new leather straps are attached for display. DIMENSIONS: Largest = 17" long x 4" wide; smallest = 14.5" long x 2.25" wide.
$120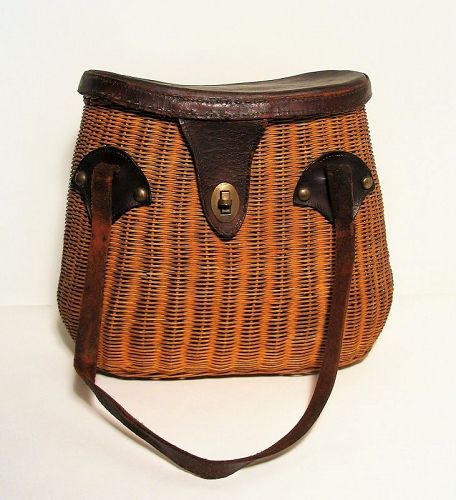 Wicker Fishing Creel with Leather Lid
A-UTL13
DESCRIPTION: A good woven wicker fishing creel with leather straps and sturdy saddle-shaped lid attached to the rounded creel body. Such antique fishing gear can make attractive and functional decorative accessories for lake cabins and seaside homes. Early 20th C. CONDITION: Good condition with almost no losses to wicker; minor scuffing to leather; interior silk lining degraded. DIMENSIONS: 12.25" wide x 10.75" high x 6.5" deep.
$195
1
2
3
4
5
Next 4