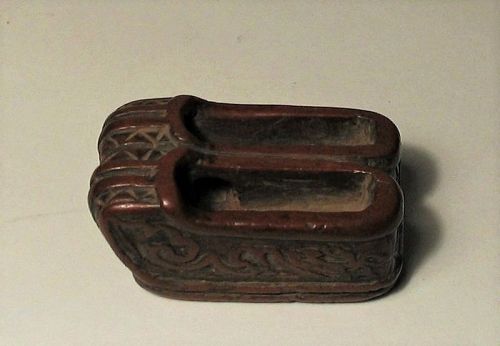 Fine Chinese Toggle of Carved Pair of Shoes
SN117
DESCRIPTION: An antique Chinese boxwood toggle (Guajian) carved as a pair of men's shoes resting side by side, a symbol of marital harmony and the wish for many sons. The shoes are elaborately carved with hollowed interior, relief banding, and incised designs on all sides including the soles. A hole running through the inner sides of each shoe forms the track used for threading cords from which this toggle would have been suspended as a counterweight to some other object. An outstanding... Click for details
$495
Fine Antique Chinese Boxwood Toggle of a Sage, Qing
SN26
DESCRIPTION: Wonderful boxwood toggle of a seated sage with a scroll, depicting the Daoist deity Fu Shen, the Chinese god of happiness. His scroll is carved with four Chinese characters and he wears a feathered coat. Two netsuke type holes pierce the back for threading a cord to hang from a sash. This toggle has a luscious, hand-rubbed patina that only great age and handling can produce; 18th/19th C. DIMENSIONS: 1 7/8" high (4.8 cm) x 1 3/8" wide (3.5 cm).
On Hold On Hold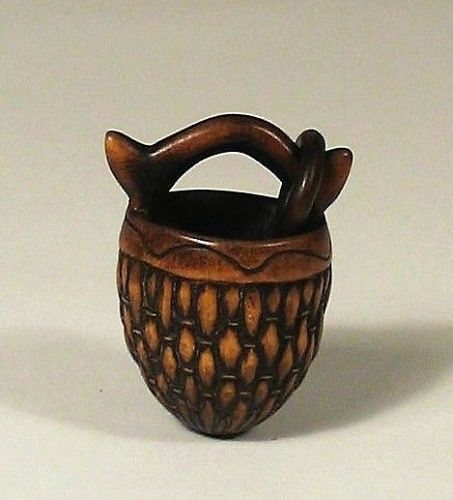 Antique Chinese Boxwood Basket Toggle, Qing Dy
SN92
DESCRIPTION: A fine Chinese boxwood water-well basket toggle, intricately carved in an acorn shape with a realistic and detailed basket weave pattern with carved wood rim. The arched overhead handle has a free-carved wood ring attached; the interior is hollowed out. Excellent condition, a beautiful toggle, 19th C. For a similar example see: Schuyler Cammann, Substance and Symbol in Chinese Toggles, #188, p.228. DIMENSIONS: 1-3/4" high.
$720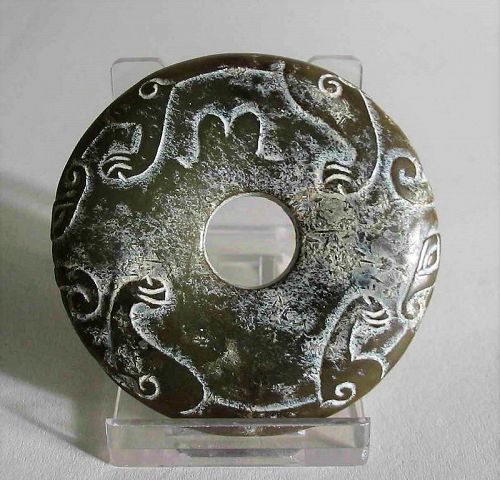 Chinese Carved Jade Bi Disk or Toggle
JHS124
DESCRIPTION: An appealing green nephrite disk or bi, carved with two chilong dragons whose heads and bodies ring the edges with their limbs draping down on either side. From a mid-west collection, the design, color and form are quite pleasing and could be used as a toggle or an eye-catching pendant when incorporated into a necklace. DIMENSIONS: 2 5/8" diameter (6 cm), 2.25 oz. (64g) weight.
$270
Chinese Boxwood Toggle of Pair of Peanuts, Qing Dy, 19th C.
SN76
DESCRIPTION: A Chinese toggle (Guajian) carved as a pair of peanuts attached to leafy vines. In Chinese symbolism, the peanut (huasheng) is an auspicious symbol because its second character (sheng) means to "give birth". The peanut thus symbolizes the wish for many children. This toggle is expertly carved in the round and has a wonderful old boxwood patina. A cord would have been strung through the opening at the peanut's stem to secure the toggle to a sash. DIMENSIONS: 2.5" long (6.4 cm)... Click for details
Sold Sold, Thank You
Antique Chinese Boxwood Fish Toggle, Qing
SN90
DESCRIPTION: A well carved and highly detailed Chinese boxwood toggle of a fish, a symbol in China of wealth and success, with fine scale detailing, a large head and the tail fin curved upward. The hole in the mouth serves as the point of attachment for the cord with the cord knot being concealed within the slit opening in the belly of the fish. Excellent condition; 19th C. DIMENSIONS: 2.75" long (7 cm).
ABOUT CHINESE TOGGLES: Chinese toggles (Guajian) are the precursors of the... Click for details
Sold Sold, Thank you
1
2
3
Next 4