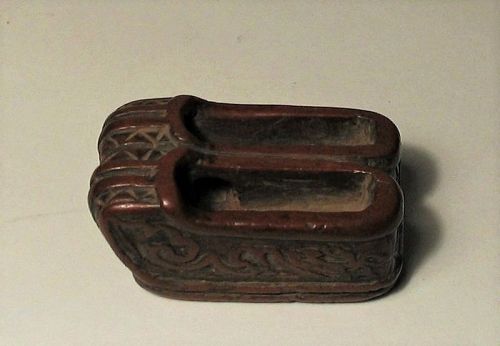 Fine Chinese Toggle of Carved Pair of Shoes
SN117
DESCRIPTION: An antique Chinese boxwood toggle (Guajian) carved as a pair of men's shoes resting side by side, a symbol of marital harmony and the wish for many sons. The shoes are elaborately carved with hollowed interior, relief banding, and incised designs on all sides including the soles. A hole running through the inner sides of each shoe forms the track used for threading cords from which this toggle would have been suspended as a counterweight to some other object. An outstanding... Click for details
$495.00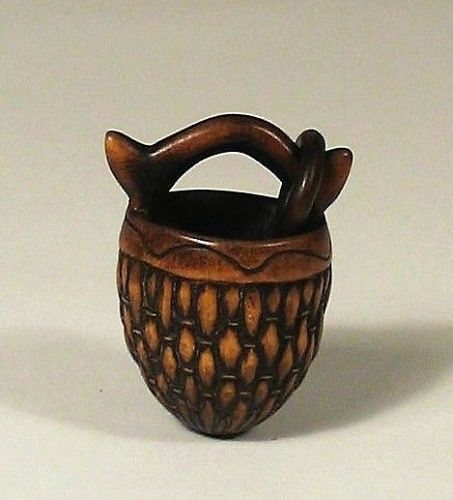 Antique Chinese Boxwood Basket Toggle, Qing Dy
SN92
DESCRIPTION: A fine Chinese boxwood water-well basket toggle, intricately carved in an acorn shape with a realistic and detailed basket weave pattern with carved wood rim. The arched overhead handle has a free-carved wood ring attached; the interior is hollowed out. Excellent condition, a beautiful toggle, 19th C. For a similar example see: Schuyler Cammann, Substance and Symbol in Chinese Toggles, #188, p.228. DIMENSIONS: 1-3/4" high.
$720.00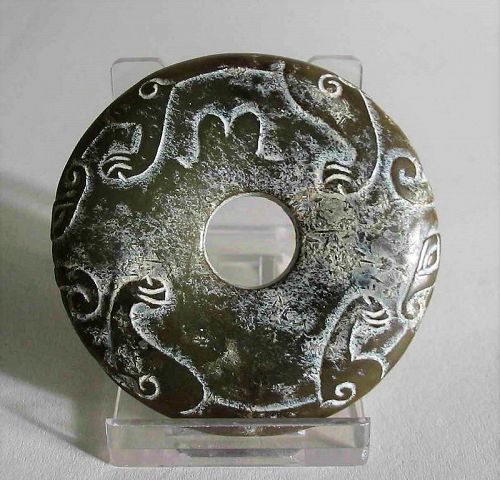 Chinese Carved Jade Bi Disk or Toggle
JHS124
DESCRIPTION: An appealing green nephrite disk or bi, carved with two chilong dragons whose heads and bodies ring the edges with their limbs draping down on either side. From a mid-west collection, the design, color and form are quite pleasing and could be used as a toggle or an eye-catching pendant when incorporated into a necklace. DIMENSIONS: 2 5/8" diameter (6 cm), 2.25 oz. (64g) weight.
$270.00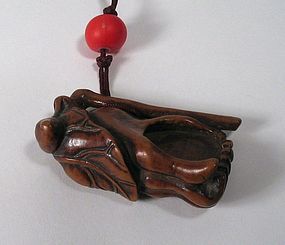 Chinese Boxwood "Buddha's Hand" Toggle, 18th C., Qing
SN85
DESCRIPTION: An antique Chinese toggle (guajian), carved from boxwood in the form of a Buddha's hand fruit (or fingered citron), a symbol of happiness, longevity and good fortune in China. The fingered citron is unusually shaped with bright yellow fruit segmented into finger-like sections, resembling a human hand. Highly fragrant, it is used predominantly in China for perfuming rooms and personal items such as clothing. According to Buddhist tradition, the Buddha prefers the "fingers" of the... Click for details
$595.00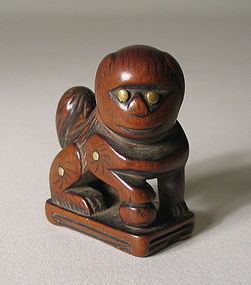 Chinese Huanghuali Buddhist Lion Toggle, 18th C., Qing
SN103
DESCRIPTION: An appealing Chinese toggle (guajian), carved from Huanghuali wood (a hardwood similar to Rosewood) in the form of a Buddhist lion seated on a plinth with one paw placed on top of a ball. With raised tail, textured fur on his back, and brass studs decorating the eyes and each limb, this foo dog would have been used as a counterweight for a tobacco pouch or other object suspended from a belt. Displaying a luscious patina from use and handling, this little grinning lion is a real... Click for details
$680.00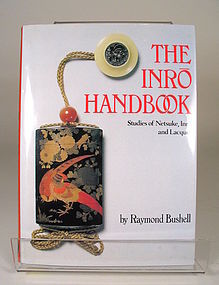 Book: "The Inro Handbook" by Raymond Bushell
BK11
DESCRIPTION: "The Inro Handbook, Studies of Netsuke, Inro and Lacquer" was written for collectors who have discovered the delights of the miniature Japanese art forms. This authoritative and enlightening book offers a wealth of valuable information and is written by one of the foremost collectors and scholars in the field, Raymond Bushell. Affording entry into a world of fascinating design and superb craftsmanship, the book covers the subject in a thorough manner with beautiful color... Click for details
$55.00
1
2
Next 4