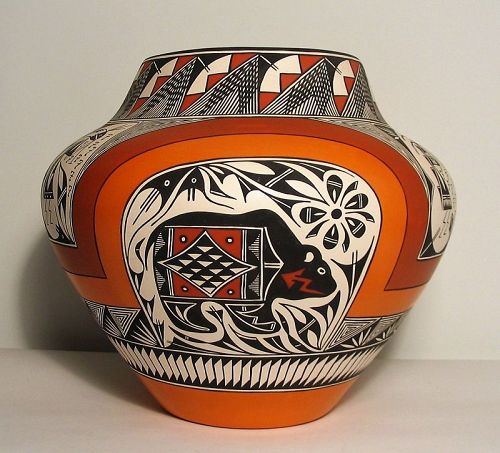 Large Acoma Pottery Jar, Signed R.T.P.
W-PT8
DESCRIPTION: A fantastic Acoma pottery water jar of large size with a wonderfully complex polychrome design containing bear and Kokopelli figures. A double rainbow of light and dark sienna bands divides this beautiful greenware olla into six cartouche segments, three larger ones with bears below the arched rainbows, each with different background designs, and three smaller ones with stylized Kokopelli figures (fertility deities) playing flutes. Additional geometric designs in black on white are... Click for details
$1,750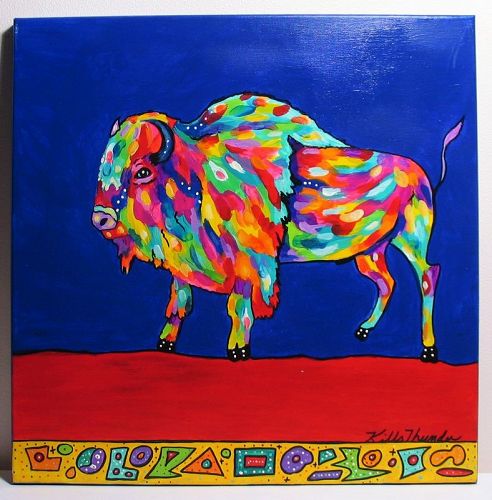 Colorful Acrylic Painting ''Razzle Dazzle Bison,'' Kathy Kills Thunder
W-WD14
DESCRIPTION: Original acrylic painting, signed by the artist, of a bison in bold colors against a blue ground, 2016. Very good condition. DIMENSIONS: 20'' x 20".
ABOUT THE ARTIST: Kathleen Kills Thunder (legal name), a Sioux Indian whose family was from the Fort Peck Indian Reservation in NE Montana, was born in 1947 in Seattle, WA. Her father, Ben Kills Thunder, was Sioux while her mother was Spanish/Irish. Kathy grew up painting and beading since a young child and uses a bright color... Click for details
$380
Petite Zuni Turquoise & Sterling Petit-Point Cuff Bracelet
W-JO27
DESCRIPTION: A classic Zuni double-banded silver cuff bracelet featuring clusters of beautifully matched sky blue turquoise cabochons. These are mounted in a "sunface" design, consisting of two circular rows around a "God's eye" stone in the center. Two additional stone and silver clusters form wings on each side. This beautiful, dainty cuff is perfect for a petite woman who might find other Native American bracelets too "chunky." Hallmark "STERLING" stamped on the reverse. Excellent... Click for details
Sold Sold, Thank You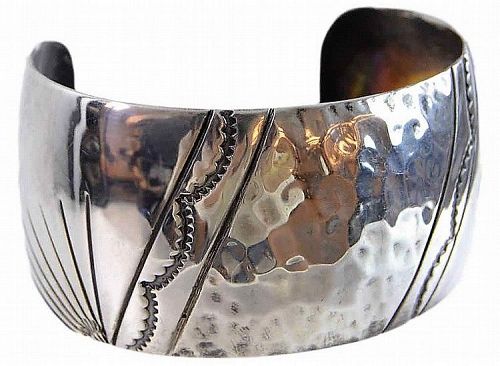 Navajo Silver Cuff Bracelet, Roger Francisco
W-JO28
DESCRIPTION: A Native American silver cuff bracelet having hammered and stamped accents; silver band is a nice, wide 1.5". Stamped "RVF" by Navajo Silver Artist Roger Francisco. DIMENSIONS: Inner circumference = 5.75"; wrist opening = 1.75". Total weight = 52 grams.
$240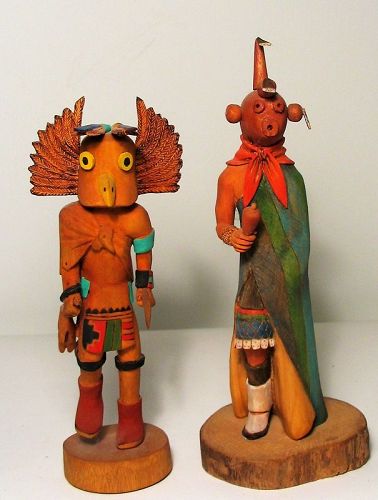 Pair Native American Hopi Carved Wood Kachina Dolls
W-FIG10
DESCRIPTION: A hand carved and painted pair of Native American Hopi Kachina (or Katsina) dolls, one in a long green and blue robe with red neck kerchief, the other in an elaborate headdress. Each is signed, one signed "Mongwa, D. Scott, Old Oraibi" and the other "D. Harvey, Koyemsi, Hopi Tewa, '96". DIMENSIONS: Tallest 10.75" high.
CULTURAL BACKGROUND: The Hopi people live primarily on three mesas in northeastern Arizona, about 70 miles from Flagstaff. Hopi katsina figures,... Click for details
$420
Pair Native American Hopi Carved Wood Kachina Dolls
W-FIG11
DESCRIPTION: This pair of Native American Hopi hand carved Kachina (or Katsina) dolls includes "Antelope Kachina" with turquoise shirt and black antlers, signed Raphael Jose Jr. 2004, and "Mr. and Mrs. Kokopelli" signed D MASA, Hopi. The Kokopelli Kachina cleverly comes in two parts, which when separated show the couple as nude figures. DIMENSIONS: Tallest 10.25" high.
CULTURAL BACKGROUND: The Hopi people live primarily on three mesas in northeastern Arizona, about 70 miles from... Click for details
$380 Pair
1
2
3
4
5
6
7
Next 4