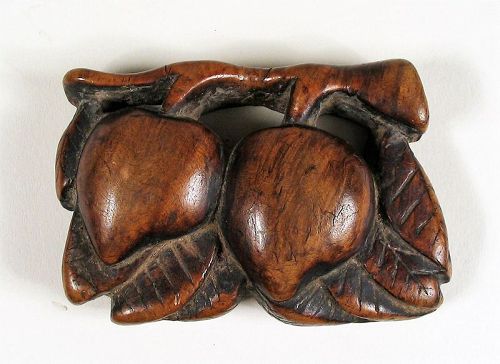 Large Chinese Double Peach Toggle
SN123
DESCRIPTION: A nice old Chinese toggle carved from a striated wood in the form of two peaches. The peach is a symbol of longevity, and this thick toggle has a wonderful aged patina that only comes from age and handling. Strung with a cord through the holes under the stems, it would have hung from a sash and been used as a counterweight to a tobacco pouch or other utilitarian object. A wonderful example of Chinese folk art, this toggle dates from the 1700's. DIMENSIONS: 2 ½" wide (6.4 cm) x... Click for details
$470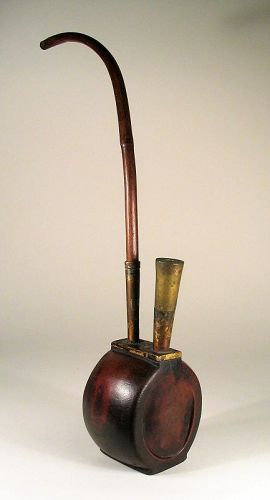 Antique Chinese Bamboo Pipe
MS63
DESCRIPTION: A Qing dynasty bamboo pipe, possibly used for either opium or tobacco, with a bulbous body crafted from a large segment of giant bamboo. Mounted onto this segment are heavy brass fittings, one for the tubular tobacco bowl with its long brass shaft descending into the body. The other brass tube holds the long, bent bamboo stem that is used to draw the smoke out. Very good condition with a nice patina. DIMENSIONS: 16" high assembled (40.5 cm). The bamboo body is 3 ¾" wide (9.5... Click for details
$265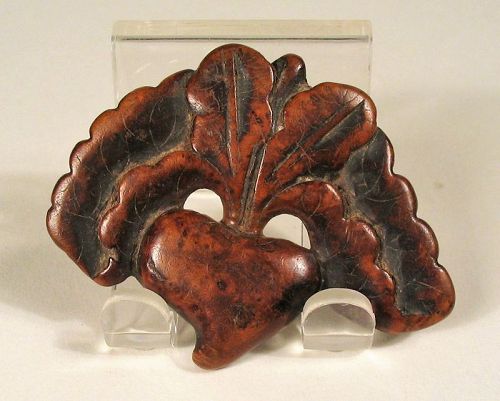 Chinese Burl Peach Toggle
SN122
DESCRIPTION: A Chinese peach toggle (guajian) crafted from a flat piece of burl wood with large spreading leaves, representing longevity in Chinese iconography. Two holes on either side of the stem were used for threading a cord from which this toggle would have been suspended as a counterweight to some other object, such as a tobacco pouch. A nice example of Chinese folk art dating from the mid 1800's or earlier, this toggle is in overall fine condition with aged patina. DIMENSIONS: 1 ½"... Click for details
$360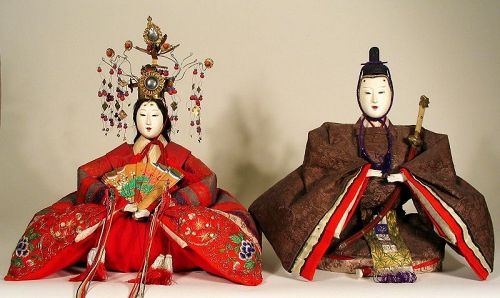 Antique Japanese Emperor and Empress Hina Dolls, Meiji
FIG61
DESCRIPTION: A pair of large Japanese Emperor and Empress dolls, or kokin-bina, presented in formal court dress. The empress' attire is quite elaborate, using fine brocade silks with hand embroidered flowers. In her hands she holds a painted fan and is crowned with an elaborate headdress representing a bird with long hanging beads attached. Both dolls have gofun faces and hands, which are in excellent condition. The accessories include the empress' crown and tasseled fan, and the emperor's... Click for details
$995
Fine Antique Chinese Boxwood Toggle of a Sage, Qing
SN26
DESCRIPTION: Wonderful boxwood toggle of a seated sage with a scroll, depicting the Daoist deity Fu Shen, the Chinese god of happiness. His scroll is carved with four Chinese characters and he wears a feathered coat. Two netsuke type holes pierce the back for threading a cord to hang from a sash. This toggle has a luscious, hand-rubbed patina that only great age and handling can produce; 18th/19th C. DIMENSIONS: 1 7/8" high (4.8 cm) x 1 3/8" wide (3.5 cm).
On Hold On Hold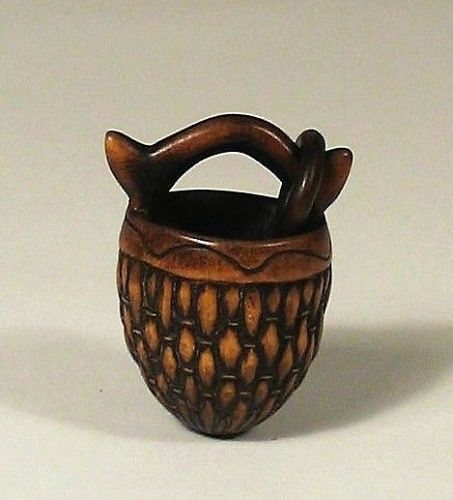 Antique Chinese Boxwood Basket Toggle, Qing Dy
SN92
DESCRIPTION: A fine Chinese boxwood water-well basket toggle, intricately carved in an acorn shape with a realistic and detailed basket weave pattern with carved wood rim. The arched overhead handle has a free-carved wood ring attached; the interior is hollowed out. Excellent condition, a beautiful toggle, 19th C. For a similar example see: Schuyler Cammann, Substance and Symbol in Chinese Toggles, #188, p.228. DIMENSIONS: 1-3/4" high.
$720
1
2
3
4
Next 4