Three Large Antique Maple Kitchen Spoons
A-UTL1A
DESCRIPTION: Three antique wooden kitchen spoons, hand carved from maple wood. These have been waxed showing a beautiful patina, and new leather straps are attached for display. DIMENSIONS: Largest = 17" long x 4" wide; smallest = 14.5" long x 2.25" wide.
$120.00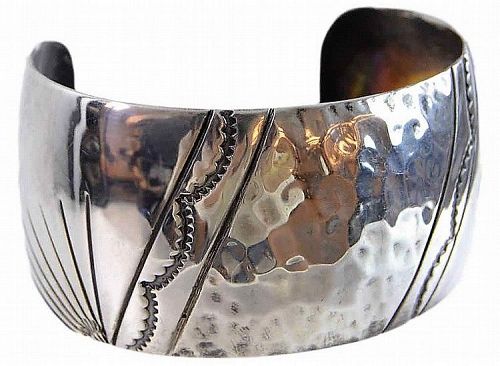 Navajo Silver Cuff Bracelet, Roger Francisco
W-JO28
DESCRIPTION: A Native American silver cuff bracelet having hammered and stamped accents; silver band is a nice, wide 1.5". Stamped "RVF" by Navajo Silver Artist Roger Francisco. DIMENSIONS: Inner circumference = 5.75"; wrist opening = 1.75". Total weight = 52 grams.
$240.00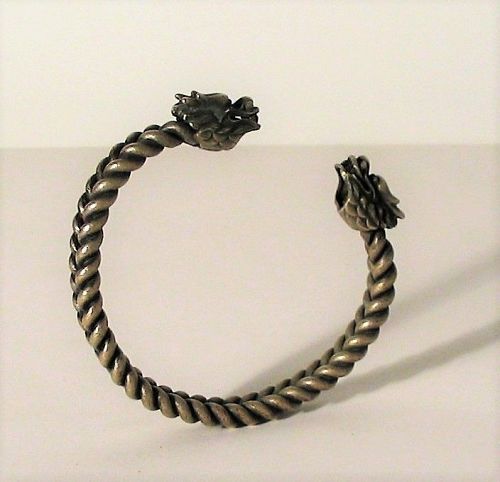 Late 19th C. Chinese Silver Tribal Dragon Bracelet
JO48
DESCRIPTION: A Chinese minority tribe antique silver bracelet, handcrafted from two sturdy silver coils, each twisted and joined to form a braided pattern, with each end terminating in a silver, four-horned dragon head. The woven coils, simulating the dragons' bodies, and the gap between the horned heads allow the bracelet to be "sized" to any wrist. Very decorative and an authentically old piece of tribal jewelry. DIMENSIONS: 3 1/8" exterior diameter (8 cm); 2.5" interior diameter... Click for details
$230.00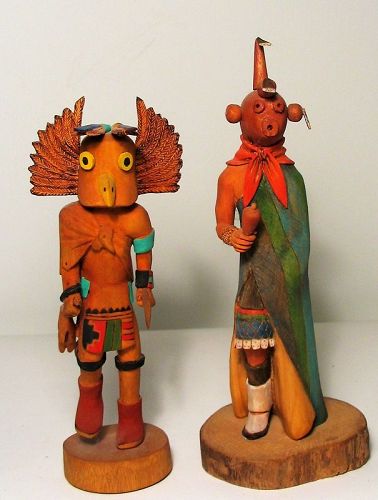 Pair Native American Hopi Carved Wood Kachina Dolls
W-FIG10
DESCRIPTION: A hand carved and painted pair of Native American Hopi Kachina (or Katsina) dolls, one in a long green and blue robe with red neck kerchief, the other in an elaborate headdress. Each is signed, one signed "Mongwa, D. Scott, Old Oraibi" and the other "D. Harvey, Koyemsi, Hopi Tewa, '96". DIMENSIONS: Tallest 10.75" high.
CULTURAL BACKGROUND: The Hopi people live primarily on three mesas in northeastern Arizona, about 70 miles from Flagstaff. Hopi katsina figures,... Click for details
$420.00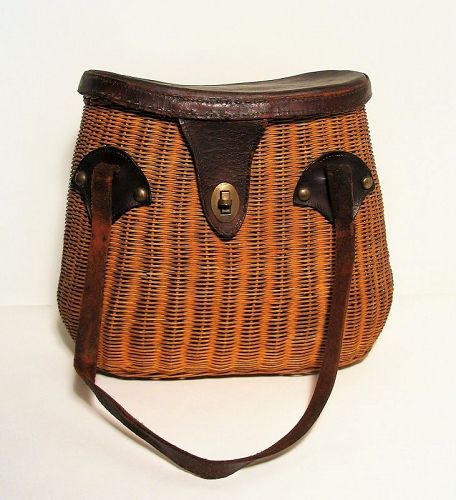 Wicker Fishing Creel with Leather Lid
A-UTL13
DESCRIPTION: A good woven wicker fishing creel with leather straps and sturdy saddle-shaped lid attached to the rounded creel body. Such antique fishing gear can make attractive and functional decorative accessories for lake cabins and seaside homes. Early 20th C. CONDITION: Good condition with almost no losses to wicker; minor scuffing to leather; interior silk lining degraded. DIMENSIONS: 12.25" wide x 10.75" high x 6.5" deep.
$195.00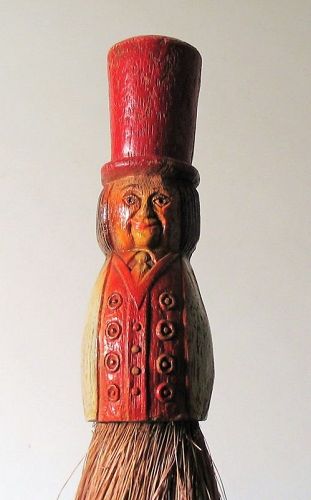 Antique Lint Clothes Brush with Carved Figural Handle
A-UTL5
DESCRIPTION: A whimsical lint clothes brush, the wood handle carved in the form of a gentleman in a formal jacket wearing a red top hat. Most of the original paint remains; the long brush bristles are horsehair. DIMENSIONS: 8" long x 1.5" diameter.
$60.00
3 Previous
1
2
3
4
5
6
7
13
19
25
31
37
43
Next 4