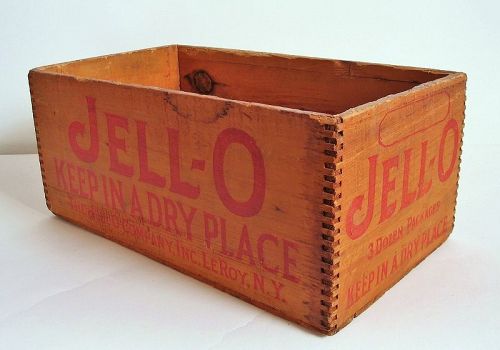 Vintage Jell-O Advertising Crate
A-BSK13
DESCRIPTION: Vintage wood advertising crate with "Jell-O" and other messages stenciled on four sides; dovetailed corners. Good condition, expected usage ware, sturdy. DIMENSIONS: 14" long x 6" high x 8"deep.
$195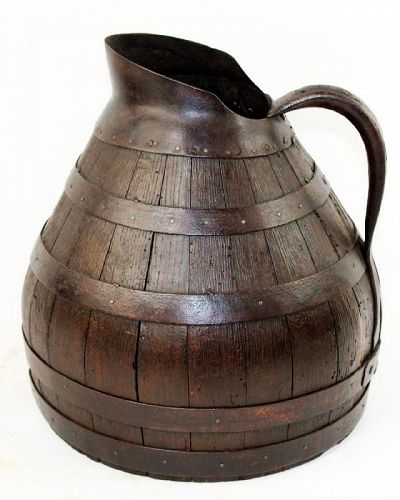 Antique French Alsacian Wood & Iron Wine Pitcher
A-DA3
DESCRIPTION: An antique French wine pitcher crafted like a barrel from staves of wood bound by five hand wrought iron hoops. The top hoop forms the neck and spout, the handle is iron wrapped wood. Originating from the Alsace region in eastern France, this pitcher is a wonderful compliment to any French, country or farmhouse décor. DIMENSIONS; 15" high x 12 1/4" diameter.
$775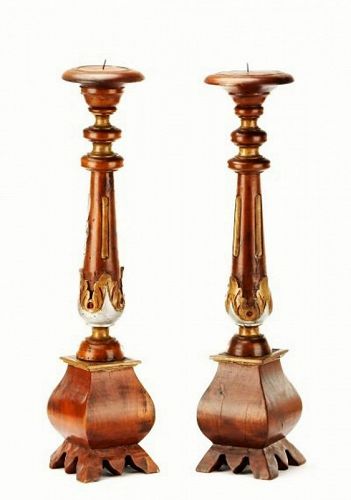 Pair of Vintage Italian Carved Wood Candle Prickets
W-DA1
DESCRIPTION: A handsome pair of walnut wood Neoclassical style carved and stained candle prickets with circular tops above turned, tapered and fluted shafts with leaf tip ornaments, above swelled bases with splayed feet. Italian, 20th century; silver and gilt highlights on each. Unmarked, good condition. DIMENSIONS: Overall height 25.25".
$465 Pair
Large Antique Split Oak Field Basket
A-BSK12
DESCRIPTION: Beautiful melon-shaped split oak basket with a sturdy bentwood handle and oak-wrapped wide rim. This early 1900's folk art basket is in great condition with no major losses noted. DIMENSIONS: 18" long x 14.5" wide; height with handle is 13.75", without is 8.75".
$570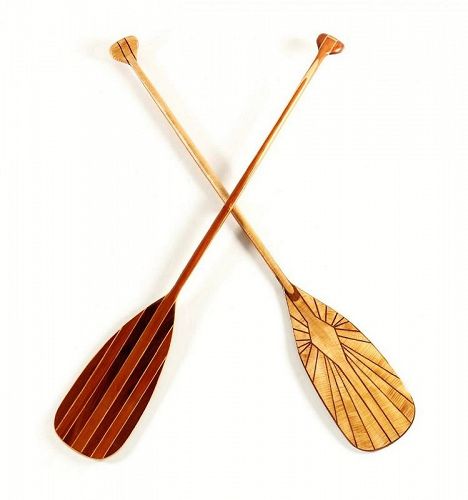 Two Artisan Inlaid Canoe Paddles
A-FA9
DESCRIPTION: A pair of beautiful 20th C. handcrafted canoe paddles, skillfully laminated from select high-grade exotic woods including curly maple, rosewood, walnut, satinwood and mahogany, each with geometric inlays. These paddles are so elegant you'll want to hang them in you lake or river home as décor, although they are perfectly suited for actual use. From the collection of Mr. Wayne Lockey of Grand Junction, Colorado. DIMENSIONS: 60" long each.
$795 Pair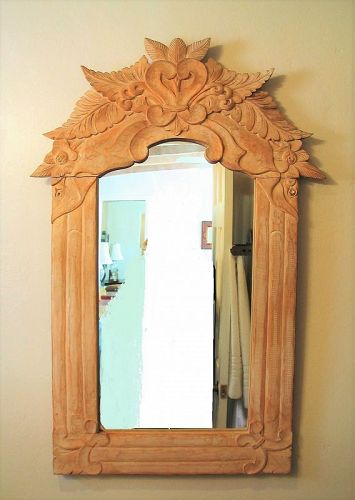 Vintage Hand Carved Mexican Pine Mirror
W-WD15
DESCRIPTION: A delightful rustic Mexican mirror with hand carved pine frame, the crown a flourish of leaves and flowers with center heart-form scrolls. Very good condition. DIMENSIONS: 35.25" high x 23.5" wide.
$390
1
2
3
Next 4