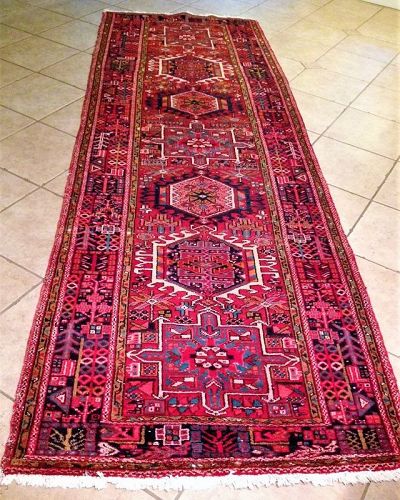 Beautiful Semi-Antique Persian Karaja Hand-Knotted Wool Runner
RG20
DESCRIPTION: A semi-antique wool Karaja runner with very good color, mostly in red with teal blue, white & black accents. Seven central medallions (a characteristic of Karaja rugs) are surrounded with a wide border having intricate designs. Karaja is the home of some of the finest runners made in Iran of which this is a good example. This hand-knotted carpet is in good condition with ample pile that will give years of service. DIMENSIONS: 3'9" wide x 11'6" long.
$2,770
Museum Quality Japanese Tsutsugaki Festival Banners, Edo
TX44
DESCRIPTION: Three rare Edo Period (c. 1790 – 1810) festival banners, hand woven of hemp and decorated with colored zodiac animals dyed in the freehand paste resist technique, tsutsugaki. To remain upright and highly visible in parade processions, these tall banners would have been mounted on poles from the top and along one side using a series of fabric tabs attached to the banner.
These striking banners are distinctive for their dynamic composition, energetic brushwork and ingenuity of... Click for details
$4,495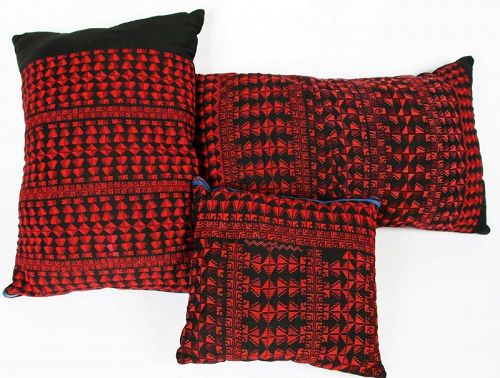 Three Palestinian Embroidered Pillows
TX74
DESCRIPTION: Three handsome Middle East Palestinian pillows in graduated sizes, hand-embroidered in shades of red on a black linen ground, the backs covered in black velvet. Plump and well stuffed, excellent condition. PROVENANCE: Maryanne Conheim, Philadelphia. DIMENSIONS: Largest Size: 15'' x 24'' (38 cm x 61 cm). TX76 $565.00 for all three
$565 for all three
A Large, Fine Chinese Silk Kesi Textile Weaving, Qing Dynasty
TX60
DESCRIPTION: From a private collection comes this large, professionally framed Chinese kesi tapestry (also known as "k'ossu" or "cut silk" weaving), dating from the Qing Dynasty, 19th Century.
Executed in muted tones of peach, grey, gold, tan and cream, the large panel features many finely woven silk figures depicted in an active battle with scenes of armed warriors on their horses, flag bearers, and officials observing from rock outcroppings. The background is woven with... Click for details
Sold Sold, Thank You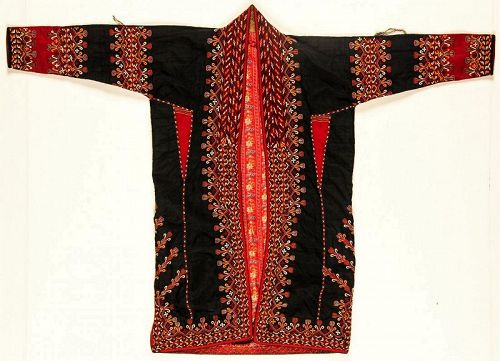 Beautiful Antique Silk Embroidered Tekke Turkmen Coat
TX72
DESCRIPTION: A silk embroidered woman's Tekke Turkmen chapan/coat, lavishly embroidered in traditional yellow, white and red designs on a black silk and cotton ground, lined in a red cotton print fabric. Such coats are reserved to wear only on special occasions such as weddings. Excellent condition, Turkmenistan, early 20th c. Please see a similar coat in the last photo for how such coats are worn. DIMENSIONS: 63" across the arms x 45" long (160 x 114 cm).
$850
Fine Antique Chinese Embroidered Silk Robe, 19th C.
TX56
DESCRIPTION: An elegant Chinese Qing Dynasty robe having a design of large and small silk butterflies with couched gold threads, scattered on a navy blue ground with borders of blue and white florals down the center split and around the hem's edges. Sleeve bands are executed in intricate embroidery on a white silk ground depicting figures in a landscape. This Qing Dynasty robe has been professionally preserved and mounted in an archival, shadowbox frame with sleeves folded over. Excellent... Click for details
$3,800
1
2
3
Next 4