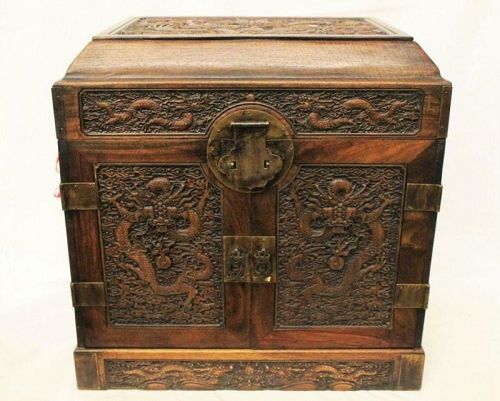 Chinese Huanghuali Jewelry or Seal Chest
SCH399
DESCRIPTION: A beautiful early 20th century Chinese huanghuali seal chest, elaborately carved in relief with fiery 5-toed dragons in clouds, the domed cover above double doors opening to reveal upper storage plus five lower drawers, and fitted flush with brass hardware and a ruyi form hasp. Very good condition. DIMENSIONS: 19.6" H x 19.25" W x 14.5" D. SCH399 $5,390
$5,390
Small Antique Chinese Brass Box with Carved Carnelian
JO55
DESCRIPTION: An attractive oval brass box, the hinged lid decorated with a carved carnelian stone at the center with raised brass leaves on either side. Signed at the interior lid, such a box might have been used for snuff, jewelry, cosmetics or medicines. This attractive little box is in excellent condition and dates from the first quarter of the 20th C. DIMENSIONS: 2 ¼" long (5.7 cm) x 1 1/8" wide (2.9 cm) x 1" high (2.5 cm).
$265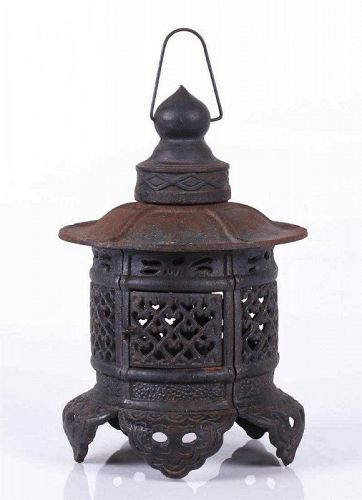 A Japanese Cast Iron Tsuridourou Lantern
BB169
DESCRIPTION: A Japanese cast iron tsuridourou lantern, 20th century, made in pagoda form with five cast segments. Good condition with expected light rust. DIMENSIONS: 9" diameter, 14 1/2" tall.
$295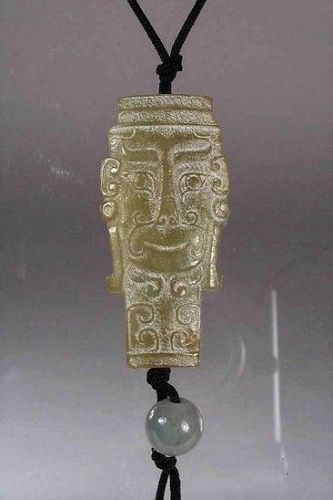 Chinese Jade Mask Pendant / Toggle
JO33
DESCRIPTION: A Chinese celadon jade pendant, both sides well carved in the form of an archaic mask and strung on a black nylon cord with a round celadon jade bead. Such amulets have a long history in China and would have been worn as a mystical protector against all unseen evil and bad luck. This handsome jade pendant is quite wearable and in excellent condition. DIMENSIONS: 2 ¼" long (5.7 cm)
$295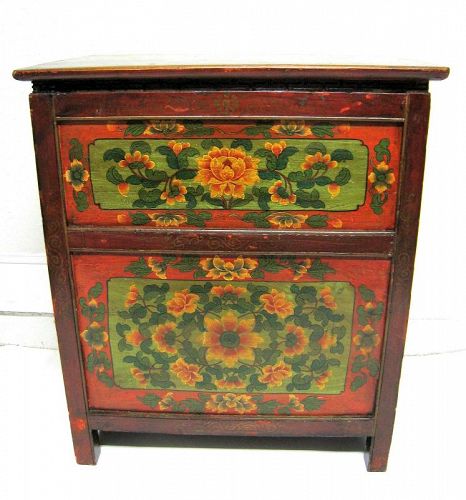 Antique Four Drawer Polychrome Tibetan Chest
CCS17
DESCRIPTION: A colorfully painted Tibetan chest with four side drawers having leather strap pulls (two drawers on each side). The chest is painted with green floral panels having red floral borders and is supported by short legs. A carved key fret pattern decorates the neck just below the top. Dating from the 19th C, this chest is in good condition with very minor scuffs to paint. DIMENSIONS: 33" high x 28.5" wide x 18"deep.
$1,695
Small Chinese Export Silver Filigree Box with Coral
JO58
DESCRIPTION: A beautiful octagonal pill (or snuff) box, the top with silver filigree wire work around inset coal stones forming the shape of a five-petal flower. The box itself is silver over copper and on the inside is stamped "Made in China." Amazingly, the original Frost Bros. retail tag remains on the inside. Frost Brothers was a high-fashion retail store based in San Antonio, Texas, that opened in 1917 and went out of business in 1988. This box dates from C. 1920 to 1945 (Republic... Click for details
$170
1
2
3
6
9
12
15
18
21
24
26
27
Next 4