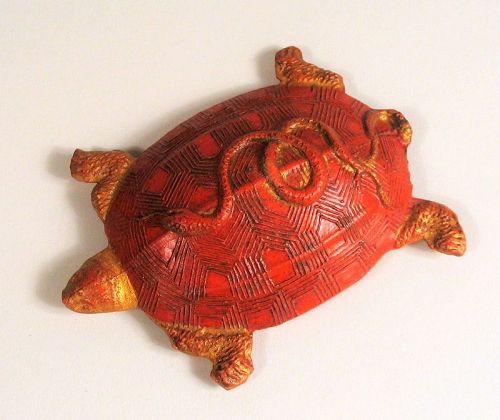 Antique Chinese Red Ink Cake, Turtle Form
SCH389
DESCRIPTION: A red and gilt ink cake in the form of a turtle with a curled snake on its back. In ancient China, the tortoise and the snake were thought to be spiritual creatures symbolizing longevity. Both the front and back have been finely pressed in raised relief with gilt accents. One of the treasures of the Chinese scholar's studio, this ink cake is in excellent condition, in its original box, and dates from the first quarter of the 20th C. or earlier. DIMENSIONS: 3" long (7.7 cm).
$395

Handsome Chinese Lacquered Bamboo and White Jade Pipe
SAO35
DESCRIPTION: A beautiful antique Chinese tobacco pipe, elegantly crafted from a long bamboo stem lacquered in red and black. The tip (bit) is carved from a pure white nephrite jade stone that is tapered and then flared to form the lip. The bowl and shank are crafted from silver metal, and bands of brass rings decorate each end. This pipe is in excellent condition and dates from the latter Qing Dynasty. DIMENSIONS: 17 ¼" long (44 cm).
$875
Elaborately Carved Southeast Asian Wood Panel
ARCH43
DESCRIPTION: A beautifully carved antique wood panel from Southeast Asia, carved with a large center flower medallion surrounded by leafy tendrils within a flower and vine outer border. The panel has an almost whitewashed appearance due to a lightly painted old surface. Very good condition with no warping; hanger on the back to hang horizontally. DIMENSIONS: 45" long x 11 3/8" wide x 7/8" thick.
$430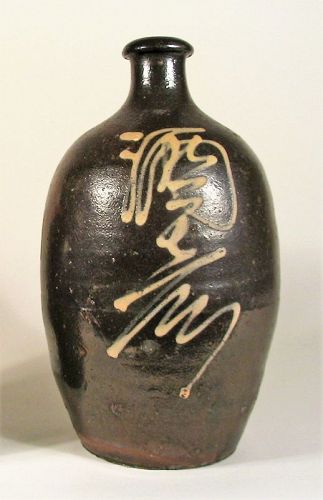 Japanese Pottery Sake Jug, Edo Period
PG4
DESCRIPTION: A handsome hand-thrown Japanese pottery jug (tokkuri) made to store sake (rice wine) and dating from the latter Edo Period, C. 1860. The texture of the thick brown glaze is rich to the eyes and touch, and the jug has fluid kanji script applied in off-white slip to various sides of the jar, probably denoting the name of the sake shop. These humble jugs have an earthen beauty that distinguishes Japanese potters. In excellent condition with no chips or breaks. DIMENSIONS: 12 ½" high... Click for details
$295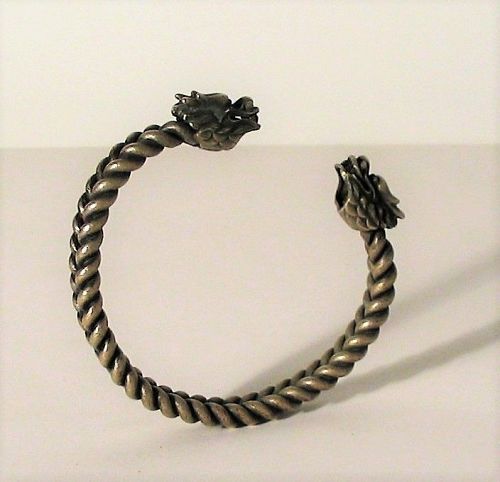 Late 19th C. Chinese Silver Tribal Dragon Bracelet
JO48
DESCRIPTION: A Chinese minority tribe antique silver bracelet, handcrafted from two sturdy silver coils, each twisted and joined to form a braided pattern, with each end terminating in a silver, four-horned dragon head. The woven coils, simulating the dragons' bodies, and the gap between the horned heads allow the bracelet to be "sized" to any wrist. Very decorative and an authentically old piece of tribal jewelry. DIMENSIONS: 3 1/8" exterior diameter (8 cm); 2.5" interior diameter... Click for details
$230
Red Lacquered Chinese Provincial Chest, Late Qing
CCM15
DESCRIPTION: A very attractive antique provincial Chinese chest raised on short feet and lacquered bright red, with one center drawer and two doors. The front face is extended on the sides making distinctive wing-like spandrels with scalloped edges. This solid elm cabinet is constructed with traditional Chinese joinery and originates from Shanxi Province, C. 1910. DIMENSIONS: 39 ¾" wide (1.1 meters) x 34" high (86.4 cm) x 20" deep (50.8 cm).
Sold SOLD
1
2
3
6
9
12
15
18
21
24
27
30
31
Next 4