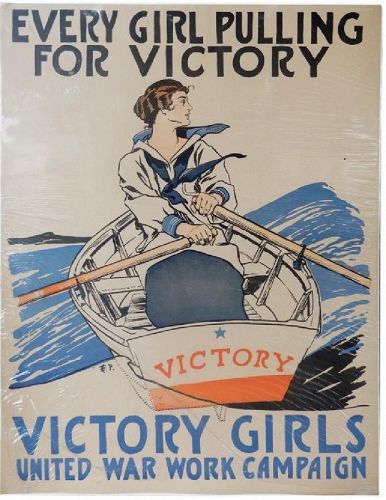 WWI Lithographic Poster, Victory Girl
A-WD2
DESCRIPTION: E. (Edward) P. (Penfield) WWI patriotic lithographic poster, "Every Girl Pulling for Victory", featuring a young woman rowing a boat named "VICTORY." Caption at base reads, "VICTORY GIRLS, UNITED WAR WORK CAMPAIGN." Signed lower left; very good condition, no fading or defects visible. DIMENSIONS: 27 1/2" H x 22 1/4" W.
HISTORICAL BACKGROUND: The United War Work Campaign was a joint effort undertaken by seven voluntary organizations active during World War I: the... Click for details
$1,480.00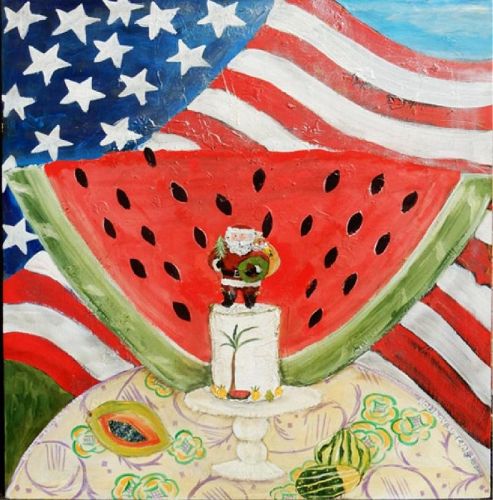 Oil Painting on Board, "Holiday Special," Nancy Thomas
A-WD3
DESCRIPTION: A colorful, contemporary folk art oil painting featuring a slice of watermelon, a small Santa figure, and various fruits and vegetables all arranged on a flowered tablecloth. A large American Flag serves as a dynamic backdrop. Signed lower left, "Nancy Thomas, 2003" and lower right, "Holiday Special." CONDITION: No visible defects. DIMENSIONS: Sight size 48" x 42", unframed.
ABOUT THE ARTIST: Nancy Thomas is a contemporary American folk artist whose work is prized... Click for details
$1,200.00
Oil Painting on Canvas, "Naranjas," Signed
A-WD3
DESCRIPTION: An original oil painting on stretched canvas featuring dozens of oranges, both cut and whole. Signed lower right and verso "Lopez," also on verso, "Naranjas, oleo eta, 30 x 40, Lopez." DIMENSIONS: 30" high x 40"wide, 3.75lbs.
$625.00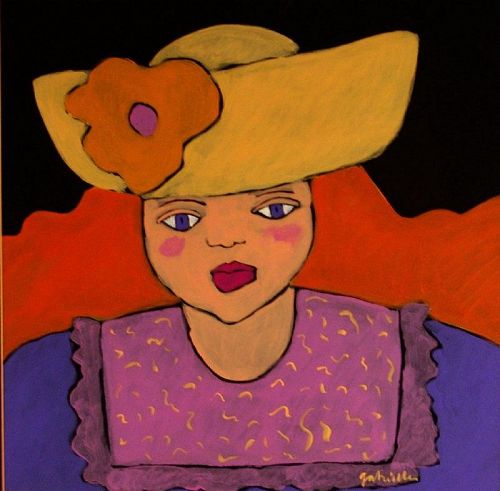 "The English Girl," Painting by Gabrielle Denton, Original Gouache
A-WD1
DESCRIPTION: A delightful portrait of a girl in a hat by Gabrielle Denton, a well known New Mexico folk art painter from Las Cruces, NM. In this simplistic but expressive study, a girl with soulful blue eyes stares directly at the viewer while wearing a large yellow hat with flower. Original gouache, artist signed lower right, well matted and framed in copper-umber hues. DIMENSIONS: Actual painting is 12 ¾" x 12 ¾". Frame dimensions are 26" x 26."
$695.00
1