Petite Zuni Turquoise & Sterling Petit-Point Cuff Bracelet
W-JO27
DESCRIPTION: A classic Zuni double-banded silver cuff bracelet featuring clusters of beautifully matched sky blue turquoise cabochons. These are mounted in a "sunface" design, consisting of two circular rows around a "God's eye" stone in the center. Two additional stone and silver clusters form wings on each side. This beautiful, dainty cuff is perfect for a petite woman who might find other Native American bracelets too "chunky." Hallmark "STERLING" stamped on the reverse. Excellent... Click for details
$385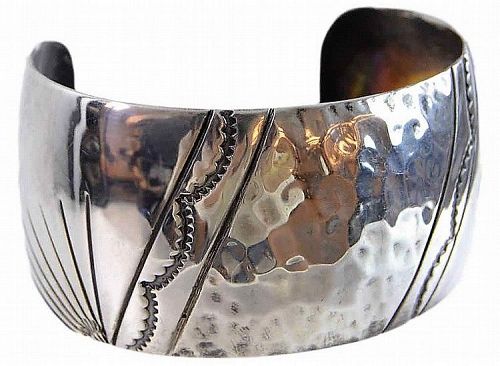 Navajo Silver Cuff Bracelet, Roger Francisco
W-JO28
DESCRIPTION: A Native American silver cuff bracelet having hammered and stamped accents; silver band is a nice, wide 1.5". Stamped "RVF" by Navajo Silver Artist Roger Francisco. DIMENSIONS: Inner circumference = 5.75"; wrist opening = 1.75". Total weight = 52 grams.
$240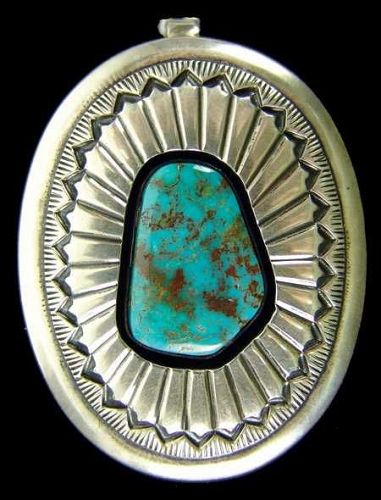 Navajo Sterling & Turquoise Pendant by Ernest Bilagody
W-JO33
DESCRIPTION: A fine hand stamped sterling sunburst design pendant with a large, high quality Cerillos mine turquoise stone set in shadowbox style. Reverse is stamped, "E. Bilagody, Sterling." A Navajo silver artist, Ernest Bilagody is based in Gallup, NM. Late 1900s, excellent condition. DIMENSIONS: 2-1/4" x 1-5/8"
$475
Stunning Sterling Silver & Turquoise Cuff Bracelet with Large Stone
W-JO1
DESCRIPTION: If you're looking for a Native American cuff with a drop-dead "WOW" factor, this is it! This five prong sterling cuff features a fabulous, large, single turquoise stone, light blue-green in color with brown veining. The stone itself measures a whopping 2 ½" x 1 ½". This beauty is mounted on a double row bezel with deeply stamped designs, with a pair of large silver leaves mounted on each of the side prongs to frame the design. This cuff is a real show-stopper, not... Click for details
$1,400
Southwestern Sterling Pendant with Large Multicolored Stone
W-JO32
DESCRIPTION: Late 1900s, a fine sterling pendant with a cut-out flourish on the pendant plate and with a large, colorful calsilica stone, also called "rainbow calsilica," this one reflecting the painted colors of a Southwestern mountain desert at sunset. Very good condition, marked "DTR" (Desert Rose Trading, NM), ".925" (indicating sterling silver). DIMENSIONS: Pendant is 2-1/2" long.
$495
Vintage Navajo Turquoise & Sterling Bracelet
W-JO31
DESCRIPTION: Classic, vintage three-band silver Navajo bracelet, dating from the 1960s, set with a single large oval turquoise stone surrounded by twisted silver wire. Three prongs form the cuff, two with hand stamped designs and the center band of heavy gauge twisted silver wire. Excellent condition. DIMENSIONS: 1 3/8" long center stone, 6 ¼" interior circumference including gap; Adult Medium size.
$475
1
2
3
4
5
Next 4