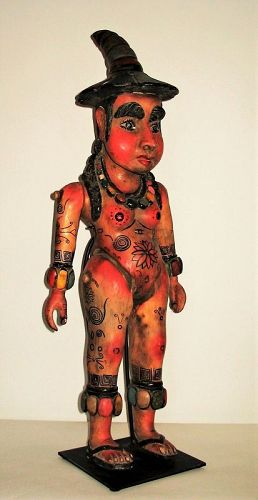 Rare Vintage Mexican Carved Wood Processional Figure
W-FIG3
DESCRIPTION: A Mexican carved wood sculpture of an indigenous female, used as a processional "pole puppet" during Mexican festivals. The polychrome decorated figure has articulated arms and legs and a hole running through the waist through which a pole or dowel would be inserted. The pole, when mounted with several puppets, would be used in festival processions, with the bouncing of the pole animating the movements of the figures. This nude figure with bushy eyebrows and hair is covered... Click for details
$1,220
Pair Native American Hopi Carved Wood Kachina Dolls
W-FIG11
DESCRIPTION: This pair of Native American Hopi hand carved Kachina (or Katsina) dolls includes "Antelope Kachina" with turquoise shirt and black antlers, signed Raphael Jose Jr. 2004, and "Mr. and Mrs. Kokopelli" signed D MASA, Hopi. The Kokopelli Kachina cleverly comes in two parts, which when separated show the couple as nude figures. DIMENSIONS: Tallest 10.25" high.
CULTURAL BACKGROUND: The Hopi people live primarily on three mesas in northeastern Arizona, about 70 miles from... Click for details
Sold SOLD
Oaxacan Mexican Hand Carved Jaguar Dance Mask
W-FIG17
DESCRIPTION: A vibrant, expressive Mexican folk art mask of a yellow and red jaguar with big blue eyes, wide mouth and erect leather ears. Hand carved and painted, this vintage mask depicts a fanciful American jaguar, a popular theme for Mexican artists. The paint condition on this mask is excellent; wire is attached for hanging. View the final three photos to compare this mask with our Mexican Jaguar Mask #W-FIG4; they make wonderful companion pieces! DIMENSIONS: 11.5" tall (29.2 cm) x 10"... Click for details
$520
Pair Vintage Mexican Piglets Salt & Pepper Shakers
W-CP8
DESCRIPTION: A charming pair of earthenware hand-painted piglet salt and pepper shakers, each pig sporting a bow tie and cap. Good condition, "MEXICO" stamped on base, cork stoppers. DIMENSIONS: Each approximately 3" high.
$65 Pair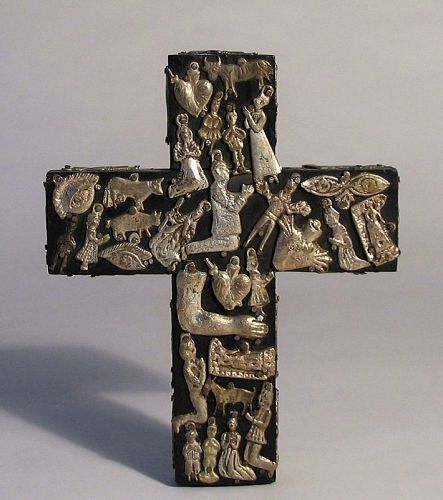 Mexican Milagros Devotional Cross (Ex Voto)
W-FIG15
DESCRIPTION: A vintage Mexican folk art wood cross with dozens of metal milagro icons attached as an act of petition and devotion. Milagros (also known as an ex-voto or promesas) are small religious folk charms associated with the Catholic Church that devotees attach to sacred objects, pin on the clothing of santos statues, or hang with little red ribbons from altars and shrines. The word "milagro" means "miracle".
As part of a religious ritual or an act of devotion, milagros can be... Click for details
$195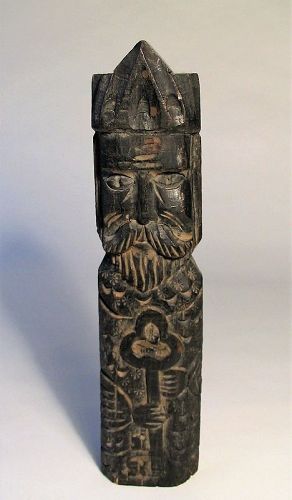 Carved Mexican Wood Santos Figure of St. Peter
W-FIG16
DESCRIPTION: An antique Mexican folk art carving of a bearded St. Peter in a bishop's hat holding a large key, symbolizing the key to the kingdom of heaven entrusted to disciple Simon Peter by Christ. This figure was probably part of a home devotional altar; figure can also be hung on a wall or entry door. Very good condition. DIMENSIONS: 13 1/8" high x 3"wide.
$225
1
2
Next 4