Vintage Antler Handle Stainless Carving Set
W-MS35
This handsome stag horn handled carving set adds the perfect complement to your lodge, rustic or Southwestern kitchen decor. The set includes a large stainless steel roasting fork and carving knife, each with authentic antler handles capped with brass ends. Stamped on the knife's blade is "Royal Brand Cutlery Company, Stainless Steel, Sheffield England." DIMENSIONS: Knife is 14.5" long and fork is 10.5" long. Very good condition; normal wear from usage, minor rust spots on fork.
Sold Sold, Thank you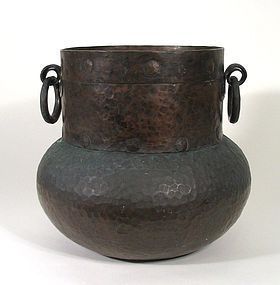 Antique Hand Hammered Spanish Colonial Copper Pot
W-MTL2
DESCRIPTION: A superb solid copper Spanish Colonial cooking pot with a wide banded straight neck and hand hammered bulbous body. Large handmade brads hold the thick copper sheets in place, and two sturdy rings hang from downward curling supports. PROVENANCE: Sourced in Chile while on a South American buying trip; early to mid 1800's. This is a magnificent, solid pot in excellent original condition with age appropriate wear and patina. DIMENSIONS: 11" high (28 cm) x 12" diameter (30.5 cm).
$895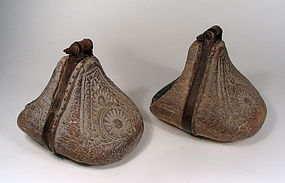 Pair of South American Carved Wood Stirrups, Early 19th C.
W-MS1
DESCRIPTION: A classic and quite old pair of hand carved South American wood stirrups. The Guacho of Argentina, the Morochucos of Peru and the Hauso of Chile all preferred large wooden "shoes" for use as stirrups rather than the more prevalent iron stirrup. These stirrups cover the whole front of the foot, which can be an advantage when riding through tall brush. This pair has good age and obvious usage; we estimate them to date from the early 1800's. Each shoe is carved from a single piece... Click for details
$385 for the Pair
1