Handsome Vintage S.E. Asian Fishing Creel
BSK79
DESCRIPTION: An attractive Asian fishing creel, fashioned from woven split bamboo with wood base and neck, and an attached tightly woven string for hanging. A creel is used for carrying fish or blocks of peat moss which function as an evaporative cooler when dipped into a creek, keeping the catch chilled. This type of creel with a woven, partially open top can also be used to catch lobsters and other crustaceans. Good condition with a nice aged patina. DIMENSIONS: 9" wide x 11" high x 6... Click for details
$225.00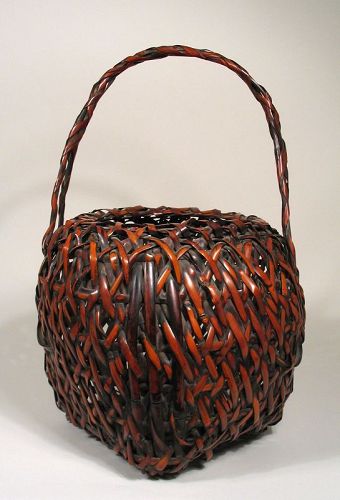 Japanese Bamboo Ikebana Basket, Meiji Period
BSK78
DESCRIPTION: A handsome ikebana basket, Meiji Period, crafted of smoked bamboo in a diagonal weave with double wrapped handle. Three vertical bamboo strips reinforce two corners, and the basket rests on a square, open weave base. Excellent condition with no breaks or losses. Ikebana ("living flowers") is the Japanese art of flower arrangement. It is also known as Kado ("way of flowers"). Japanese artists crafted Beautiful baskets such as this one as containers to hold simple to elaborate ikebana... Click for details
$420.00
Handsome Japanese Hibachi with Copper Liner
BPB203
DESCRIPTION: A handsome Japanese hibachi, crafted from a section of kiri wood (paulownia wood) with rounded body and lacquer floral designs. Inside is the original copper liner where coals would be placed for heating or keeping a tea pot warm. Two large peony blossoms are lacquered in gold and orange on the front, with smaller leafed branches on the reverse. Paulownia wood is very light, fine-grained, and warp-resistant, and is often used in Japan for chests and boxes. Today Japanese... Click for details
$365.00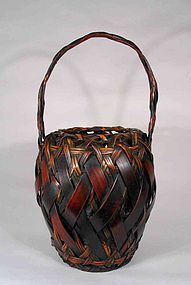 Antique Split Bamboo Japanese Ikebana Basket
BSK71
DESCRIPTION: A fine smoked bamboo ikebana basket woven in a tall ovoid form with entwined bamboo handle. The basket is crafted with a vertical diagonal weave from both wide and narrow splints in contrasting colors. This sturdy and handsome basket has a beautiful aged patina with no losses detected; early 20th century. DIMENSIONS: 18 ½" high x 8 ¾" diameter.
$495.00
Large Chinese Bamboo Basket
BSK44
DESCRIPTION: This wonderful Chinese bamboo basket is one of the nicest we've ever offered. Pleasing in form and expertly handcrafted, the entire basket is tightly woven from bamboo strips in various sizes, forming a pleasing design. Chinese characters are found inside the removable, cone-shaped lid. Three long bent bamboo strips form the handle. Very attractive and in excellent condition. DIMENSIONS: 24" high including handle (61 cm) x 18" diameter (45.7 cm).
$550.00
1