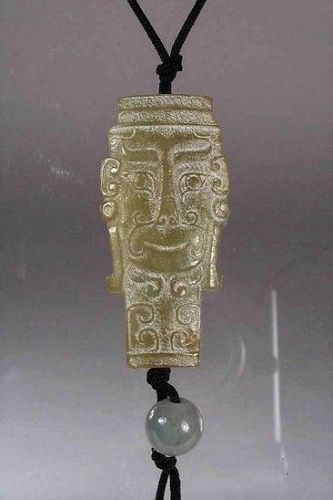 Chinese Jade Mask Pendant / Toggle
JO33
DESCRIPTION: A Chinese celadon jade pendant, both sides well carved in the form of an archaic mask and strung on a black nylon cord with a round celadon jade bead. Such amulets have a long history in China and would have been worn as a mystical protector against all unseen evil and bad luck. This handsome jade pendant is quite wearable and in excellent condition. DIMENSIONS: 2 ¼" long (5.7 cm)
$295.00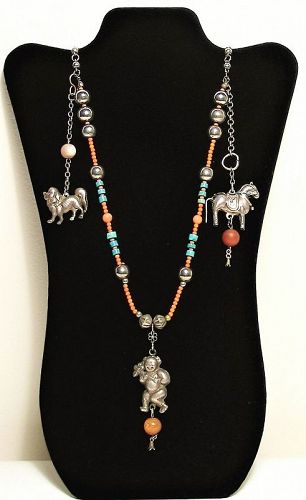 Antique Chinese Silver, Coral and Turquoise Necklace
JO68
DESCRIPTION: A beautiful antique Chinese necklace strung with pink coral, turquoise and silver beads. Three silver figural pendants hang from the necklace, including a foo dog, a horse with saddle and bridal, and a child holding a large flower, each with agate beads. Qing Dynasty, excellent condition. DIMENSIONS: 28.5" end to end (72.5 cm).
$735.00
Chinese Scholar's Ink Stone in Bell Form, Qing Dy
SCH395
DESCRIPTION: A fine and very sculptural Chinese Duan ink stone in the form of a bell with a deeply carved water well on one end, and a flaring flat surface on the other for mixing ink. The stone is raised on two elongated prong feet, between which is a five character inscription. Worth noting is the attractive coloring of the stone, best described as a plumb or eggplant color mixed with dashes of scattered sea-green inclusions, often called "eyes." CONDITION: One tiny chip on raised lip at... Click for details
On Hold On Hold
Exceptional Chinese Shou Shan Stone Seal with Dragon
SCH62
DESCRIPTION: A large and masterfully carved Chinese shou shan stone (soapstone) seal in tall rectangular form, the knob carved with a crouching dragon having both wings tucked back covering its sides, and whose mouth is poised to grasp the sacred pearl. On each flat surface of the base are engraved inscriptions and characters among idyllic scenes of rivers with boats, hills, houses and pavilions. The bottom seal characters leave a positive (red) impression. An outstanding seal in very good... Click for details
$1,450.00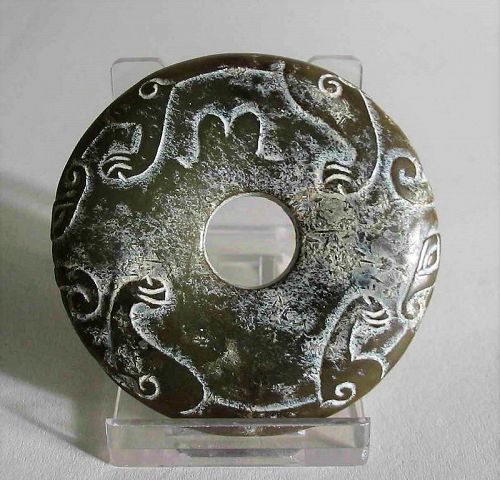 Chinese Carved Jade Bi Disk or Toggle
JHS124
DESCRIPTION: An appealing green nephrite disk or bi, carved with two chilong dragons whose heads and bodies ring the edges with their limbs draping down on either side. From a mid-west collection, the design, color and form are quite pleasing and could be used as a toggle or an eye-catching pendant when incorporated into a necklace. DIMENSIONS: 2 5/8" diameter (6 cm), 2.25 oz. (64g) weight.
$270.00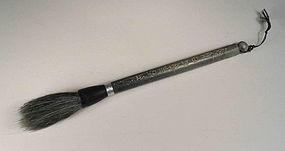 Handsome Inscribed Jade Scholar's Brush
SCH12
DESCRIPTION: A Chinese scholar's calligraphy brush, the brush crafted with natural bristles encased in a horn ferrule. These are secured with a silver band to a pitted green jade handle inscribed with archaic characters and terminating in a round knob. A quality, well made brush in excellent condition, most likely dating to the latter Qing Dynasty to early republic Period. DIMENSIONS: 9 ¼" long (23.5 cm).
$265.00
1
2
3
Next 4