Chinese Scroll Form Wood Incense Holder, 18th C.
SAO212
DESCRIPTION: A very old Chinese wooden incense holder, crafted in the form of a partially unrolled scroll that bends and folds to form the container. On the edges of the "scroll" is a relief carved key pattern border with traces of gilt; the worn lacquer surface still shows the original designs of a bird, flower, bamboo and Chinese characters. The top of the flat back plate has a shaped and carved design with a center hole for hanging. On its reverse can be seen the old, hand forged iron... Click for details
$895.00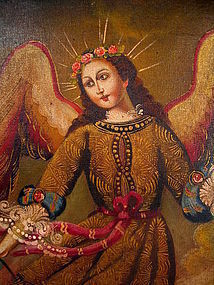 Cuzco Painting, Arcangel San Rafael (Archangel Saint Raphael)
W-WD1
DESCRIPTION: A classic painting from the Peruvian Cuzco School, this stunning oil on canvas of Arcangel San Rafael dates from the 19th C. San Rafael is depicted with angelic face and a crown of roses on his head. The angel is dressed in boots and an elaborate traveler's coat with lace cuffs. From his left hand he holds a fish, which is the symbol of this saint. Wonderful condition; in a more recent burlwood frame; unsigned. Fine detail work and an excellent representation of the... Click for details
$4,400.00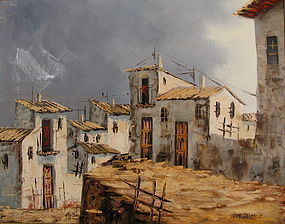 Mexican Adobe Pueblo Painting, Oil on Canvas, R.M Domez
W-WD3
DESCRIPTION: Oil on canvas painting of a Mexican pueblo (or village) by artist R. M. Domez. The multi-story adobe structures with slanted roofs are seen in the escaping light of an approaching storm. Frame is carved wood and gilt; dating from the first half of the 20th C. and in excellent condition. DIMENSIONS: Sight: 23 1/2" wide (59.6 cm) x 18 3/4" high (47.6 cm). In the frame: 29" wide (73.7 cm) x 24 1/2" high (62.2).
$1,100.00
Blue & White Chinese Scholar's Water Dripper, Qing
SCH369
DESCRIPTION: One of the necessary calligraphy tools on the Chinese scholar's table was a small container to hold water and drip it onto the inkstone for the purpose of mixing the ground ink. These small but important objects were crafted so that one measured drop at a time could be poured to ensure the proper ratio of ink to water while mixing. This bulbous blue and white ceramic dripper would have been submerged in water to fill, and then held between the thumb and forefinger with the thumb... Click for details
$255.00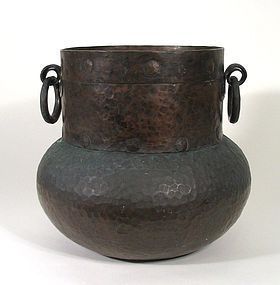 Antique Hand Hammered Spanish Colonial Copper Pot
W-MTL2
DESCRIPTION: A superb solid copper Spanish Colonial cooking pot with a wide banded straight neck and hand hammered bulbous body. Large handmade brads hold the thick copper sheets in place, and two sturdy rings hang from downward curling supports. PROVENANCE: Sourced in Chile while on a South American buying trip; early to mid 1800's. This is a magnificent, solid pot in excellent original condition with age appropriate wear and patina. DIMENSIONS: 11" high (28 cm) x 12" diameter (30.5 cm).
$895.00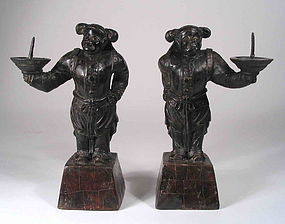 Pair Chinese Lacquer Figural Candle Pricks, 18th/19th C.
FIG88
DESCRIPTION: A captivating pair of lacquered figural candle pricks, each in the form of a smiling attendant with hand on hip, wearing a banded hat and holding aloft a candle dish. The figures themselves are hand crafted of solid brown lacquer around a wire frame, while the flared bases are wood blocks covered in brown lacquer. This unusual, rare pair date from approximately 1750 – 1850, and are in remarkable condition with the expected age wear to the lacquered surface. DIMENSIONS: Each... Click for details
$1,295.00 for the Pair
3 Previous
1
9
16
23
27
28
29
30
31
34
37
40
43
Next 4