Eight Periwinkle Blue Fiesta Ware Dinner Plates
A-CP4
DESCRIPTION: A hard to find set of eight periwinkle blue (color retired) Fiesta dinner plates. Nothing says Americana or "Country Cottage" like Fiesta dinnerware, which can be mixed and matched with other Fiesta colors. Periwinkle blue was introduced by Fiesta in 1989 and discontinued in 2006; this set's logo would date these plates to pre 1992. CONDITION: Light ware, no chips, good condition. DIMENSIONS: 11.5" diameter each. A-CP4 $185 for set of eight
$185.00 for set of eight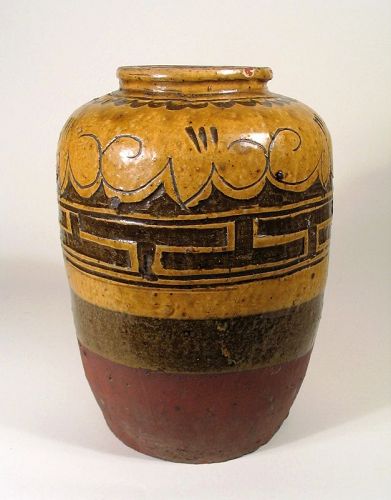 Handsome Chinese Red Clay Oil Jar, 19th C.
GD36
DESCRIPTION: Long acknowledged as masters of porcelain, the Chinese also excelled at pottery making. Qing Dynasty domestic pottery used regional clays and showed distinctive regional styles. This pottery, used for the storage of oil and other household goods, exhibited tremendous, quiet beauty as well as utility. Crafted of red clay and originating from Jiangxi Provence, this handsome jar is an excellent example with its incised geometric decorations in two-toned brown and yellow ochre glazes.... Click for details
$300.00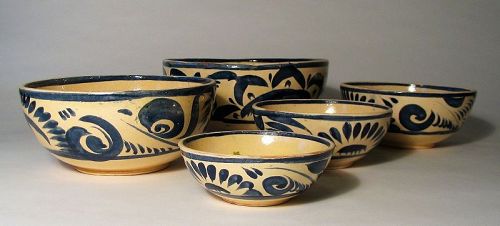 Set of Five Vintage Blue & White Mexican Nesting Bowls
W-CP5
DESCRIPTION: A lovely set of five red clay Mexican earthenware nesting bowls, dating from the 1950's. The bowls are decorated in fluid strokes of blue between blue line borders on a white/cream ground. The interiors have a line of blue around the inner circumference with dollops of green glaze. Very good condition, no chips, original imperfections that add to the charm. DIMENSIONS: Largest bowl: 10.25 diameter x 4.75" high. Smallest bowl: 5.5" diameter x 2" high.
$295.00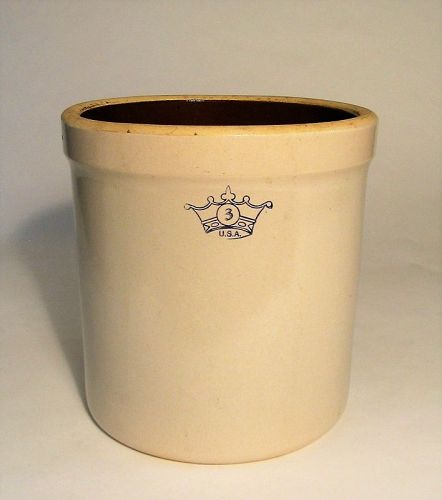 Large, Vintage Roseville Stoneware Crock
A-CP1a
DESCRIPTION: A three gallon Roseville stoneware crock with an off-white exterior glaze and dark brown interior. The bottom is inscribed: "3 gal., R.R. P. Co., Roseville, Ohio, USA." These larger crocks are perfect for your antique kitchen implements such as rolling pins, large wooden spoons, etc. Excellent condition, no chips. DIMENSIONS: 11" high x 11" diameter.
$120.00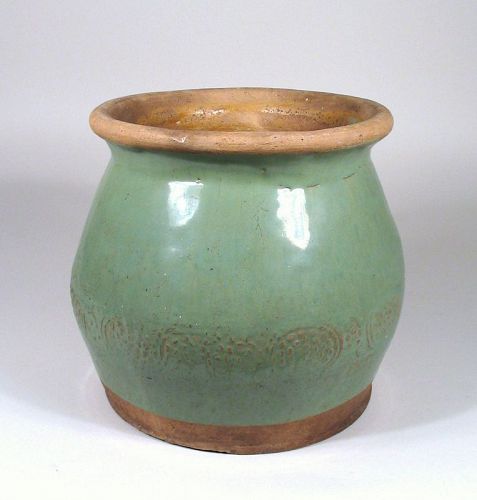 Chinese Celadon Glazed Pottery Jar
GD5
DESCRIPTION: An attractive antique Chinese stoneware jar with wide body and outward turning rim, hand crafted with a pleasing celadon glaze over a raised border of circular designs. In original firing condition and dating from the early 20th C. Though the origin is Chinese, this crock would lend a nice touch of "country" in a cottage or farmhouse setting. DIMENSIONS: 7.5" high (19 cm) x 8" diameter (20.3 cm).
$120.00
Antique Blue & White Stoneware Butter Crock
A-CP1b
DESCRIPTION: Antique American salt glazed stoneware crock with blue underglazed stripes, flowers, and "Butter" decorating the circumference. A "must have" for the country kitchen to hold eggs or fruit, 19th C., unmarked. Good condition; minor nicks to bottom rim. DIMENSIONS: 5.25" high x 7.25' diameter.
$75.00
1
2
3
4
Next 4