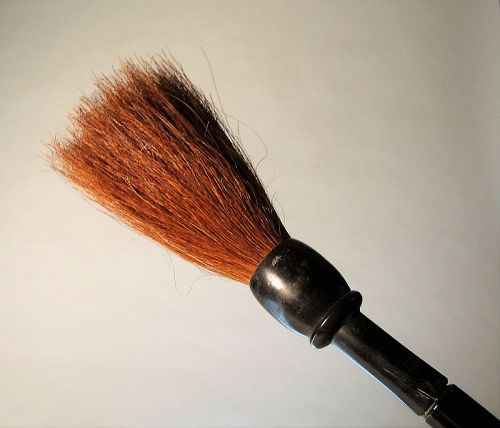 Antique Chinese Calligraphy Ox-Horn Brush
SCH154
DESCRIPTION: An attractive scholar's calligraphy brush, crafted using long brown horsehair bristles attached to a bulbous ox-horn ferrule and segmented, solid ox- horn shaft. A very handsome brush in good condition from the latter Qing Dynasty, which would have been used for calligraphy or painting. DIMENSIONS: 14" long (35.5 cm).
$325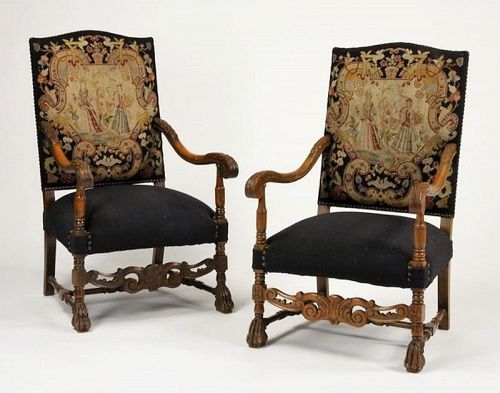 Pair Late 19th C. Carved Walnut French Needlepoint Armchairs
W-CH3
DESCRIPTION: A beautiful pair of late 19th century French carved walnut armchairs, with original gros point and petit point upholstery with nail head trim, the backrests with a central scrolling cartouche framing two maidens encircled with flowers. The seats and back are upholstered in dark blue/back fabric over a turned H-shaped stretcher base with a pierced, carved front stretcher, raised on animal paw feet. Very good condition, and the perfect complement to an Old World decor. DIMENSIONS:... Click for details
$4,850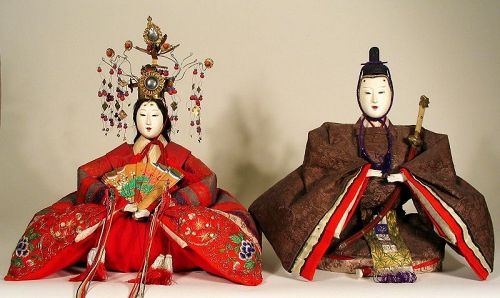 Antique Japanese Emperor and Empress Hina Dolls, Meiji
FIG61
DESCRIPTION: A pair of large Japanese Emperor and Empress dolls, or kokin-bina, presented in formal court dress. The empress' attire is quite elaborate, using fine brocade silks with hand embroidered flowers. In her hands she holds a painted fan and is crowned with an elaborate headdress representing a bird with long hanging beads attached. Both dolls have gofun faces and hands, which are in excellent condition. The accessories include the empress' crown and tasseled fan, and the emperor's... Click for details
$995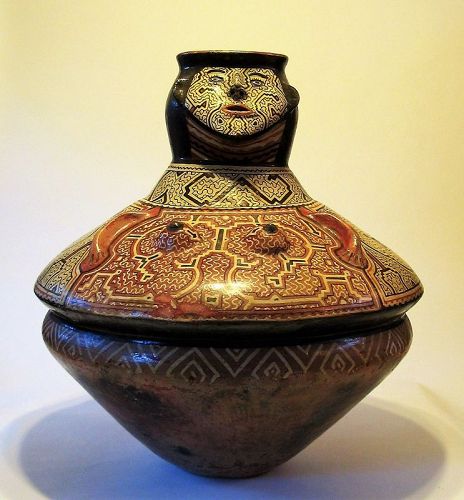 Large Peruvian Shipibo Pottery Effigy Vessel, 20th C
W-PT14
DESCRIPTION: From the Amazon rainforest of Peru, the Shipibo-Conibo are an indigenous tribe known for their distinctive pottery and textiles. Their unique, intricate geometric designs are sophisticated interpretations of their cosmic beliefs that the jungle rivers follow the same course as the stars. Collectors world-wide clamor for their coil constructed pottery, made by the women of the tribe.
This very large, outstanding female figural vessel has a wide, double lobed body and dates from... Click for details
$1,595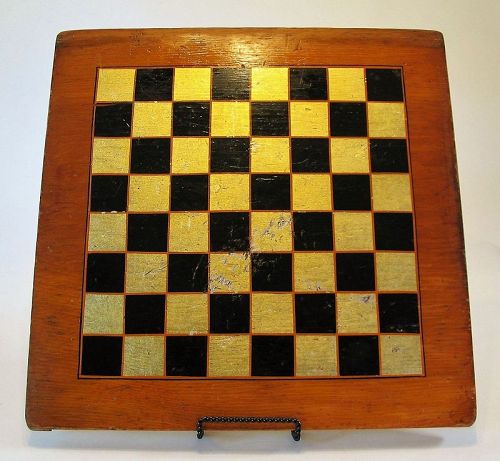 Vintage Wood Checkers Game Board
A-FA8
DESCRIPTION: A good country wood game board in original paint with alternating hand painted black and metallic silver/gold squares outlined in red pin stripes. Abrasions to area in center of board; sturdy construction. DIMENSIONS: 15.75" square x 7/8" thick.
$280
Fine Antique Chinese Boxwood Toggle of a Sage, Qing
SN26
DESCRIPTION: Wonderful boxwood toggle of a seated sage with a scroll, depicting the Daoist deity Fu Shen, the Chinese god of happiness. His scroll is carved with four Chinese characters and he wears a feathered coat. Two netsuke type holes pierce the back for threading a cord to hang from a sash. This toggle has a luscious, hand-rubbed patina that only great age and handling can produce; 18th/19th C. DIMENSIONS: 1 7/8" high (4.8 cm) x 1 3/8" wide (3.5 cm).
$575
3 Previous
1
7
12
17
20
21
22
23
24
32
40
48
56
Next 4