Chinese Scholar's Ink Stone in Bell Form, Qing Dy
SCH395
DESCRIPTION: A fine and very sculptural Chinese Duan ink stone in the form of a bell with a deeply carved water well on one end, and a flaring flat surface on the other for mixing ink. The stone is raised on two elongated prong feet, between which is a five character inscription. Worth noting is the attractive coloring of the stone, best described as a plumb or eggplant color mixed with dashes of scattered sea-green inclusions, often called "eyes." CONDITION: One tiny chip on raised lip at... Click for details
$975
Pair of Vintage Wood Juggling Pins / Clubs
A-UTL4a
DESCRIPTION: Nice pair of wooden exercise clubs or juggling pins. The bodies of both clubs have been turned and the lines painted in alternating colors of red and green. Very good condition with normal wear and no cracks. DIMENSIONS: The taller club is 13.75" high; the shorter club is 12" high.
$85 Pair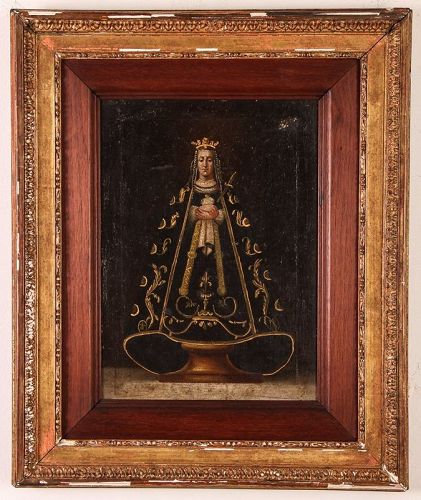 Spanish Colonial Painting, Madonna with Crown
W-WD7
DESCRIPTION: 18th or 19th C. Spanish Colonial oil painting of the Virgin Mary as Queen of Heaven standing on a pedestal, depicted with a serene face, hands folded over a flowing black robe with gold embroidery, and dagger piercing her heart. This painting is rich with religious symbolism and ideology, as is common of religious paintings made during the Spanish Colonial period to emphasize the teachings of the Catholic Church. Latin American, oil on canvas laid on masonite panel. Frame is... Click for details
$6,800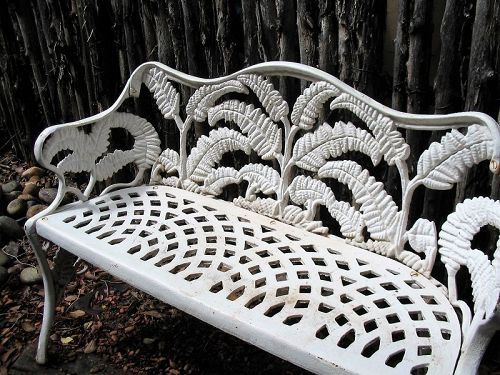 Early Cast Iron Fern Pattern Garden Bench
A-CH4
DESCRIPTION: A late 19th to early 20th century cast iron garden bench with serpentine crest over the back and side arms and a classic openwork fern pattern with pierced seat, the naturalistic legs having side stretchers with similar fern decoration. Very good condition; light, scattered rust spots, paintable. DIMENSIONS: 41" wide x 27 1/2" high; seat height is 14 1/2"
$1,075
Exceptional Chinese Shou Shan Stone Seal with Dragon
SCH62
DESCRIPTION: A large and masterfully carved Chinese shou shan stone (soapstone) seal in tall rectangular form, the knob carved with a crouching dragon having both wings tucked back covering its sides, and whose mouth is poised to grasp the sacred pearl. On each flat surface of the base are engraved inscriptions and characters among idyllic scenes of rivers with boats, hills, houses and pavilions. The bottom seal characters leave a positive (red) impression. An outstanding seal in very good... Click for details
$1,450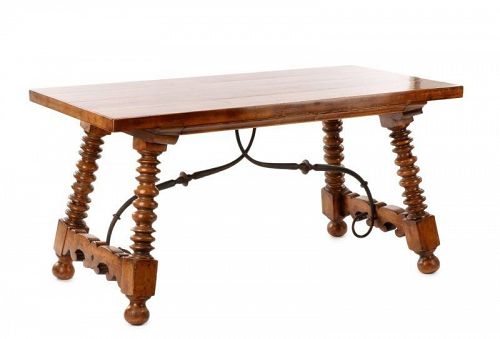 19th C. Spanish Renaissance Iron Mounted Trestle Table
W-TBL1
DESCRIPTION: An outstanding, solid walnut, trestle-form refectory table comprising four hand-turned splayed legs raised on ball feet, each pair joined by a thick, scrolling wood stretcher. The legs are attached to a solid single-plank rectangular top with two hidden drawers to one side. Beautiful scrolling iron stretchers attach the underside plank with the wood stretchers for strength and stability. This handsome, sturdy table could be used as a desk, for dining, or as a library table;... Click for details
$7,950
3 Previous
1
7
12
17
20
21
22
23
24
30
36
42
48
Next 4