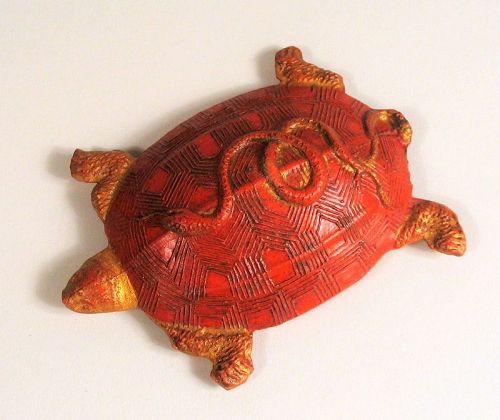 Antique Chinese Red Ink Cake, Turtle Form
SCH389
DESCRIPTION: A red and gilt ink cake in the form of a turtle with a curled snake on its back. In ancient China, the tortoise and the snake were thought to be spiritual creatures symbolizing longevity. Both the front and back have been finely pressed in raised relief with gilt accents. One of the treasures of the Chinese scholar's studio, this ink cake is in excellent condition, in its original box, and dates from the first quarter of the 20th C. or earlier. DIMENSIONS: 3" long (7.7 cm).
$395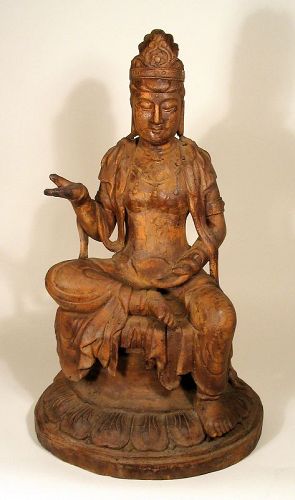 Large Chinese Carved Wood Figure of Guanyin
FIG68
DESCRIPTION: A large, carved wood figure of the Chinese deity Guanyin (also Quanyin, or Kwan-yin), seated on a throne with right leg folded and right hand extended in the abhaya mudra position, a gesture of reassurance, blessing and protection (or "do not fear"). Her hair is worn pulled up in a chignon inside her crown, and around her shoulders is draped a short shawl with flowing ribbons. In good, solid condition with minor age wear; early 20th C. DIMENSIONS: 24 ½" high (62 cm) x 14"... Click for details
$715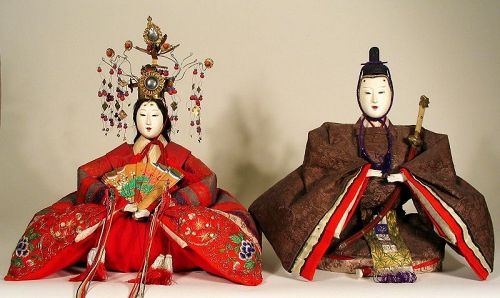 Antique Japanese Emperor and Empress Hina Dolls, Meiji
FIG61
DESCRIPTION: A pair of large Japanese Emperor and Empress dolls, or kokin-bina, presented in formal court dress. The empress' attire is quite elaborate, using fine brocade silks with hand embroidered flowers. In her hands she holds a painted fan and is crowned with an elaborate headdress representing a bird with long hanging beads attached. Both dolls have gofun faces and hands, which are in excellent condition. The accessories include the empress' crown and tasseled fan, and the emperor's... Click for details
$995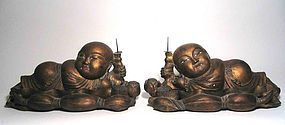 Pair Chinese Lotus Boy Candle Pricks
FIG3
DESCRIPTION: A pair of decorative, large and captivating carved wooden figures of two reclining "lotus boys," each with a candle stand in one hand. The fat-cheeked, gilded babies are carved separately from their large lotus leaf bases, which are complete with curled edges and seed pods. In Chinese folklore, such figures represent the wish for many sons - "as many as the seeds in the lotus pod." These large figures are absolutely charming, and would make wonderful focal points on a... Click for details
$895 For the pair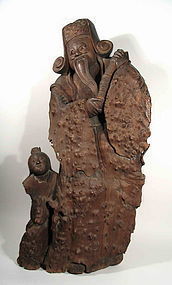 Large Chinese Burl Sculpture of Scholar and Boy, Early Qing
FIG92
DESCRIPTION: A significant Chinese sculpture featuring a Scholar with his boy attendant, carved from a large slab of burl hardwood. The undulations and knobs of the slightly curving burl slab have been beautifully incorporated into the carving, forming the scholar's garment and top of his curled hat. The bearded scholar looks slightly upward with a pleasing expression and holds a scroll in his hands. At his side is his young attendant gazing upward with a charming smile. Naturalistic burl... Click for details
$2,950
Carved Chinese Stone Weight with Lion, Qing
JHS169
DESCRIPTION: A Chinese paper press (or weight), carved from one piece of dark stone with a lion on its haunches in its center. The lion bares its teeth and crouches with bold posture on a flat stone surface. Four cartouches featuring designs of bamboo, banana, peony, and blooming lotus are etched on this surface. 19th C., Qing dynasty and in good overall condition; small chip to lion's curled mane in rear view. DIMENSIONS: 10 ½" square (26.7 cm sq.) x 5" high (12.7 cm).
$695
1
2
3
Next 4