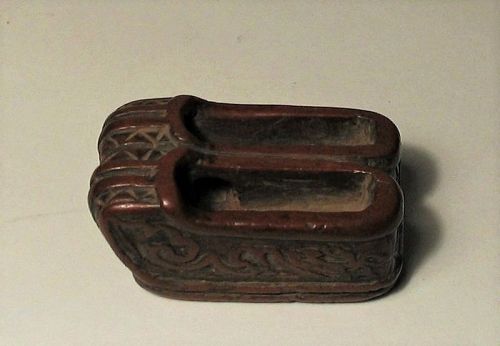 Fine Chinese Toggle of Carved Pair of Shoes
SN117
DESCRIPTION: An antique Chinese boxwood toggle (Guajian) carved as a pair of men's shoes resting side by side, a symbol of marital harmony and the wish for many sons. The shoes are elaborately carved with hollowed interior, relief banding, and incised designs on all sides including the soles. A hole running through the inner sides of each shoe forms the track used for threading cords from which this toggle would have been suspended as a counterweight to some other object. An outstanding... Click for details
$495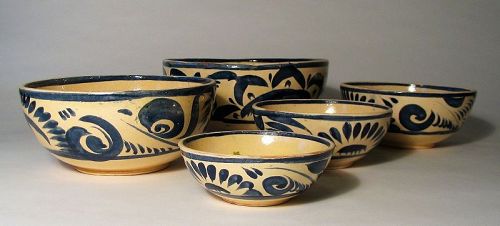 Set of Five Vintage Blue & White Mexican Nesting Bowls
W-CP5
DESCRIPTION: A lovely set of five red clay Mexican earthenware nesting bowls, dating from the 1950's. The bowls are decorated in fluid strokes of blue between blue line borders on a white/cream ground. The interiors have a line of blue around the inner circumference with dollops of green glaze. Very good condition, no chips, original imperfections that add to the charm. DIMENSIONS: Largest bowl: 10.25 diameter x 4.75" high. Smallest bowl: 5.5" diameter x 2" high.
$295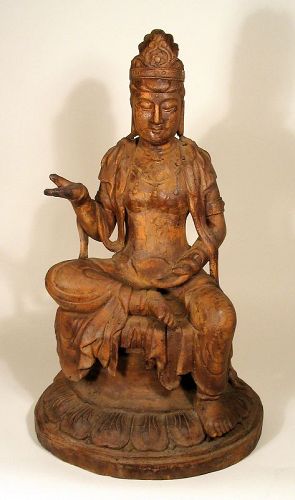 Large Chinese Carved Wood Figure of Guanyin
FIG68
DESCRIPTION: A large, carved wood figure of the Chinese deity Guanyin (also Quanyin, or Kwan-yin), seated on a throne with right leg folded and right hand extended in the abhaya mudra position, a gesture of reassurance, blessing and protection (or "do not fear"). Her hair is worn pulled up in a chignon inside her crown, and around her shoulders is draped a short shawl with flowing ribbons. In good, solid condition with minor age wear; early 20th C. DIMENSIONS: 24 ½" high (62 cm) x 14"... Click for details
$715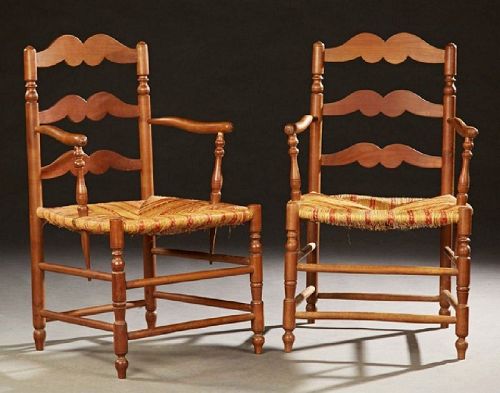 Pair of Antique French Provincial Carved Cherry Armchairs
A-CH5
DESCRIPTION: A charming pair of French Provincial armchairs, each crafted from solid, carved cherry wood and each having rush seats with red accent stripes, early 20th C. Carved turned arms attach to an arched ladderback over the red striped seats on turned tapered legs with toupie feet, joined by stretchers. Very good condition. DIMENSIONS: 34.25" high x 21.25" wide x 20.25" deep.
$895 Pair
A Large, Fine Chinese Silk Kesi Textile Weaving, Qing Dynasty
TX60
DESCRIPTION: From a private collection comes this large, professionally framed Chinese kesi tapestry (also known as "k'ossu" or "cut silk" weaving), dating from the Qing Dynasty, 19th Century.
Executed in muted tones of peach, grey, gold, tan and cream, the large panel features many finely woven silk figures depicted in an active battle with scenes of armed warriors on their horses, flag bearers, and officials observing from rock outcroppings. The background is woven with... Click for details
$12,500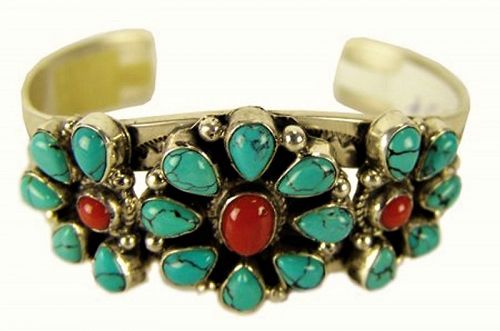 Sterling, Turquoise & Coral Navajo Cuff Bracelet by Leonard Jackson
W-JO34
DESCRIPTION: An attractive Native American sterling cuff bracelet, late 1900s, by Navajo silver artist, Leonard Jackson. This striking and somewhat delicate design features three natural stone flowers with turquoise petals and coral centers mounted onto a sturdy sterling cuff with fine hand-stamped designs. Very good condition, no chips to any stones, signed "L Sterling J." Beautiful colors, very attractive and comfortable on the wrist. DIMENSIONS: Center flower is 1" square; 2.5" inside... Click for details
$795
3 Previous
1
5
8
11
13
14
15
16
17
27
37
47
56
Next 4