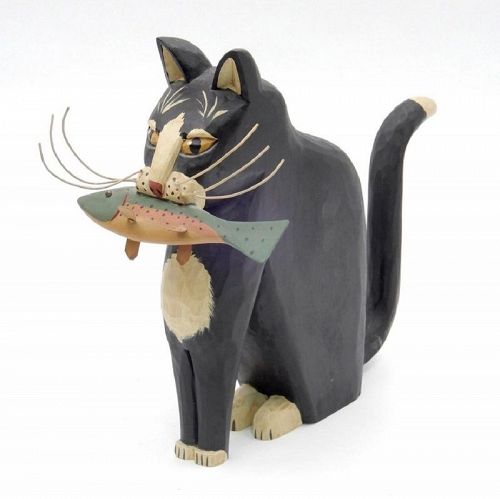 Folk Art Wood Carving of Cat with Fish, by G&G Hosfeld
A-FA10
DESCRIPTION: A charming folk art sculpture depicting a seated blue & white cat holding a fish in its mouth under its long, curved whiskers. By Pennsylvania contemporary folk artist and sculptor, G&G Hosfeld; artist signed and dated on bottom, "G&G Hosfeld, 1983, Souderton, PA." Excellent condition; a warm and whimsical accent piece for your farmhouse, country or lake cabin décor. DIMENSIONS: 8 1/4"wide x 11 7/8" high x 4 1/2" thick.
$475.00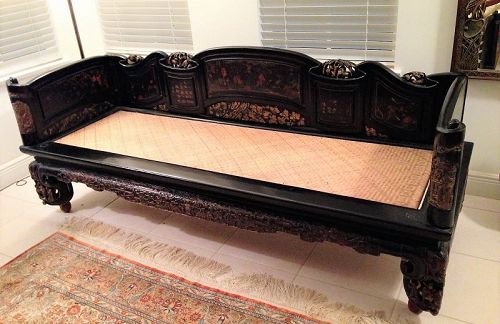 A Fine Chinese Lacquer and Carved Gilt-Wood Opium Bed, Qing, 19th C.
WLF-CH1
DESCRIPTION: A rare and beautiful Chinese daybed or opium bed (also referred to as a lady's couch bed, lohan, or "ta" bed), the black lacquered wood back and side panels shaped as an unfurled scroll with elaborate decorations including figural scenes, animals, flowers and birds, Chinese poetry and pierced gilt carvings. These surround a rectangular support frame topped with a woven mat seat. Below the seat an elaborately carved skirt stretches between thick, boldly carved legs.
This... Click for details
$3,900.00 Reduced Price!
Antique American Country High Back Bucket Bench or Cupboard
A-CBL1
DESCRIPTION: This early to mid 19th c. high-back pine bucket-bench, or cupboard, is a graceful and highly unusual piece of American country & primitive furniture. With shaker-like sensibility, this utilitarian piece would have been at home in the foyer where you could sit while taking off snowy boots, or in the kitchen used as storage for crocks of grain and other staples, or on the covered porch by the entry where you could place groceries or packages while opening the front door.
This... Click for details
$1,895.00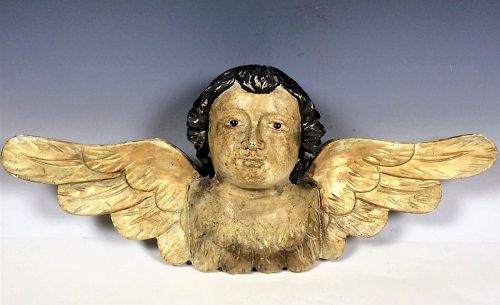 Antique Carved Wood Cherub
W-FIG24
DESCRIPTION: An engaging carved wood santo figure of a winged cherub, most likely carved in the Philippines. This figure, dating from the early 1900's, is depicted with black hair, inset glass eyes and extended wings. CONDITION: Some age appropriate losses to original paint. DIMENSIONS: 6.5" high x 16" wide.
$545.00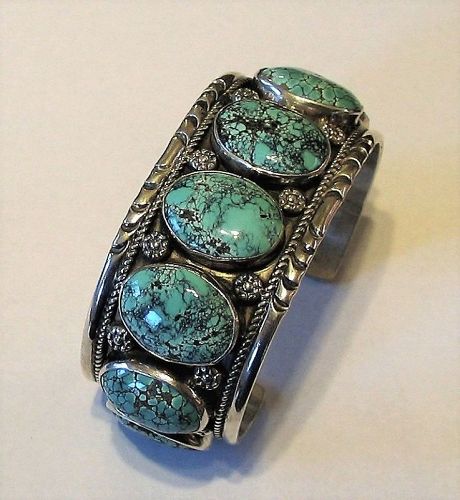 Excellent Sterling & Turquoise Navajo Cuff Bracelet, Signed LLS
W-JO3
DESCRIPTION: An impressive Native American, hand-crafted, sterling silver cuff bracelet with a wide band set with eight large turquoise stones, each having brown to black veining. Each stone is framed by four silver flower beads, all within a silver twisted wire border. Excellent condition, no chips to stones, very comfortable and beautiful on the wrist. DIMENSIONS: Inner circumference is 6.75" including wrist opening (adult medium size); 8 stones, each 3/4" x 5/8"; band is 1.25" wide;... Click for details
$885.00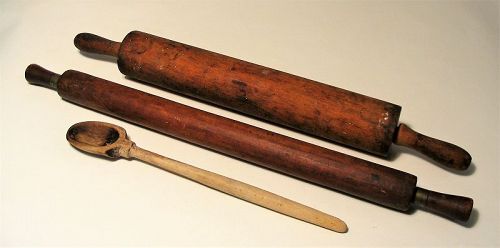 Early American Long Wooden Rolling Pins and Spoon
A-UTL4
DESCRIPTION: No country kitchen is complete without a few antique kitchen tools on display. Harkening back to homemade apple pies, here we have two long wooden rolling pins with handles plus a long wooden kitchen spoon to add to you display collection. All are in good, useable condition with normal wear from age and usage. DIMENSIONS: Longest rolling pin is 23.75", second is 22.75" long.
$50.00
3 Previous
1
5
8
11
13
14
15
16
17
24
31
38
43
Next 4