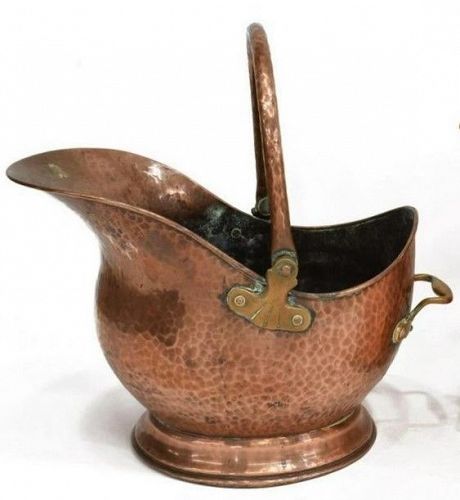 English Copper & Brass Coal Scuttle
A-MTL13
DESCRIPTION: A handsome English hand-hammered copper coal scuttle with copper handle and brass fittings, in good sturdy condition, perfect for your fireplace hearth for removing ashes. DIMENSIONS: 11" high x 15" wide x 10.25" deep.
$345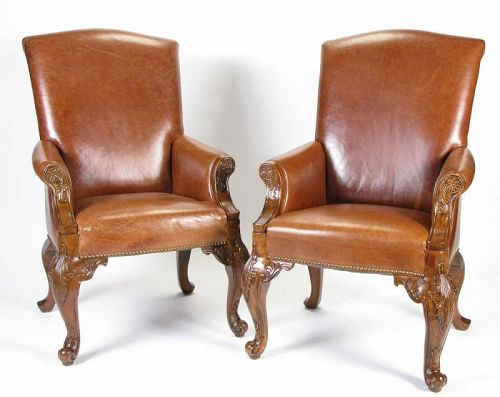 Pair of Leather High-Back Arm Chairs
A-CH6
DESCRIPTION: A handsome pair of high-back leather arm chairs, reminiscent of old English club or smoking chairs, with well carved wood cabriole legs, nail head trim, and carved wood trim at arms. Light usage. DIMENSIONS: 43" high, seat 17.5" wide x 18.5" deep. A-CH6 $1,795 Pair
$1,795 for the pair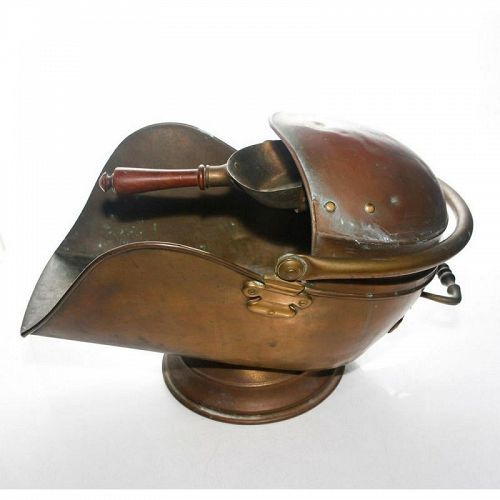 Victorian Copper Coal Scuttle Bucket and Shovel Scoop
A-MTL12
DESCRIPTION: A handsome Victorian era (c. 1890) copper coal scuttle with brass handle and hinges, having a built-in copper "pocket" on the top to hold a shovel scoop. These coal scuttles are practical today for removing ashes from your fireplace, and making a warm "hearth and home" statement. This one shows use with scattered small dents and a base repair. DIMENSIONS: 13.5" High x 19.5" long. A-MTL12 $315
$315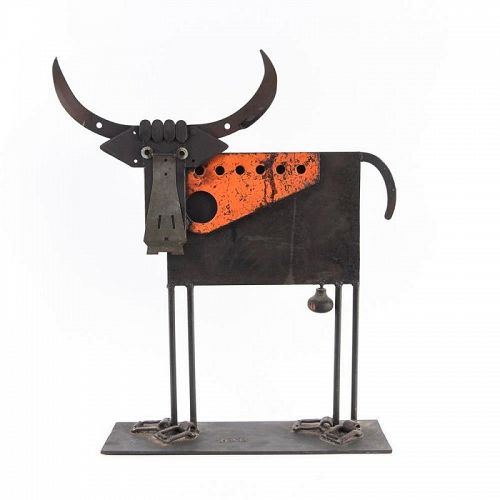 Delightful Welded Iron Bull Sculpture
W-FIG36
DESCRIPTION: An appealing welded iron sculpture of a long-horned bull, crafted of found objects including washer eyes, belt buckle hooves and an old wooden door knob. Artist signed on the base; good condition. DIMENSIONS: 29" high x 25" wide x 6" deep. W-FIG36 $640
$640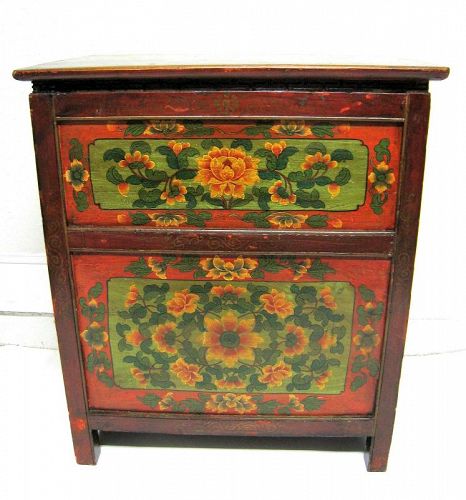 Antique Four Drawer Polychrome Tibetan Chest
CCS17
DESCRIPTION: A colorfully painted Tibetan chest with four side drawers having leather strap pulls (two drawers on each side). The chest is painted with green floral panels having red floral borders and is supported by short legs. A carved key fret pattern decorates the neck just below the top. Dating from the 19th C, this chest is in good condition with very minor scuffs to paint. DIMENSIONS: 33" high x 28.5" wide x 18"deep.
$1,695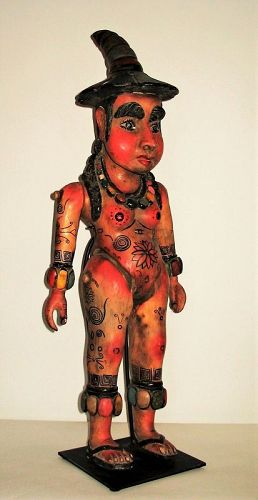 Rare Vintage Mexican Carved Wood Processional Figure
W-FIG3
DESCRIPTION: A Mexican carved wood sculpture of an indigenous female, used as a processional "pole puppet" during Mexican festivals. The polychrome decorated figure has articulated arms and legs and a hole running through the waist through which a pole or dowel would be inserted. The pole, when mounted with several puppets, would be used in festival processions, with the bouncing of the pole animating the movements of the figures. This nude figure with bushy eyebrows and hair is covered... Click for details
$1,220
3 Previous
1
2
3
4
10
16
22
28
34
40
46
52
56
Next 4