Handsome Chinese Lacquered Bamboo and White Jade Pipe
SAO35
DESCRIPTION: A beautiful antique Chinese tobacco pipe, elegantly crafted from a long bamboo stem lacquered in red and black. The tip (bit) is carved from a pure white nephrite jade stone that is tapered and then flared to form the lip. The bowl and shank are crafted from silver metal, and bands of brass rings decorate each end. This pipe is in excellent condition and dates from the latter Qing Dynasty. DIMENSIONS: 17 ¼" long (44 cm).
$875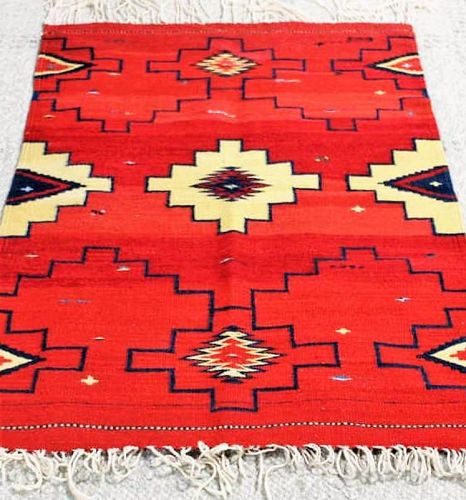 Vintage Mexican Hand Woven Carpet
W-RG1
DESCRIPTION: A hand woven flat weave Mexican wool carpet, dating from the mid 20th C, with bright red ground and geometric designs in dark blue and light beige. Originally purchased in Mexico in the 1970's by an interior designer who stored it for decades, this rug is in like-new condition. From a Scarsdale, NY Estate; rug is reversible. DIMENSIONS: 34" wide x 53" long, plus fringe.
$295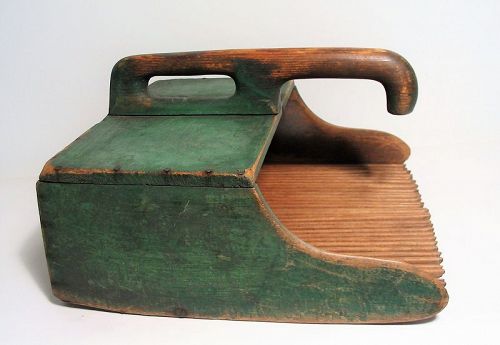 Antique Cranberry Scoop in Original Green Paint
A-UTL2
DESCRIPTION: An appealing antique cranberry scoop in original green paint, constructed in a lovely sculptural form with attached handle and a scoop with multiple slim prongs to strain out water without losing the cranberries. CONDITION: Usage wear in all the right places; split to board holding prongs. DIMENSIONS: 13.25" wide x 13.25" long x 7.5" high.
$585
Elaborately Carved Southeast Asian Wood Panel
ARCH43
DESCRIPTION: A beautifully carved antique wood panel from Southeast Asia, carved with a large center flower medallion surrounded by leafy tendrils within a flower and vine outer border. The panel has an almost whitewashed appearance due to a lightly painted old surface. Very good condition with no warping; hanger on the back to hang horizontally. DIMENSIONS: 45" long x 11 3/8" wide x 7/8" thick.
$430
Petite Zuni Turquoise & Sterling Petit-Point Cuff Bracelet
W-JO27
DESCRIPTION: A classic Zuni double-banded silver cuff bracelet featuring clusters of beautifully matched sky blue turquoise cabochons. These are mounted in a "sunface" design, consisting of two circular rows around a "God's eye" stone in the center. Two additional stone and silver clusters form wings on each side. This beautiful, dainty cuff is perfect for a petite woman who might find other Native American bracelets too "chunky." Hallmark "STERLING" stamped on the reverse. Excellent... Click for details
$385
Three Large Antique Maple Kitchen Spoons
A_UTL1A
DESCRIPTION: Three antique wooden kitchen spoons, hand carved from maple wood. These have been waxed showing a beautiful patina, and new leather straps are attached for display. DIMENSIONS: Largest = 17" long x 4" wide; smallest = 14.5" long x 2.25" wide.
$120
3 Previous
1
2
3
4
10
16
22
28
34
40
46
52
56
Next 4