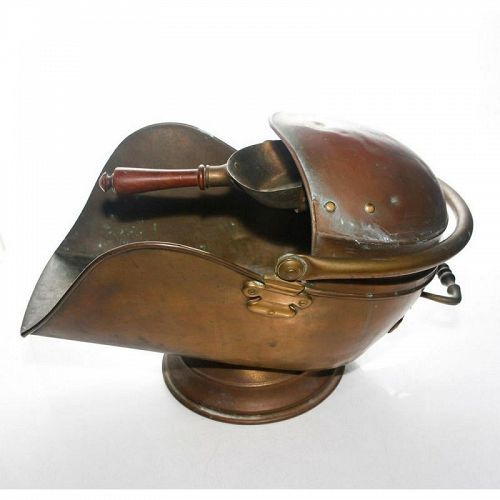 Victorian Copper Coal Scuttle Bucket and Shovel Scoop
A-MTL12
DESCRIPTION: A handsome Victorian era (c. 1890) copper coal scuttle with brass handle and hinges, having a built-in copper "pocket" on the top to hold a shovel scoop. These coal scuttles are practical today for removing ashes from your fireplace, and making a warm "hearth and home" statement. This one shows use with scattered small dents and a base repair. DIMENSIONS: 13.5" High x 19.5" long. A-MTL12 $315
$315.00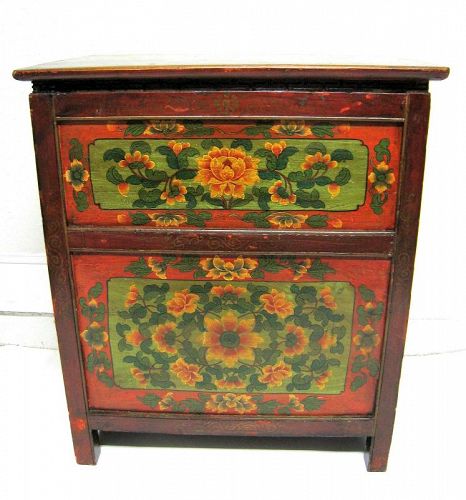 Antique Four Drawer Polychrome Tibetan Chest
CCS17
DESCRIPTION: A colorfully painted Tibetan chest with four side drawers having leather strap pulls (two drawers on each side). The chest is painted with green floral panels having red floral borders and is supported by short legs. A carved key fret pattern decorates the neck just below the top. Dating from the 19th C, this chest is in good condition with very minor scuffs to paint. DIMENSIONS: 33" high x 28.5" wide x 18"deep.
$1,695.00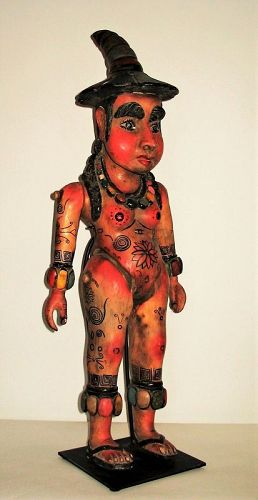 Rare Vintage Mexican Carved Wood Processional Figure
W-FIG3
DESCRIPTION: A Mexican carved wood sculpture of an indigenous female, used as a processional "pole puppet" during Mexican festivals. The polychrome decorated figure has articulated arms and legs and a hole running through the waist through which a pole or dowel would be inserted. The pole, when mounted with several puppets, would be used in festival processions, with the bouncing of the pole animating the movements of the figures. This nude figure with bushy eyebrows and hair is covered... Click for details
$1,220.00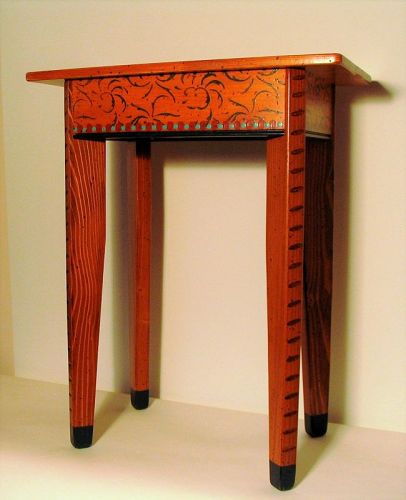 Artisan Crafted Console or Side Table, David Marsh
A-TBLS2
DESCRIPTION: Finely hand crafted small console table, perfect for an end table, bedside table, a printer, or anywhere you need a little extra surface space. Painted with green vine stencils and alternating red and light blue dots. Like new condition. DIMENSIONS: 30" high x 24" wide x 13.75" deep.
David Marsh furniture is uniquely designed using sustainable pine and reclaimed wood. Each piece is hand crafted by David and his fellow craftsmen in his Texas studio. The distinctly... Click for details
$585.00
Small Chinese Export Silver Filigree Box with Coral
JO58
DESCRIPTION: A beautiful octagonal pill (or snuff) box, the top with silver filigree wire work around inset coal stones forming the shape of a five-petal flower. The box itself is silver over copper and on the inside is stamped "Made in China." Amazingly, the original Frost Bros. retail tag remains on the inside. Frost Brothers was a high-fashion retail store based in San Antonio, Texas, that opened in 1917 and went out of business in 1988. This box dates from C. 1920 to 1945 (Republic... Click for details
$170.00
Early Slate Game Board
A-FA1
DESCRIPTION: A handsome, engraved and painted slate checkers and chest game board, the solid board with beveled corners and alternating brown squares with round felt pads on back four corners. Sourced in Vermont, very good condition. DIMENSIONS: 15 1/4" x 15 1/2".
$985.00
3 Previous
1
2
3
4
9
14
19
24
29
34
39
42
43
Next 4