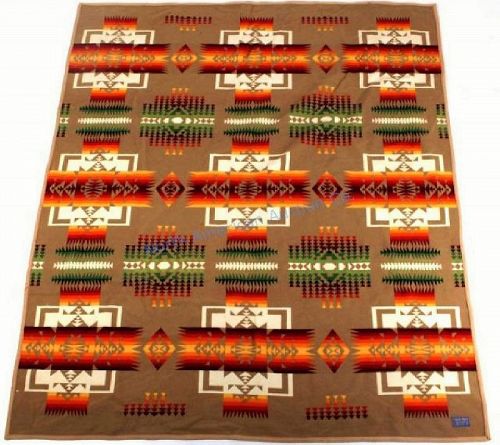 Large Pendleton Indian Pattern Wool Blanket, Beaver State
W-TX17
DESCRIPTION: A large, colorful Pendleton wool blanket in the geometric Chief Joseph pattern. Chief Joseph led the Nez Perce tribe native to northeastern Oregon in the late 1800s. Widely admired for protecting his people and speaking the truth, he is honored with this design, symbolizing bravery. The combination of beauty, quality, durability and the superior warmth of their wool blankets earned Pendleton a reputation for superb craftsmanship and quality, which continues to be a hallmark of the... Click for details
$395.00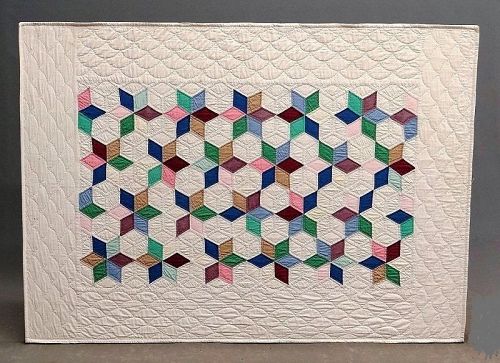 Vintage Crib Quilt, Mounted
A-TX3
DESCRIPTION: A lovely mounted crib quilt in a tumbling blocks pattern, the colors making the optical illusion of six point stars. Quilt is mounted with light sewing onto stapled muslin, and can be hung in two directions. From the collection of a Pawling, New York collector. DIMENSIONS: 39" x 54".
$795.00
Vintage Geometric Navajo Rug
W-RG13
DESCRIPTION: A hand woven Native American rug in a traditional tumbling blocks pattern, a Navajo motif also found in Americana quilts. This attractive, double sided, flat weave wool rug uses natural dyes in red, black and tan to form the block designs. Very good condition, no holes or tears. DIMENSIONS: 55" x 35".
$1,250.00
Vintage Uzbek Suzani Embroidery
TXW1
DESCRIPTION: A vibrant Suzani coverlet, finely embroidered with silk threads on a cream-colored cotton ground. Suzani (a word meaning "needlework") is a type of embroidered tribal textile made in Uzbekistan, Kazakhstan and other Central Asian countries. These coverlets are traditionally made by Central Asian brides for their dowry and presented to the groom on the wedding day.
This vintage suzani was acquired in Turkey from an Uzbek family and displays traditional design motifs such as... Click for details
$1,200.00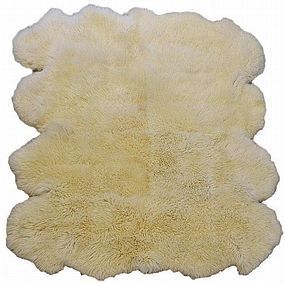 Large White Llama Fur Rug
W-RG11
DESCRIPTION: A white, luxurious, deep-pile llama fur rug with a white hide-leather back. This is the kind of wonderful fur rug you love to walk on (or lay in) during a cold winter's evening. Excellent condition with no fur loss, this rug is very soft to the touch, and would be a plush addition to the back of a sofa, or on a bedroom or lodge floor. It is in such good condition that we are keeping it clean and wrapped in plastic until it finds its new owner. DIMENSIONS: This is a large rug,... Click for details
$995.00
1