Red Lacquered Chinese Provincial Chest, Late Qing
CCM15
DESCRIPTION: A very attractive antique provincial Chinese chest raised on short feet and lacquered bright red, with one center drawer and two doors. The front face is extended on the sides making distinctive wing-like spandrels with scalloped edges. This solid elm cabinet is constructed with traditional Chinese joinery and originates from Shanxi Province, C. 1910. DIMENSIONS: 39 ¾" wide (1.1 meters) x 34" high (86.4 cm) x 20" deep (50.8 cm).
$990
Pair of Tall, Heavily Carved Chinese Doors, Early 19th C.
ARCH13
DESCRIPTION: A pair of substantial, deeply carved Chinese doors originating from Zhejiang province and dating from the early 1800's, Qing dynasty. These handsome, heavy solid elm doors still have all of their original pegs attached, which would have been set into round sockets at the top and bottom, allowing the doors to be opened and closed.
The top panels are carved with flowers and a repeating swastika pattern, the Chinese character meaning good fortune or longevity. A pair of carved... Click for details
$2,195
Red Lacquered Chinese Chest, Qing
CCM10
DESCRIPTION: A two door, two drawer Chinese chest in a vernacular or "Chinese country" style, made from elmwood (jumu) and lacquered red, with an attractive "key fret" patterned on the bottom stretcher. Rounded beveled panels have been carved into the two sides, the drawer fronts and the two doors which swing open on brass hinges to reveal generous storage space. Handmade in Shanxi Province using traditional Chinese methods of joinery (no nails, only joints), these chests make vibrant... Click for details
Sold Sold, Thank You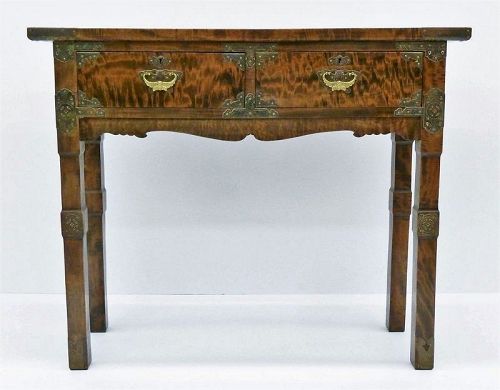 Beautifully Grained Antique Korean Side Table
TBL38
DESCRIPTION: An especially beautiful antique Korean altar table (or side table) crafted from gorgeous flame-grained solid wood with a single board top over two drawers and shaped skirt. Brass fittings adorn all corners, and drawers have engraved brass butterfly pulls. This table's size is perfect to function as a small buffet table, sofa table, or accent piece. Overall excellent condition; 19th century, Choson period (1392 to 1897). DIMENSIONS: 35'' high x 42'' wide x 14'' deep. TBL38
$2,150
Pair of Antique Chinese Door Panels, Qing
ARCH15
DESCRIPTION: A pair of attractive carved elm Chinese door panels with pierced upper portions to let light in. Nice, crisp carvings; in good condition with no missing parts. These antique carved panels would make nice room screens, room dividers or accents pieces in a home. DIMENSIONS: Each panel is 81 1/8" high (2.06 m) x 21 1/8" wide (53.5 cm). We have a number of reliable freighters we use for shipping.
$1,495 for the Pair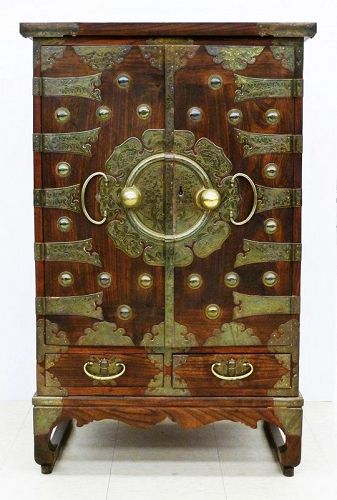 Korean Bandaji Chest with Elaborate Brass Mounts
CCM18
DESCRIPTION: A tall Korean bandaji chest with elaborately etched brass mounts, having hatchet-shaped hinges on two doors over two lower drawers with brass butterfly mounts. A large flower-shaped center medallion with etched flowering trees dominates the front and contains the locking mechanism (original key included). The two doors open to reveal three small drawers (ideal for jewelry) over three larger drawers with bat-shaped mounts. The upper portion unlocks to reveal a drop front desk with... Click for details
$2,480
1
2
3
4
Next 4