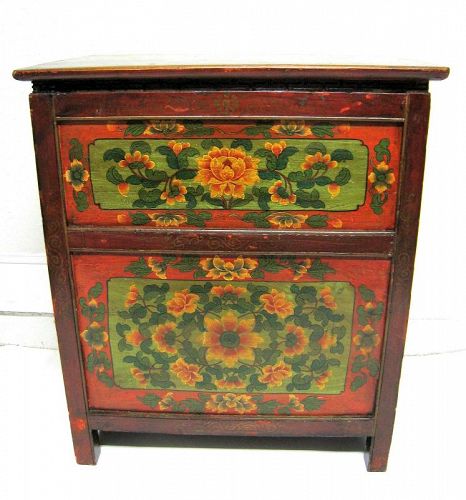 Antique Four Drawer Polychrome Tibetan Chest
CCS17
DESCRIPTION: A colorfully painted Tibetan chest with four side drawers having leather strap pulls (two drawers on each side). The chest is painted with green floral panels having red floral borders and is supported by short legs. A carved key fret pattern decorates the neck just below the top. Dating from the 19th C, this chest is in good condition with very minor scuffs to paint. DIMENSIONS: 33" high x 28.5" wide x 18"deep.
$1,695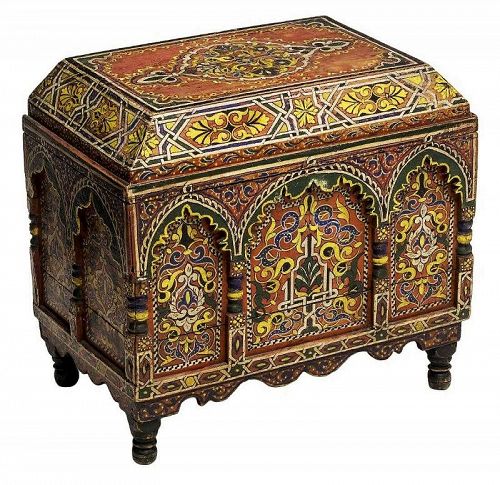 Antique Arabesque Polychrome Lidded Box / Chest, 19th C.
TBS43
DESCRIPTION: An exotic and intricately painted polychrome lidded wood chest of Italian Arabesque design. The body is decorated with carved architectural form arches and columns on three sides with intricately painted geometric and floral designs on a red ground. The back is also painted and has a large center pomegranate medallion with floral designs. Rising on turned feet, a scalloped apron forms the base; the hinged lid conceals open storage. Some paint loss and separation to wood.... Click for details
$1,150
Elaborately Carved Southeast Asian Wood Panel
ARCH43
DESCRIPTION: A beautifully carved antique wood panel from Southeast Asia, carved with a large center flower medallion surrounded by leafy tendrils within a flower and vine outer border. The panel has an almost whitewashed appearance due to a lightly painted old surface. Very good condition with no warping; hanger on the back to hang horizontally. DIMENSIONS: 45" long x 11 3/8" wide x 7/8" thick.
$430
Pair of Tall, Heavily Carved Chinese Doors, Early 19th C.
ARCH13
DESCRIPTION: A pair of substantial, deeply carved Chinese doors originating from Zhejiang province and dating from the early 1800's, Qing dynasty. These handsome, heavy solid elm doors still have all of their original pegs attached, which would have been set into round sockets at the top and bottom, allowing the doors to be opened and closed.
The top panels are carved with flowers and a repeating swastika pattern, the Chinese character meaning good fortune or longevity. A pair of carved... Click for details
$2,195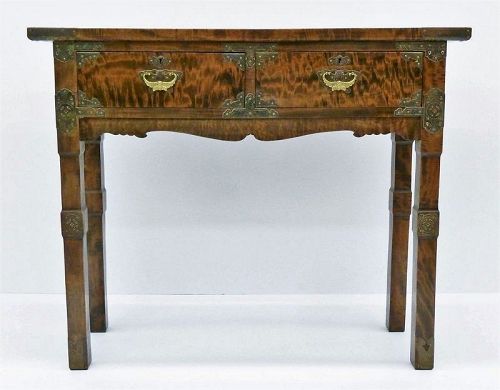 Beautifully Grained Antique Korean Side Table
TBL38
DESCRIPTION: An especially beautiful antique Korean altar table (or side table) crafted from gorgeous flame-grained solid wood with a single board top over two drawers and shaped skirt. Brass fittings adorn all corners, and drawers have engraved brass butterfly pulls. This table's size is perfect to function as a small buffet table, sofa table, or accent piece. Overall excellent condition; 19th century, Choson period (1392 to 1897). DIMENSIONS: 35'' high x 42'' wide x 14'' deep. TBL38
$2,150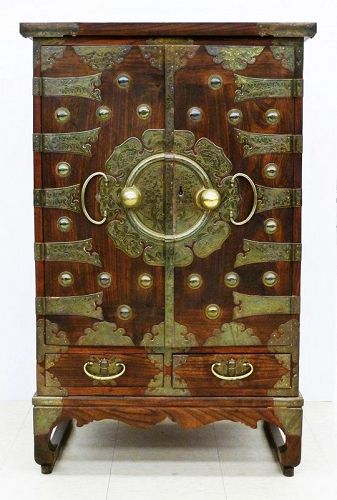 Korean Bandaji Chest with Elaborate Brass Mounts
CCM18
DESCRIPTION: A tall Korean bandaji chest with elaborately etched brass mounts, having hatchet-shaped hinges on two doors over two lower drawers with brass butterfly mounts. A large flower-shaped center medallion with etched flowering trees dominates the front and contains the locking mechanism (original key included). The two doors open to reveal three small drawers (ideal for jewelry) over three larger drawers with bat-shaped mounts. The upper portion unlocks to reveal a drop front desk with... Click for details
$2,480
1
2
3
Next 4