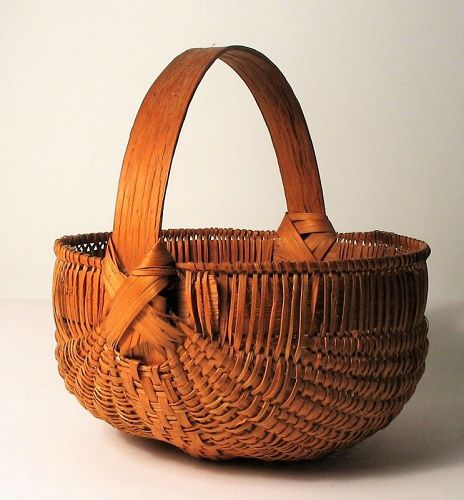 Fine Antique Oak Splint Tennessee Gizzard Basket
A-BSK5
DESCRIPTION: A hand woven gizzard basket, c. 1890-1900, originating from Crossville, Tennessee. Gizzard baskets, sometimes known as the bow basket or egg basket, are made forming the handle and rim first, then are lashed together to form a frame. Into this lashing, ribs are inserted which hold the weaving that forms the shell of the basket. Gizzard baskets are the "Cadillac" of white oak baskets and are prized by collectors, being difficult to make and time-consuming. This basket has the... Click for details
$275.00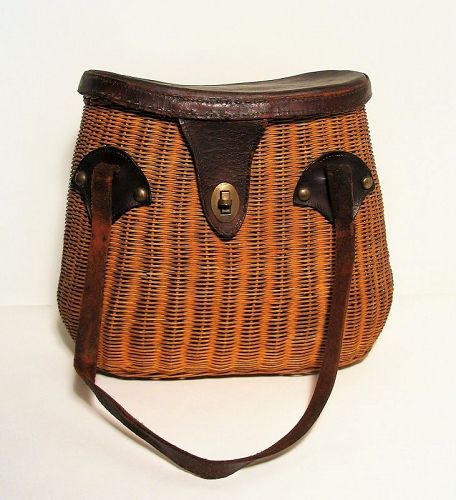 Wicker Fishing Creel with Leather Lid
A-UTL13
DESCRIPTION: A good woven wicker fishing creel with leather straps and sturdy saddle-shaped lid attached to the rounded creel body. Such antique fishing gear can make attractive and functional decorative accessories for lake cabins and seaside homes. Early 20th C. CONDITION: Good condition with almost no losses to wicker; minor scuffing to leather; interior silk lining degraded. DIMENSIONS: 12.25" wide x 10.75" high x 6.5" deep.
$195.00
Antique French Wicker Fishing Creel
A-UTL11
DESCRIPTION: A good woven wicker French fishing creel with lid having a rectangular hole and leather straps attached to the rounded creel body. A long sturdy canvas and leather strap threads through two holes in the back for wearing over the shoulder. The metal maker's tag on top reads "MF, FERAX, MANUFACTURE FRANCAIS" stamped on a raised fish. Early 20th C., good condition with very minor losses to wicker. DIMENSIONS: 13.25" wide x 9" high x 7" deep.
$185.00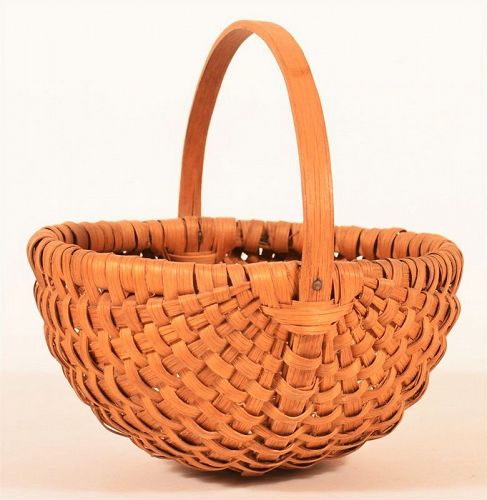 Antique Woven Splint Oak Egg Basket
A-BSK1
DESCRIPTION: An antique circular form egg gathering basket of woven splint oak with bent splint oak handle. Good condition with only minor wear. DIMENSIONS: 9-1/4" high x 9-1/4" diameter
$385.00
Large Antique Split Oak Field Basket
A-BSK12
DESCRIPTION: Beautiful melon-shaped split oak basket with a sturdy bentwood handle and oak-wrapped wide rim. This early 1900's folk art basket is in great condition with no major losses noted. DIMENSIONS: 18" long x 14.5" wide; height with handle is 13.75", without is 8.75".
$570.00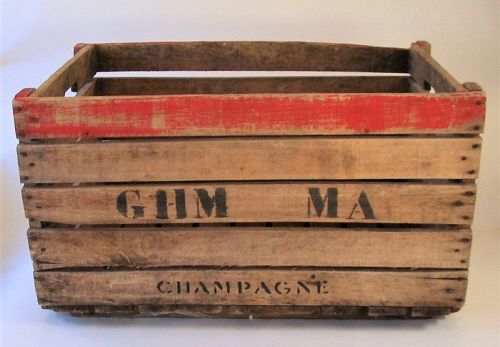 Wooden French Vineyard Champagne Crate
A-BSK10
DESCRIPTION: A sturdy wooden champagne grape box or crate used in French vineyards at harvest time. This one has touches of red paint, "GHM MA CHAMPAGNE" stenciled on both sides and handholds notched into the slats at the top. These boxes enhance a country provincial decorating style while functioning as split log holders for the fireplace or the perfect place to toss your wet or snowy boots in winter. DIMENSIONS: 15 ½" high x 27"wide x 19 1/2"deep.
$455.00
1
2
Next 4