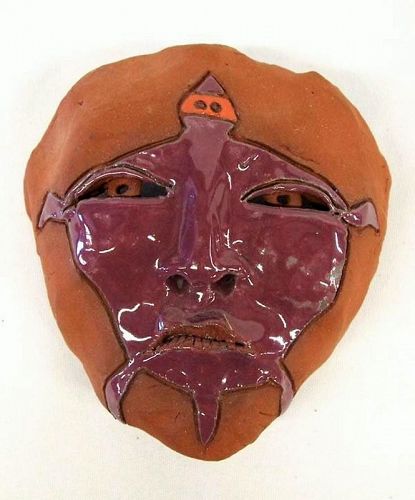 Glazed Redware Mask, "Cold Morning," by LaFontaine
W-FIG35
DESCRIPTION: An artist made redware mask, the face glazed with a purple turtle figure. Signed on the back, "Cold Morning," La Fontaine, January 2008. Artist Glen LaFontaine (b. 1947) is a Native American visual artist working primarily in clay. Excellent condition and ready to hang. DIMENSIONS: 5'' L x 5''W x 2'' D
$250.00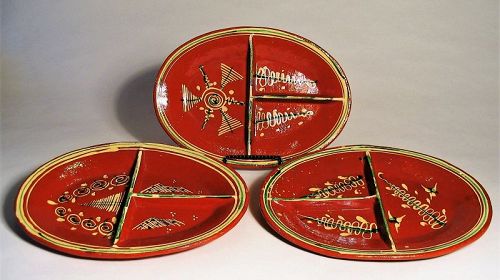 Set of Three Mexican Divided Platters, 1940's
W-CP4
DESCRIPTION: A set of 1940's Mexican divided pottery platters in a chocolate brown glaze with hand painted slip decorations in cream and green. These platters are a fiesta waiting to happen with their psychedelic designs, each platter with a different pattern. Perfect for hors d'oeuvres at your next party, these platters are in very good condition. DIMENSIONS: 12.25" long x 8.75" wide.
$235.00 Set of Three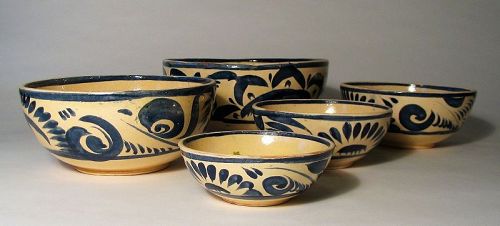 Set of Five Vintage Blue & White Mexican Nesting Bowls
W-CP5
DESCRIPTION: A lovely set of five red clay Mexican earthenware nesting bowls, dating from the 1950's. The bowls are decorated in fluid strokes of blue between blue line borders on a white/cream ground. The interiors have a line of blue around the inner circumference with dollops of green glaze. Very good condition, no chips, original imperfections that add to the charm. DIMENSIONS: Largest bowl: 10.25 diameter x 4.75" high. Smallest bowl: 5.5" diameter x 2" high.
$295.00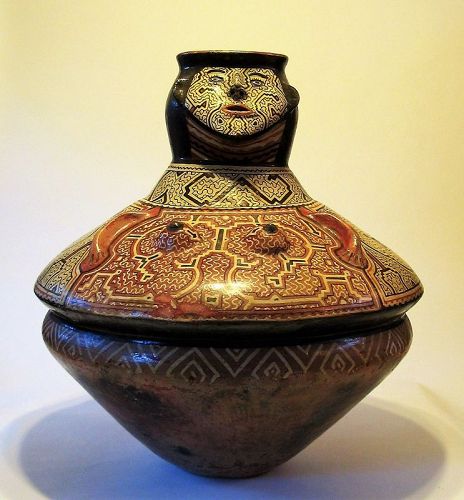 Large Peruvian Shipibo Pottery Effigy Vessel, 20th C
W-PT14
DESCRIPTION: From the Amazon rainforest of Peru, the Shipibo-Conibo are an indigenous tribe known for their distinctive pottery and textiles. Their unique, intricate geometric designs are sophisticated interpretations of their cosmic beliefs that the jungle rivers follow the same course as the stars. Collectors world-wide clamor for their coil constructed pottery, made by the women of the tribe.
This very large, outstanding female figural vessel has a wide, double lobed body and dates from... Click for details
$1,595.00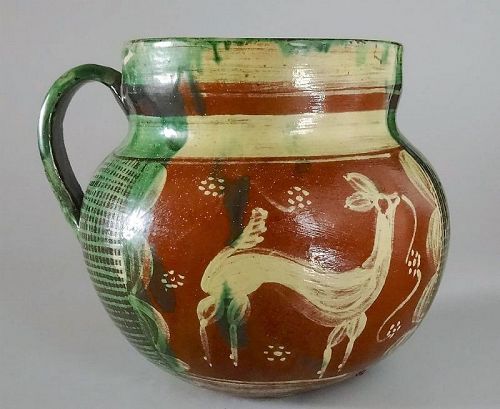 Fine Mexican Tlaquepaque / Tonala Pottery Pitcher, c 1920's
W-CP7
DESCRIPTION: A vintage terra cotta pitcher (or handled pot), skillfully hand-painted in green and white glazes with deer painted on each side using fluid brush strokes. Originating from the Tlaquepaque-Tonala area of Mexico, this delightful redware pitcher is in excellent condition; no chips or cracks. DIMENSIONS: Body is 6.25" x 5.5"; 5" high.
$195.00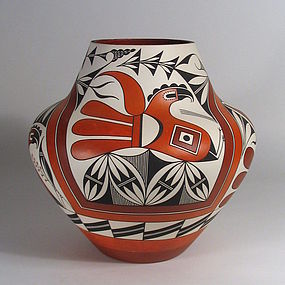 Large Acoma Olla with Parrots, Adrian Vallo
W-PT9
DESCRIPTION: A quite spectacular Acoma pot of great size and shape with a wonderfully complex design by Acoma artist, Adrian Vallo. A double rainbow of light and dark sienna bands divides this beautiful greenware olla into four quadrants, with two lively dark-sienna parrots below the arched rainbows, and two lighter sienna parrots above horizontal rainbow bands. Additional geometric designs in black on white are executed with clean, crisp lines. Very good condition, minor surface scratches,... Click for details
$1,895.00
1
2
Next 4