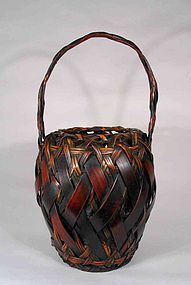 Antique Split Bamboo Japanese Ikebana Basket
BSK71
DESCRIPTION: A fine smoked bamboo ikebana basket woven in a tall ovoid form with entwined bamboo handle. The basket is crafted with a vertical diagonal weave from both wide and narrow splints in contrasting colors. This sturdy and handsome basket has a beautiful aged patina with no losses detected; early 20th century. DIMENSIONS: 18 ½" high x 8 ¾" diameter.
$495.00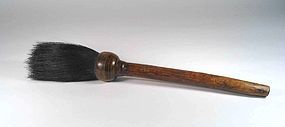 Large Antique Chinese Calligraphy Brush, 19th C.
SCH278
DESCRIPTION: A large wooden scholar's brush used to paint large calligraphy. Thick black bristles are gathered into a bulbous wood ferrule, turned from the same wood as the handle. The tip of the handle is pierced for hanging. A very nice old brush, good for display in large brush pots; 19th C., normal wear as would be expected. DIMENSIONS: 16" long (41 cm).
$195.00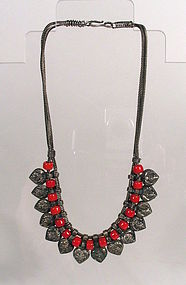 Minority Tribe Silver and Bead Necklace, Early 20th C.
JO5
DESCRIPTION: A Chinese Hill Tribe necklace, handmade of alternating coral colored beads and silver repousse lappets, strung on two lengths of woven silver chain with hook clasp. A very attractive short necklace dating from the early to mid 20th Century. In very good condition and a nice example of ethnographic Chinese tribal jewelry. DIMENSIONS: 9" drop when clasped; lappets are 1" long each.
$190.00
Large Vintage Native American Chimayo Wool Blanket
W-TX3
DESCRIPTION: A large, vibrant Churro wool blanket from the weaving center of Chimayo in Northern New Mexico. This finely woven blanket is of the "Rio Grande" style with alternating bands of white and navy stripes running across a bright red ground. These bands are each separated by a line of three stars with twelve points. CONDITION: This reversible blanket is in excellent condition with no repairs, holes or stains; the fibers are thick and the colors vibrant.
CULTURAL BACKGROUND: ... Click for details
$375.00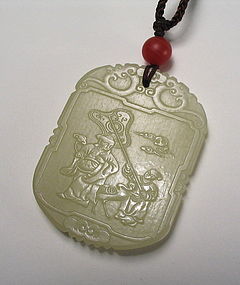 Fine Chinese Jade Pendant / Toggle
JHS173
DESCRIPTION: A finely carved celadon nephrite jade plaque, one side depicting a child attendant with crane holding a large fan over the head of an immortal. Three lines of raised calligraphy are on the reverse. Excellent condition, late 19th or early 20th century, Qing Dynasty. DIMENSIONS: 2" long (5 cm) x 1 3/4" wide (7 cm). JHS173 $1,175
$895.00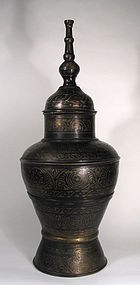 Large Filipino Maranao Bronze Vessel with Inlays, 19th
BB167
DESCRIPTION: A large, heavily cast bronze storage vessel (gadur), with brass and silver inlays crafted by the Maranao tribe of the Phillippines. The round body and flared foot are profusely decorated with inlaid floral and geometric designs; the body is topped with an inlaid domed lid and tall spire. From the estate of Asian art collector, Dr. Edward Gerber. CONDITION: This is a fairly early example, dating from the late 1700's to early 1800's, and shows usage wear, some pitting, and a... Click for details
$995.00
3 Previous
1
10
18
26
34
35
36
37
38
39
40
41
43
Next 4