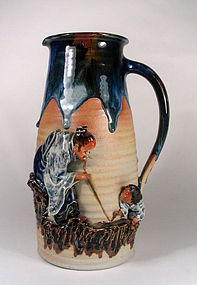 Large Japanese Sumida Tankard, Early 20th C.
CP153
DESCRIPTION: A large and fabulous Sumida Gawa tankard with an unglazed body, graceful handle, and figures of a man and small boy in very high relief. A thick, flowing flambe' glaze in blues and brown coats the mouth and runs down the body and handle in thick drips. Fine attention to detail has been paid to the handmade figures of a seated man with a cane facing a young boy, both supported by craggy rockwork ledges. On the back in blue characters in a raised white cartouche is the potter's... Click for details
$1,250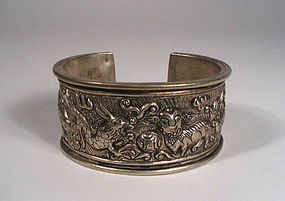 Chinese Silver Repousse Tribal Bracelet
JO39
DESCRIPTION: A charming and well executed Chinese silver tribal bracelet, the wide band framed with parallel lines between which various mythical and humorous animals cavort. Included in the hand crafted repousse processional are donkeys, fish, and a dragon vying with a foo dog for a brocade ball. This tribal bracelet comes to us from one of the mountainous Miao groups, who are well known for their beautiful silver work. Estimated to date from the first half of the 20th century and in very good... Click for details
$325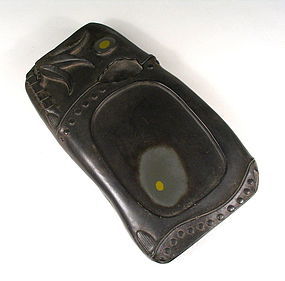 Chinese Duan Ink Stone, Bamboo Form, Qing Dynasty
SCH162
DESCRIPTION: A fine 19th C. Chinese ink stone, crisply carved in the form of a bamboo node with leaves at the top and root knobs at the bottom. A deep water well has been carved into the upper section. Natural inclusions, called "eyes," are highlighted within the duan stone's design, with one eye at the top carved to simulate the moon, and the other incorporated into the stone's grinding surface.
ABOUT DUAN INK STONES: One of the four treasures of the Chinese scholar's studio, the... Click for details
$570
Chinese Porcelain Figures of Immortal Li T'ieh-kuai
PTF102
DESCRIPTION: A pair of porcelain figures, each a representation of Li T'ieh-kuai, one of the Chinese eight immortals. Li T'ieh-kuai is always represented as a lame beggar leaning on a crutch with a pilgrim's gourd in hand. The Eight Immortals are legendary beings of the Taoist sect who attained immortality and dwell in the remote hills and mountains of China. Both of these figures date from C. 1900, with the larger one's inner base stamped with "China" in red ink. Both are in perfect... Click for details
$95 each or $190.00 for the pair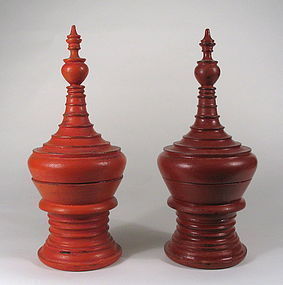 Pair Miniature Burmese Lacquer Offering Bowls
LC66
DESCRIPTION: This small pair of early to mid 20th C. Burmese offering bowls (Hsun-ok) come from the Pagan region of Burma where much of the country's finest lacquerware was produced. This pair have been lacquered red with nicely shaped finials that echo the shape of Buddhist stupas. The lids are removable with inner red bowls in which small offering were made. Difficult to find, these smaller bowls are table-top size and make exotic accent pieces. From a private collection and in very good... Click for details
$625 Pair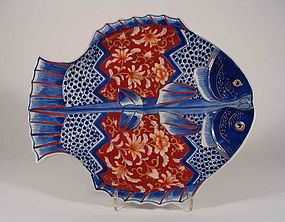 Japanese Imari Double Fish Plate, Meiji
CP197
DESCRIPTION: A Japanese Imari porcelain dish, shaped in "double fish" form and decorated in traditional Imari colors with floral designs in rust red, and fish scales and fins in royal blue. The reverse has painted florals and grasses on the four sides. Late 19th/early 20th century, and in excellent condition with no chips or restorations. DIMENSIONS: 10 ½" long (26.6 cm) x 9" wide (23 cm).
$960
3 Previous
1
10
18
26
34
35
36
37
38
40
42
44
46
Next 4