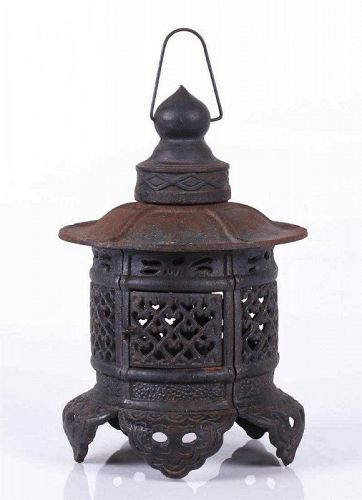 A Japanese Cast Iron Tsuridourou Lantern
BB169
DESCRIPTION: A Japanese cast iron tsuridourou lantern, 20th century, made in pagoda form with five cast segments. Good condition with expected light rust. DIMENSIONS: 9" diameter, 14 1/2" tall.
$295
Elaborately Carved Southeast Asian Wood Panel
ARCH43
DESCRIPTION: A beautifully carved antique wood panel from Southeast Asia, carved with a large center flower medallion surrounded by leafy tendrils within a flower and vine outer border. The panel has an almost whitewashed appearance due to a lightly painted old surface. Very good condition with no warping; hanger on the back to hang horizontally. DIMENSIONS: 45" long x 11 3/8" wide x 7/8" thick.
$430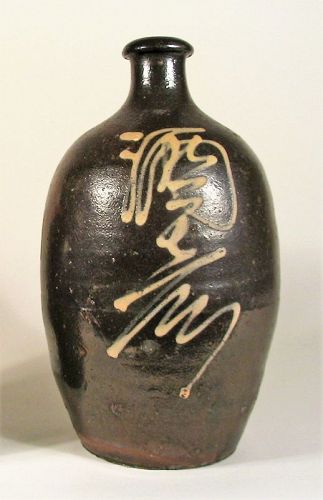 Japanese Pottery Sake Jug, Edo Period
PG4
DESCRIPTION: A handsome hand-thrown Japanese pottery jug (tokkuri) made to store sake (rice wine) and dating from the latter Edo Period, C. 1860. The texture of the thick brown glaze is rich to the eyes and touch, and the jug has fluid kanji script applied in off-white slip to various sides of the jar, probably denoting the name of the sake shop. These humble jugs have an earthen beauty that distinguishes Japanese potters. In excellent condition with no chips or breaks. DIMENSIONS: 12 ½" high... Click for details
$295
Pair of Tall, Heavily Carved Chinese Doors, Early 19th C.
ARCH13
DESCRIPTION: A pair of substantial, deeply carved Chinese doors originating from Zhejiang province and dating from the early 1800's, Qing dynasty. These handsome, heavy solid elm doors still have all of their original pegs attached, which would have been set into round sockets at the top and bottom, allowing the doors to be opened and closed.
The top panels are carved with flowers and a repeating swastika pattern, the Chinese character meaning good fortune or longevity. A pair of carved... Click for details
$2,195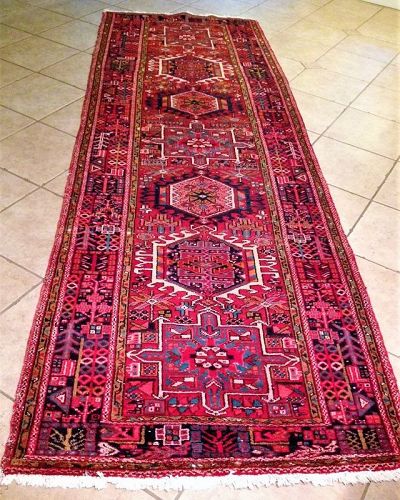 Beautiful Semi-Antique Persian Karaja Hand-Knotted Wool Runner
RG20
DESCRIPTION: A semi-antique wool Karaja runner with very good color, mostly in red with teal blue, white & black accents. Seven central medallions (a characteristic of Karaja rugs) are surrounded with a wide border having intricate designs. Karaja is the home of some of the finest runners made in Iran of which this is a good example. This hand-knotted carpet is in good condition with ample pile that will give years of service. DIMENSIONS: 3'9" wide x 11'6" long.
$2,770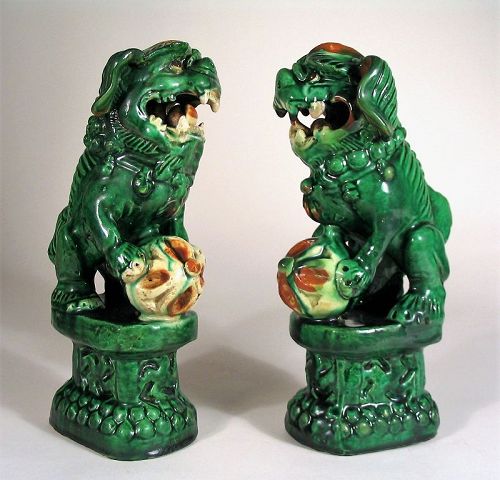 Early Pair Antique Chinese Pottery Foo Dogs, Qing
PTF148
DESCRIPTION: A fierce pair of Chinese pottery foo dogs, early Qing, 18th/19th C., covered with a heavy green glaze and seated on pedestals. Each bares its teeth ferociously while holding a ball between their front paws as well as in their mouths. Good detail with finely ribbed backs and curled manes. Very good condition. DIMENSIONS: Each approximately 9 ½" high (24 cm) x 5" wide (12.7 cm).
$985
1
2
3
4
5
Next 4