Pair of Tall, Heavily Carved Chinese Doors, Early 19th C.
ARCH13
DESCRIPTION: A pair of substantial, deeply carved Chinese doors originating from Zhejiang province and dating from the early 1800's, Qing dynasty. These handsome, heavy solid elm doors still have all of their original pegs attached, which would have been set into round sockets at the top and bottom, allowing the doors to be opened and closed.
The top panels are carved with flowers and a repeating swastika pattern, the Chinese character meaning good fortune or longevity. A pair of carved... Click for details
$2,195.00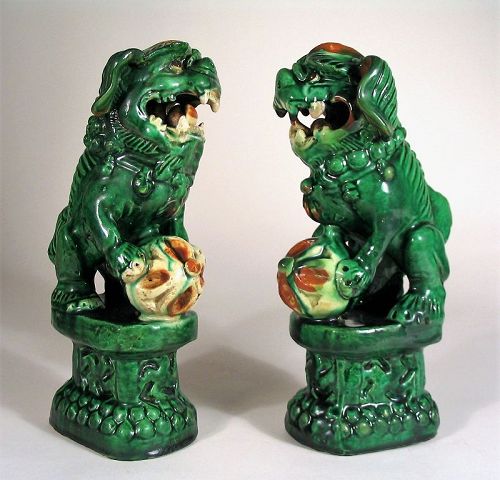 Early Pair Antique Chinese Pottery Foo Dogs, Qing
PTF148
DESCRIPTION: A fierce pair of Chinese pottery foo dogs, early Qing, 18th/19th C., covered with a heavy green glaze and seated on pedestals. Each bares its teeth ferociously while holding a ball between their front paws as well as in their mouths. Good detail with finely ribbed backs and curled manes. Very good condition. DIMENSIONS: Each approximately 9 ½" high (24 cm) x 5" wide (12.7 cm).
$985.00
Pair of Antique Silver-Inlaid Wedding Vessels (Gadur), Moro People
BB165
A fine pair of early 20th C. gadur (also written as gador) urns, one of cast brass and one of bronze, each inlaid with silver bands in elaborate geometric designs. Such containers were presented as gifts among wealthy Muslim Moro families on Mindanao Island in the southern Philippines. These vessels were a sign of wealth and a testament to the craftsmen that created them. An extremely labor intensive process is required to craft these vessels, but the result is spectacular. Both feature a... Click for details
$2,800.00 for the pair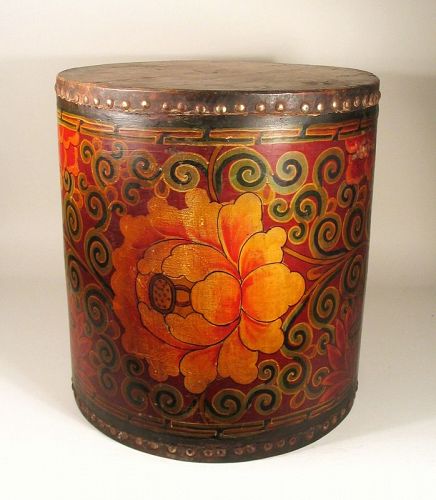 Colorful Painted Tibetan Ceremonial Drum
MS174
DESCRIPTION: An antique hand-painted ceremonial drum with vivid motifs of large flowers with curling green tendrils against a red ground. Both ends of the drum are covered in animal hide and secured with round-headed metal studs. This highly decorative drum makes a perfect little end table, or adds a touch of exotic to any décor. Very good condition with minor rubbing in spots. DIMENSIONS: 16 5/8" high (42.2 cm) x 15 5/8" diameter (39.6 cm).
$485.00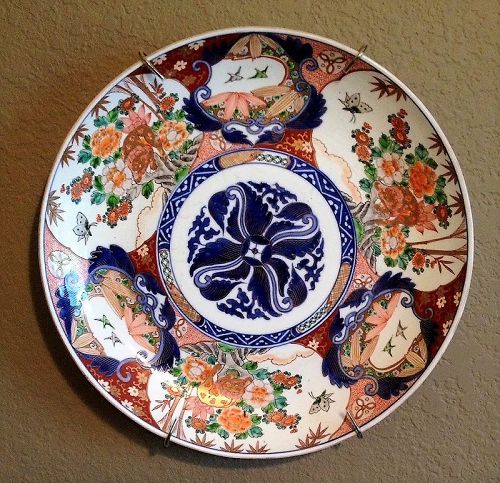 Fine Japanese Imari Charger, 19th C., Meiji
CP150
DESCRIPTION: Outstanding Japanese porcelain Imari charger, circa 1880, acquired in Brussels, Belgium. This charger is profusely painted in under-glazed blue, red, green and gilt with a central blue medallion of scrolls highlighted in gilt. Surrounding the medallion is a wide border of alternating cartouches enclosing pairs of birds with bamboo leaves, and flowers issuing from rockwork with butterfly. The reverse is painted with three sets of flowering blue branches. Perfect condition, no... Click for details
$895.00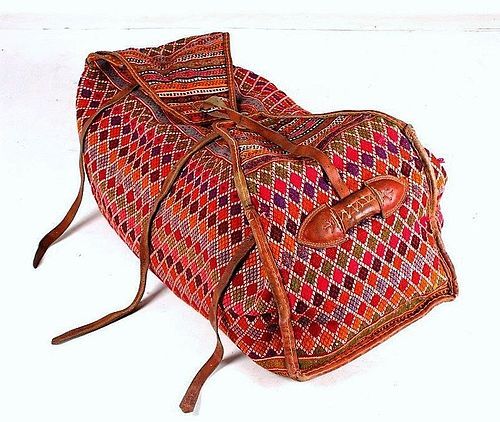 Antique, Hand Woven Turkish Dowry Bag
TX73
DESCRIPTION: A large, colorful Turkish dowry bag, hand woven from wool and bordered with leather straps and handles. The vibrant, multicolored geometric design covers all sides of the bag and the two top flaps. The bag is secured by three long leather straps with buckles that close the bag horizontally, and a leather strap and buckle that secure the two top flaps. Two substantial leather handles are attached to each end for carrying.
Bags like this one were often used to deliver the... Click for details
$1,075.00
1
2
3
4
Next 4