Handsome Chinese Lacquered Bamboo and White Jade Pipe
SAO35
DESCRIPTION: A beautiful antique Chinese tobacco pipe, elegantly crafted from a long bamboo stem lacquered in red and black. The tip (bit) is carved from a pure white nephrite jade stone that is tapered and then flared to form the lip. The bowl and shank are crafted from silver metal, and bands of brass rings decorate each end. This pipe is in excellent condition and dates from the latter Qing Dynasty. DIMENSIONS: 17 ¼" long (44 cm).
$875
Red Lacquered Chinese Provincial Chest, Late Qing
CCM15
DESCRIPTION: A very attractive antique provincial Chinese chest raised on short feet and lacquered bright red, with one center drawer and two doors. The front face is extended on the sides making distinctive wing-like spandrels with scalloped edges. This solid elm cabinet is constructed with traditional Chinese joinery and originates from Shanxi Province, C. 1910. DIMENSIONS: 39 ¾" wide (1.1 meters) x 34" high (86.4 cm) x 20" deep (50.8 cm).
Sold SOLD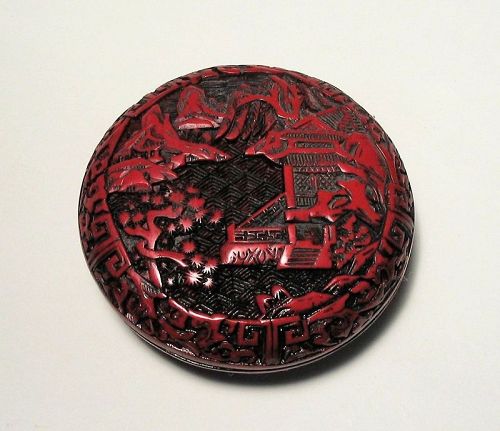 Chinese Cinnabar Seal Paste Box, Qing
SAO9
DESCRIPTION: A round, red cinnabar seal paste box, the top carved with a pavilion among pine trees with mountains in the background. Interior is black and box contains fresh seal paste we added for your Chinese seals and chops. Qing Dynasty, well carved, excellent condition. DIMENSIONS: 3" diameter (7.6 cm) x 1" thick (2.5 CM).
$215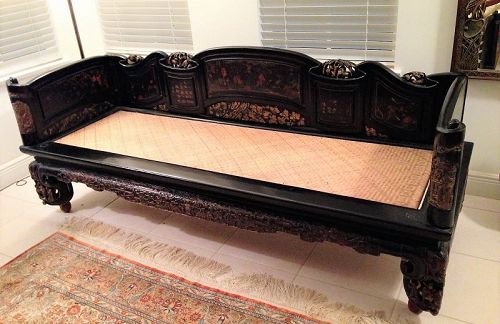 A Fine Chinese Lacquer and Carved Gilt-Wood Opium Bed, Qing, 19th C.
WLF-CH1
DESCRIPTION: A rare and beautiful Chinese daybed or opium bed (also referred to as a lady's couch bed, lohan, or "ta" bed), the black lacquered wood back and side panels shaped as an unfurled scroll with elaborate decorations including figural scenes, animals, flowers and birds, Chinese poetry and pierced gilt carvings. These surround a rectangular support frame topped with a woven mat seat. Below the seat an elaborately carved skirt stretches between thick, boldly carved legs.
This... Click for details
$4,800
Miniature Chinese Toggle of Utensil Set, 18th C.
SN67
DESCRIPTION: A rare Chinese toggle in the form of a miniature Mongolian eating set consisting of a reddish gold lacquered metal sheath finished with brass bands and bone cap, containing two removable and useable knives with horn handles and bone caps, a set of tweezers, and suspension loop on side. Overall good condition with minor signs of age, rust and use, Qing dynasty, 18th C. DIMENSIONS: 3 3/4" Long (9.5 cm).
$495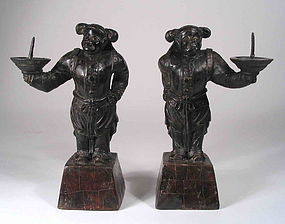 Pair Chinese Lacquer Figural Candle Pricks, 18th/19th C.
FIG88
DESCRIPTION: A captivating pair of lacquered figural candle pricks, each in the form of a smiling attendant with hand on hip, wearing a banded hat and holding aloft a candle dish. The figures themselves are hand crafted of solid brown lacquer around a wire frame, while the flared bases are wood blocks covered in brown lacquer. This unusual, rare pair date from approximately 1750 – 1850, and are in remarkable condition with the expected age wear to the lacquered surface. DIMENSIONS: Each... Click for details
$1,295 for the Pair
1
2
3
Next 4