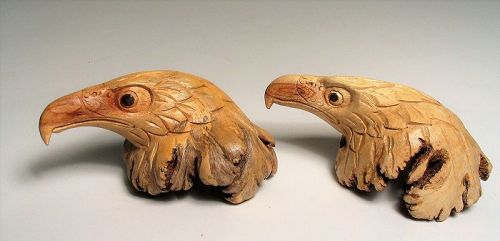 Pair of Hand Carved Burl Eagle Heads, Chinaberry Wood
A-FIG3
DESCRIPTION: Two well carved burl eagle heads with fierce, proud eyes, hooked beaks and puffed, feathered necks. On the reverse of each you can see the highly intricate structure of the burl wood from which they were taken. This folk art artisan carver captured the majesty and essence of the USA's national symbol, the Bald Eagle. The wood is from the Chinaberry tree which is native to Southern Asia, Australia and Oceania; however the tree was introduced to the American Southwest and Mexico by... Click for details
$135.00 Pair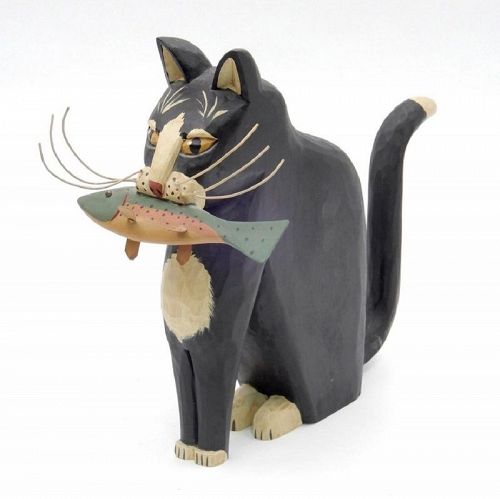 Folk Art Wood Carving of Cat with Fish, by G&G Hosfeld
A-FA10
DESCRIPTION: A charming folk art sculpture depicting a seated blue & white cat holding a fish in its mouth under its long, curved whiskers. By Pennsylvania contemporary folk artist and sculptor, G&G Hosfeld; artist signed and dated on bottom, "G&G Hosfeld, 1983, Souderton, PA." Excellent condition; a warm and whimsical accent piece for your farmhouse, country or lake cabin décor. DIMENSIONS: 8 1/4"wide x 11 7/8" high x 4 1/2" thick.
$475.00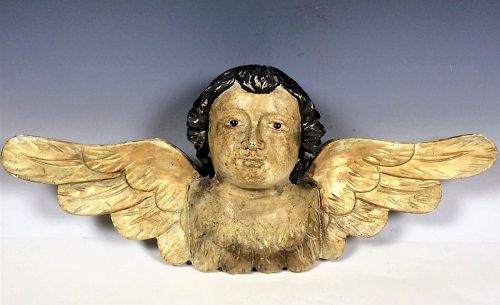 Antique Carved Wood Cherub
W-FIG24
DESCRIPTION: An engaging carved wood santo figure of a winged cherub, most likely carved in the Philippines. This figure, dating from the early 1900's, is depicted with black hair, inset glass eyes and extended wings. CONDITION: Some age appropriate losses to original paint. DIMENSIONS: 6.5" high x 16" wide.
$545.00
1