Mexican Wool Rug
W-RG13
DESCRIPTION: A thick Mexican wool rug with multi striped edges enclosing a centered red and orange diamond on a turquoise colored ground; all four corner tassels are intact. Very good condition, beautiful colors. DIMENSIONS: 36'' W x 64'' L
$210
Antique Navajo Ganado Rug
W-RG12
DESCRIPTION: A great early Hubbell design Ganado wool rug with hooked edges and crisp geometric designs in red, white and black on a grey ground, C. 1920. Very good condition, clean and flat. DIMENSIONS: 34" x 60"
$1,890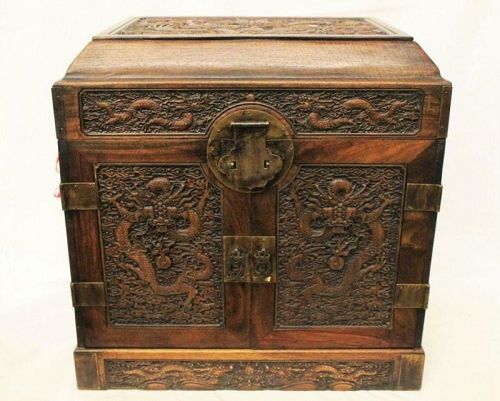 Chinese Huanghuali Jewelry or Seal Chest
SCH399
DESCRIPTION: A beautiful early 20th century Chinese huanghuali seal chest, elaborately carved in relief with fiery 5-toed dragons in clouds, the domed cover above double doors opening to reveal upper storage plus five lower drawers, and fitted flush with brass hardware and a ruyi form hasp. Very good condition. DIMENSIONS: 19.6" H x 19.25" W x 14.5" D. SCH399 $5,390
$5,390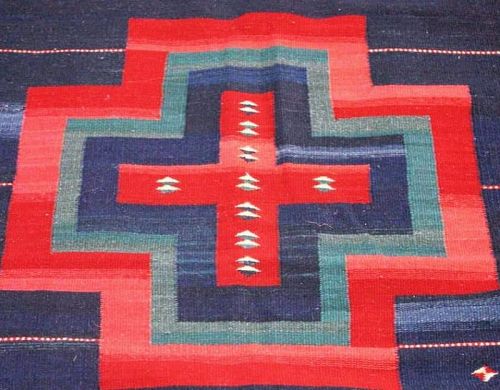 Vintage Wool Mexican Hand-Woven Carpet Runner
W-RG2
DESCRIPTION: A vibrant Mexican flat-weave wool carpet runner with blue background and five red and blue geometric medallions, c. 1950. From a Scarsdale, NY estate, good condition. DIMENSIONS: 150" long x 34" wide, plus fringe.
$285
Small Antique Chinese Brass Box with Carved Carnelian
JO55
DESCRIPTION: An attractive oval brass box, the hinged lid decorated with a carved carnelian stone at the center with raised brass leaves on either side. Signed at the interior lid, such a box might have been used for snuff, jewelry, cosmetics or medicines. This attractive little box is in excellent condition and dates from the first quarter of the 20th C. DIMENSIONS: 2 ¼" long (5.7 cm) x 1 1/8" wide (2.9 cm) x 1" high (2.5 cm).
$265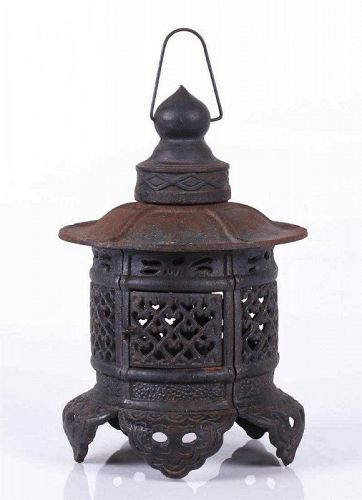 A Japanese Cast Iron Tsuridourou Lantern
BB169
DESCRIPTION: A Japanese cast iron tsuridourou lantern, 20th century, made in pagoda form with five cast segments. Good condition with expected light rust. DIMENSIONS: 9" diameter, 14 1/2" tall.
$295
1
2
3
8
13
18
23
28
33
38
43
48
50
Next 4