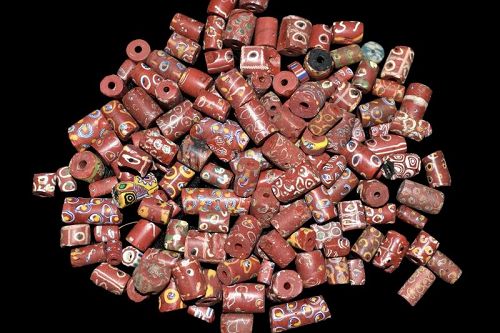 Large Lot of Early Native American Trade Beads - Painted Pipestone
W-JO51
DESCRIPTION: Pipestone (Catlinite) is the sacred red clay stone that American Indians used for trade and for making beads or ceremonial pipes. It is found in only a few places in the world, with the best quality pipestone coming from mines in southwestern Minnesota. Pipestone ranges in color from pale pink, to brick, to blood red. Since pipestone is smooth to the touch, can be easily carved and takes a high polish, it was highly valued by Native Americans. This is an early collection (19th... Click for details
$300.00
Mexican Wool Rug
W-TX13
DESCRIPTION: A thick Mexican wool rug with multi striped edges enclosing a centered red and orange diamond on a turquoise colored ground; all four corner tassels are intact. Very good condition, beautiful colors. DIMENSIONS: 36'' W x 64'' L
$210.00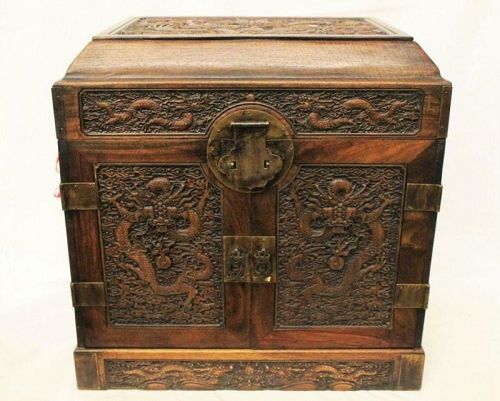 Chinese Huanghuali Jewelry or Seal Chest
SCH399
DESCRIPTION: A beautiful early 20th century Chinese huanghuali seal chest, elaborately carved in relief with fiery 5-toed dragons in clouds, the domed cover above double doors opening to reveal upper storage plus five lower drawers, and fitted flush with brass hardware and a ruyi form hasp. Very good condition. DIMENSIONS: 19.6" H x 19.25" W x 14.5" D. SCH399 $4,390
$5,390.00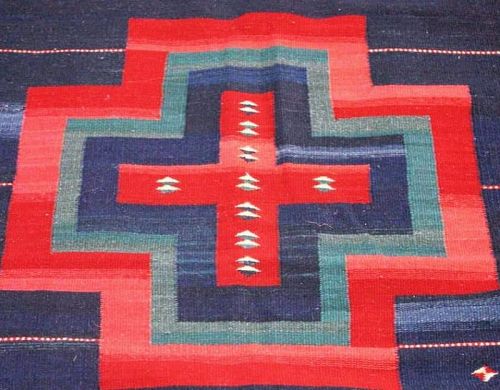 Vintage Wool Mexican Hand-Woven Carpet Runner
W-RG2
DESCRIPTION: A vibrant Mexican flat-weave wool carpet runner with blue background and five red and blue geometric medallions, c. 1950. From a Scarsdale, NY estate, good condition. DIMENSIONS: 150" long x 34" wide, plus fringe.
$285.00
Small Antique Chinese Brass Box with Carved Carnelian
JO55
DESCRIPTION: An attractive oval brass box, the hinged lid decorated with a carved carnelian stone at the center with raised brass leaves on either side. Signed at the interior lid, such a box might have been used for snuff, jewelry, cosmetics or medicines. This attractive little box is in excellent condition and dates from the first quarter of the 20th C. DIMENSIONS: 2 ¼" long (5.7 cm) x 1 1/8" wide (2.9 cm) x 1" high (2.5 cm).
$265.00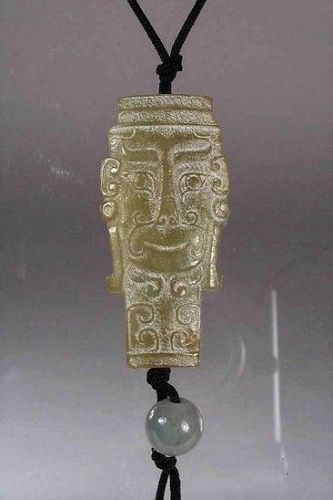 Chinese Jade Mask Pendant / Toggle
JO33
DESCRIPTION: A Chinese celadon jade pendant, both sides well carved in the form of an archaic mask and strung on a black nylon cord with a round celadon jade bead. Such amulets have a long history in China and would have been worn as a mystical protector against all unseen evil and bad luck. This handsome jade pendant is quite wearable and in excellent condition. DIMENSIONS: 2 ¼" long (5.7 cm)
$295.00
1
2
3
7
11
15
19
23
27
31
35
39
43
Next 4