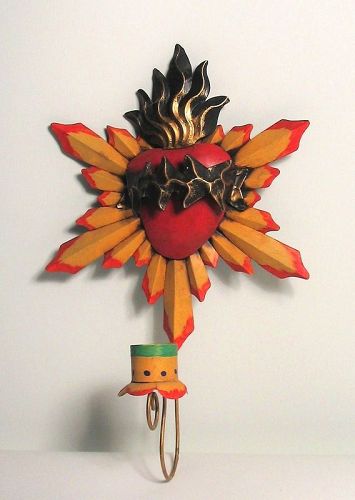 Vintage Mexican Painted Metal Sacred Heart Candle Holder
W-FIG33
DESCRIPTION: A painted metal devotional candle holder depicting the Sacred Heart of Christ with a yellow sunburst design behind a heart with flames and crown of thorns. Wall mounted with hanger on reverse; very good condition; Mexican. DIMENSIONS: 12.75" high x 9" wide.
$75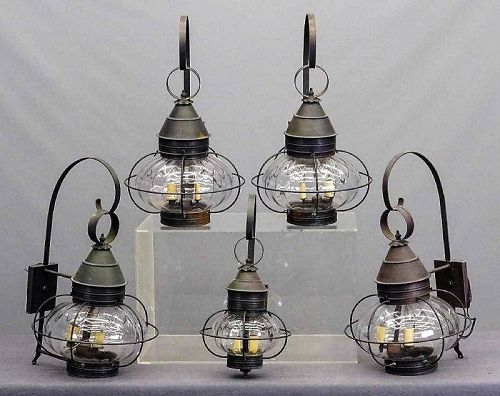 Set of Five Large Vintage Outdoor Caged Onion Lamps / Lights
A-MTL11
DESCRIPTION: A wonderful set of vintage outdoor metal and glass 'caged onion lamps.' It's rare to acquire a full set of vintage outdoor lighting in such good condition. These lanterns are of a nice larger size with tall upper metal hooked hangars and with the original (and wonderfully squatty) large glass onion globes. Contemporary reproductions of this traditional outdoor lamp tend to be smaller in size. This set comes from a New York estate, and would be an eye-catching addition to a... Click for details
$1,200 For all five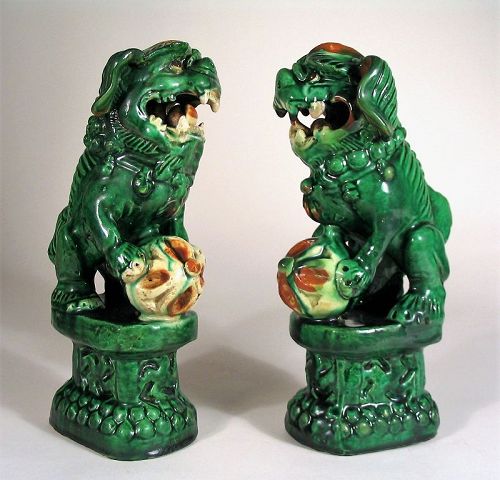 Early Pair Antique Chinese Pottery Foo Dogs, Qing
PTF148
DESCRIPTION: A fierce pair of Chinese pottery foo dogs, early Qing, 18th/19th C., covered with a heavy green glaze and seated on pedestals. Each bares its teeth ferociously while holding a ball between their front paws as well as in their mouths. Good detail with finely ribbed backs and curled manes. Very good condition. DIMENSIONS: Each approximately 9 ½" high (24 cm) x 5" wide (12.7 cm).
$985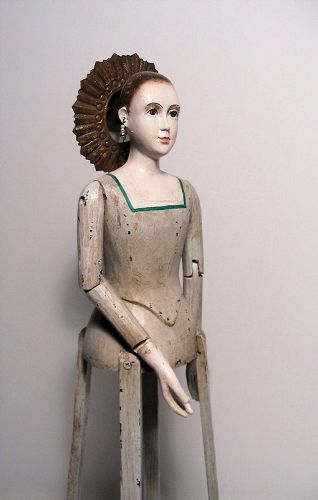 Folk Art Santos Cage Doll with Tin Halo
W-FIG27
DESCRIPTION: An elegant and stately santos cage doll (a Virgin Mary bastidor), with grey bodice and hand carved, delicate wooden face in sacred, peaceful expression, framed by a radiant gilt-tin halo. Her arms and hands are articulated from the shoulder; four wooden slats form the frame. Good condition. DIMENSIONS: 24" high; 6 7/8" diameter base.
$330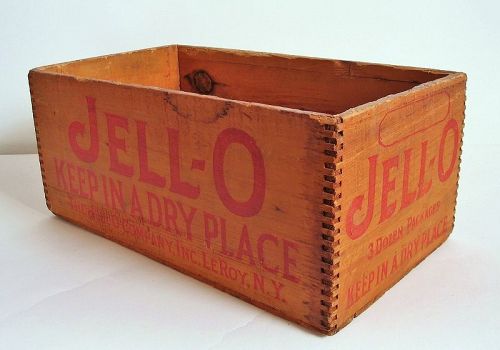 Vintage Jell-O Advertising Crate
A-BSK13
DESCRIPTION: Vintage wood advertising crate with "Jell-O" and other messages stenciled on four sides; dovetailed corners. Good condition, expected usage ware, sturdy. DIMENSIONS: 14" long x 6" high x 8"deep.
$195
Handsome Vintage S.E. Asian Fishing Creel
BSK79
DESCRIPTION: An attractive Asian fishing creel, fashioned from woven split bamboo with wood base and neck, and an attached tightly woven string for hanging. A creel is used for carrying fish or blocks of peat moss which function as an evaporative cooler when dipped into a creek, keeping the catch chilled. This type of creel with a woven, partially open top can also be used to catch lobsters and other crustaceans. Good condition with a nice aged patina. DIMENSIONS: 9" wide x 11" high x 6... Click for details
$225
1
2
3
8
13
18
23
28
33
38
43
48
54
Next 4