Large Antique Split Oak Field Basket
A-BSK12
DESCRIPTION: Beautiful melon-shaped split oak basket with a sturdy bentwood handle and oak-wrapped wide rim. This early 1900's folk art basket is in great condition with no major losses noted. DIMENSIONS: 18" long x 14.5" wide; height with handle is 13.75", without is 8.75".
$570
Fine Antique Chinese Elm Bed, 19th C.
TBL30
DESCRIPTION: An outstanding antique Chinese Yumu (Northern Elm) bed or daybed, raised on stout circular legs and hand-joined on all four sides by elm stretchers. The rectangular top of this bed is inset with finely woven rattan, supported by strong woven rope webbing underneath. Chinese Northern Elm wood has a beautiful wave-like grain and was favored for Northern Chinese furniture making.
This sturdy, handsome bed dates from the Ching Dynasty, early 1800's, and is in remarkable condition... Click for details
$2,400
Carved Mexican Wood Santos Figure of St. Peter
W-FIG16
DESCRIPTION: An antique Mexican folk art carving of a bearded St. Peter in a bishop's hat holding a large key, symbolizing the key to the kingdom of heaven entrusted to disciple Simon Peter by Christ. This figure was probably part of a home devotional altar; figure can also be hung on a wall or entry door. Very good condition. DIMENSIONS: 13 1/8" high x 3"wide.
$225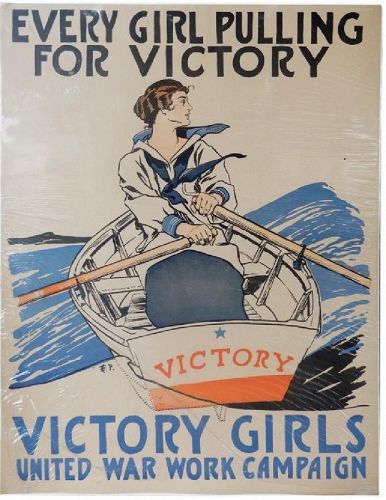 WWI Lithographic Poster, Victory Girl
A-WD2
DESCRIPTION: E. (Edward) P. (Penfield) WWI patriotic lithographic poster, "Every Girl Pulling for Victory", featuring a young woman rowing a boat named "VICTORY." Caption at base reads, "VICTORY GIRLS, UNITED WAR WORK CAMPAIGN." Signed lower left; very good condition, no fading or defects visible. DIMENSIONS: 27 1/2" H x 22 1/4" W.
HISTORICAL BACKGROUND: The United War Work Campaign was a joint effort undertaken by seven voluntary organizations active during World War I: the... Click for details
$1,480
Vintage Native American Turquoise and Sterling Pendant Necklace
W-JO21
DESCRIPTION: A bold 29" sterling silver necklace featuring a large 2 1/8" x 1.75" natural turquoise stone with brown matrix set in a saw-tooth bezel on a wide silver plate with engraved geometric designs, C. 1960's. Handcrafted by Navajo Tribe artists Rose Castillo & Alberto Contreraz and marked on verso with "AC", "RC" and "Sterling". Solid and well made, this pendant would also be suitable for the male wearer. DIMENSIONS: Full pendant measures approximately 3.25" x 2.75". Total... Click for details
$975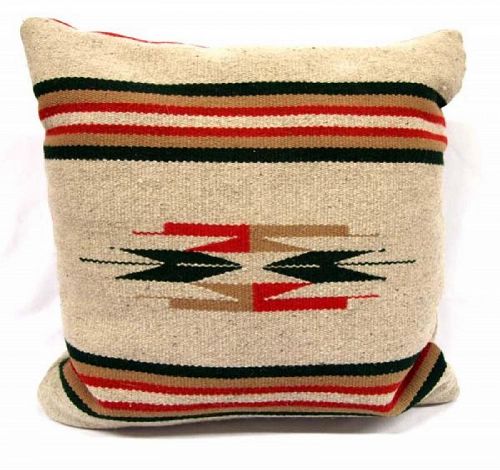 Southwestern Hand Woven Wool Pillow
W-TX14
DESCRIPTION: A Southwestern hand woven wool "mesa design" pillow, the front with a center geometric design bordered top and bottom by red, tan and black stripes. The back continues the color motif with a patchwork wool pattern. Excellent condition, bright, beautiful colors, pillow included. DIMENSIONS: 16 inches square.
$95
1
2
3
8
13
18
23
28
33
38
43
48
51
Next 4