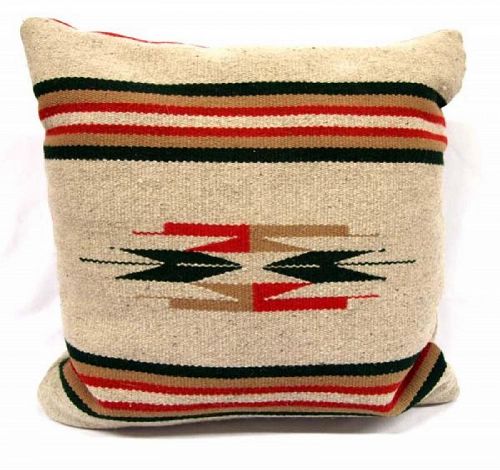 Southwestern Hand Woven Wool Pillow
W-TX14
DESCRIPTION: A Southwestern hand woven wool "mesa design" pillow, the front with a center geometric design bordered top and bottom by red, tan and black stripes. The back continues the color motif with a patchwork wool pattern. Excellent condition, bright, beautiful colors, pillow included. DIMENSIONS: 16 inches square.
$95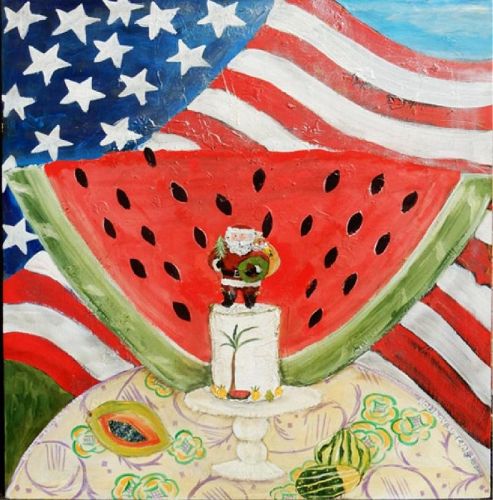 Oil Painting on Board, "Holiday Special," Nancy Thomas
A-WD3
DESCRIPTION: A colorful, contemporary folk art oil painting featuring a slice of watermelon, a small Santa figure, and various fruits and vegetables all arranged on a flowered tablecloth. A large American Flag serves as a dynamic backdrop. Signed lower left, "Nancy Thomas, 2003" and lower right, "Holiday Special." CONDITION: No visible defects. DIMENSIONS: Sight size 48" x 42", unframed.
ABOUT THE ARTIST: Nancy Thomas is a contemporary American folk artist whose work is prized... Click for details
$1,200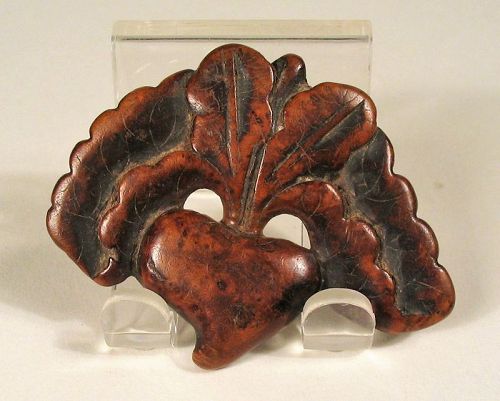 Chinese Burl Peach Toggle
SN122
DESCRIPTION: A Chinese peach toggle (guajian) crafted from a flat piece of burl wood with large spreading leaves, representing longevity in Chinese iconography. Two holes on either side of the stem were used for threading a cord from which this toggle would have been suspended as a counterweight to some other object, such as a tobacco pouch. A nice example of Chinese folk art dating from the mid 1800's or earlier, this toggle is in overall fine condition with aged patina. DIMENSIONS: 1 ½"... Click for details
$360
Stunning Sterling Silver & Turquoise Cuff Bracelet with Large Stone
W-JO1
DESCRIPTION: If you're looking for a Native American cuff with a drop-dead "WOW" factor, this is it! This five prong sterling cuff features a fabulous, large, single turquoise stone, light blue-green in color with brown veining. The stone itself measures a whopping 2 ½" x 1 ½". This beauty is mounted on a double row bezel with deeply stamped designs, with a pair of large silver leaves mounted on each of the side prongs to frame the design. This cuff is a real show-stopper, not... Click for details
$1,400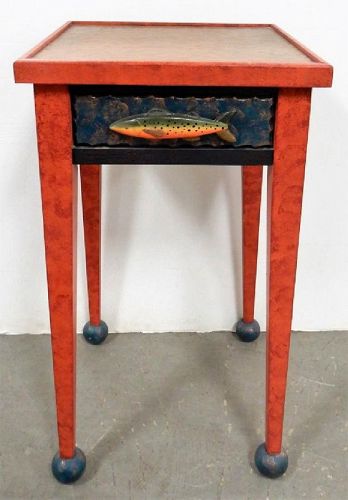 Folk Art Copper Topped End Table with Fish
A-TBLS1
DESCRIPTION: A delightful contemporary folk art table by craftsman, Richard DeWalt, in which vermilion colored tapering legs with small ball feet rise to support a copper table top. The sides and front drawer are finished in blue with a charming carved fish functioning as the drawer's handle. This would be a great accent piece for the fishing enthusiast and would also be perfect in a lake home or fishing lodge setting. CONDITION: Very good, no visible defects. DIMENSIONS: 31" high x 16" x... Click for details
$755
Pair of Antique Silver-Inlaid Wedding Vessels (Gadur), Moro People
BB165
A fine pair of early 20th C. gadur (also written as gador) urns, one of cast brass and one of bronze, each inlaid with silver bands in elaborate geometric designs. Such containers were presented as gifts among wealthy Muslim Moro families on Mindanao Island in the southern Philippines. These vessels were a sign of wealth and a testament to the craftsmen that created them. An extremely labor intensive process is required to craft these vessels, but the result is spectacular. Both feature a... Click for details
$2,800 for the pair
1
2
3
8
13
18
23
28
33
38
43
48
50
Next 4