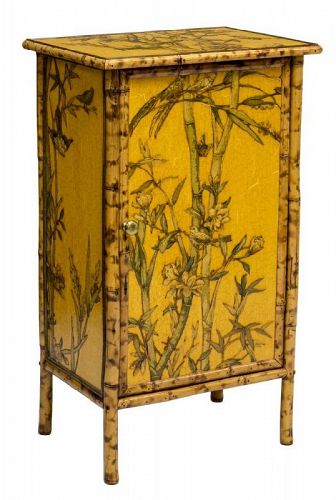 Vintage Yellow Chinese Bamboo Cabinet
CCM20
DESCRIPTION: A lovely Chinese bamboo-framed cabinet having painted scenes of bamboo and birds on a yellow ground. The rectangular top is mounted over a door that opens to an interior cabinet with three shelves. A delightful piece for the bedroom or country/cottage interior, 20th C. Good condition with minor wear. DIMENSIONS: 35.25" H x 20.5" W x 14.5" D.
$675
Antique Chinese Boxwood Toggle of Pair of Boots
SN75
DESCRIPTION: A Chinese boxwood toggle (Guajian) carved as a pair of men's boots resting side by side, a symbol of marital harmony and the wish for many sons. Nicely carved with relief banding and incised designs, the fine-grained boxwood having a wonderful, aged patina from years of use. A hole running through the top of each shoe is the track used for threading cords from which this toggle would have been suspended as a counterweight to some other object. An outstanding example of Chinese... Click for details
$535
Vintage Native American Turquoise and Sterling Pendant Necklace
W-JO21
DESCRIPTION: A bold 29" sterling silver necklace featuring a large 2 1/8" x 1.75" natural turquoise stone with brown matrix set in a saw-tooth bezel on a wide silver plate with engraved geometric designs, C. 1960's. Handcrafted by Navajo Tribe artists Rose Castillo & Alberto Contreraz and marked on verso with "AC", "RC" and "Sterling". Solid and well made, this pendant would also be suitable for the male wearer. DIMENSIONS: Full pendant measures approximately 3.25" x 2.75". Total... Click for details
$975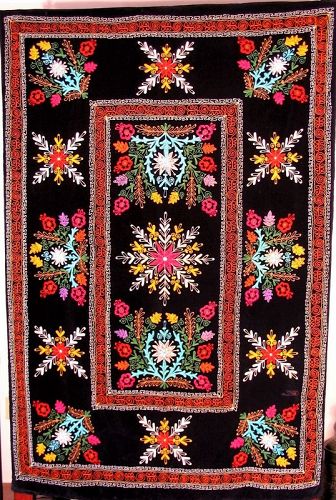 Uzbek Suzani Embroidered Coverlet
WTX2
DESCRIPTION: A vibrant Suzani coverlet, finely embroidered with colorful silk threads on a black velvet ground. Suzani (meaning "needlework") is a type of embroidered tribal textile made in Uzbekistan, Kazakhstan and other Central Asian countries. These coverlets are traditionally made by Central Asian brides for their dowry and presented to the groom on the wedding day.
This suzani was acquired in Turkey from an Uzbek family and displays traditional design motifs such as sun and... Click for details
$325
Antique Spanish Colonial Figure of Saint
W-FIG34
A large 19th C. Spanish Colonial carved wood santos figure of a bearded saint. The saint is draped in a long, polychrome robe with finely carved edge detailing and stands atop a stepped pedestal base. CONDITION: Very good. DIMENSIONS: 38 1/2" high (98 cm) x 15" wide (38 cm).
$1,350
Fine Chinese Toggle of Folded Straw Hat
SN112
DESCRIPTION: A well carved and detailed Chinese boxwood toggle of a folded straw hat with flowers and Chinese characters in high relief. The hole under the hat serves as the point of attachment for the cord, which would hang from a sash. Excellent condition with a wonderful, old patina; 19th C. DIMENSIONS: 2.5" wide (6.4 cm) x 1 3/8" high (3.5 cm).
ABOUT CHINESE TOGGLES: Chinese toggles (Guajian) are the precursors of the Japanese netsuke by many centuries, and acted as counter weights... Click for details
$695
1
2
3
7
11
15
19
23
27
31
35
36
37
Next 4