Southwestern Sterling Pendant with Large Multicolored Stone
W-JO32
DESCRIPTION: Late 1900s, a fine sterling pendant with a cut-out flourish on the pendant plate and with a large, colorful calsilica stone, also called "rainbow calsilica," this one reflecting the painted colors of a Southwestern mountain desert at sunset. Very good condition, marked "DTR" (Desert Rose Trading, NM), ".925" (indicating sterling silver). DIMENSIONS: Pendant is 2-1/2" long.
$495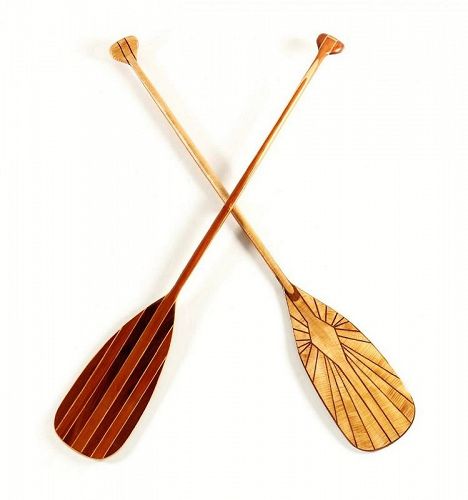 Two Artisan Inlaid Canoe Paddles
A-FA9
DESCRIPTION: A pair of beautiful 20th C. handcrafted canoe paddles, skillfully laminated from select high-grade exotic woods including curly maple, rosewood, walnut, satinwood and mahogany, each with geometric inlays. These paddles are so elegant you'll want to hang them in you lake or river home as décor, although they are perfectly suited for actual use. From the collection of Mr. Wayne Lockey of Grand Junction, Colorado. DIMENSIONS: 60" long each.
$795 Pair
Large, Colorful Han Dynasty Pottery Cocoon Jar
PTA41
Large, Colorful Han Dynasty Pottery Cocoon Jar DESCRIPTION: A fine Han Dynasty Cocoon Jar (206 BC-220 AD) distinguished by its cold-painted colors of red, white and pink on a dark clay body. The distinctively plump, ovoid form of this jar, imitating the shape of a silkworm cocoon, has the original paint remaining on the body. Characteristic swirling cloud and scroll designs decorate the surface in a flourish. Attached to the body is a wheel-turned neck and foot. This jar is in very good,... Click for details
$1,695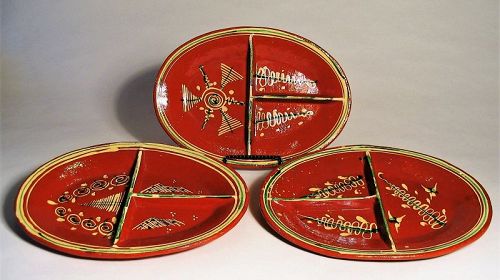 Set of Three Mexican Divided Platters, 1940's
W-CP4
DESCRIPTION: A set of 1940's Mexican divided pottery platters in a chocolate brown glaze with hand painted slip decorations in cream and green. These platters are a fiesta waiting to happen with their psychedelic designs, each platter with a different pattern. Perfect for hors d'oeuvres at your next party, these platters are in very good condition. DIMENSIONS: 12.25" long x 8.75" wide.
$235 Set of Three
Artisan Crafted Lidded Burl Wood Box
A-FA4
DESCRIPTION: A lidded box, skillfully handcrafted from a beautiful burl slab, the interior hollowed to hold jewelry or trinkets. Very good condition, the bottom covered with brown felt. DIMENSIONS: 5 5/8" wide x 7" deep x 4" high.
$195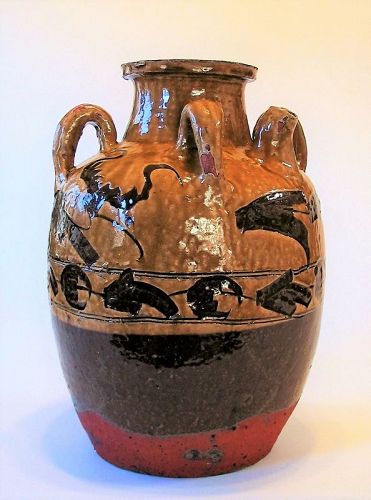 Antique Chinese Red Clay Wine Jar, 19th C.
GD38
DESCRIPTION: Long acknowledged as masters of porcelain, the Chinese also excelled at pottery making. Qing Dynasty domestic pottery used regional clays and showed distinctive regional styles. This pottery, used for the storage of oil and other household goods, exhibited tremendous, quiet beauty as well as utility. Crafted of red clay and originating from Jiangxi Provence, this handsome wine jar with four looped handles and spout is an excellent example with its incised decorations in two-toned... Click for details
$280
1
2
3
8
13
18
23
28
33
38
43
48
49
Next 4