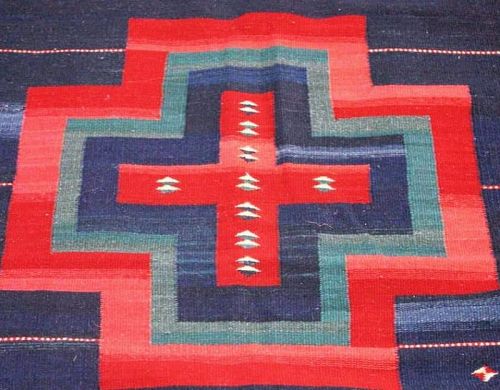 Vintage Wool Mexican Hand-Woven Carpet Runner
W-RG2
DESCRIPTION: A vibrant Mexican flat-weave wool carpet runner with blue background and five red and blue geometric medallions, c. 1950. From a Scarsdale, NY estate, good condition. DIMENSIONS: 150" long x 34" wide, plus fringe.
$285.00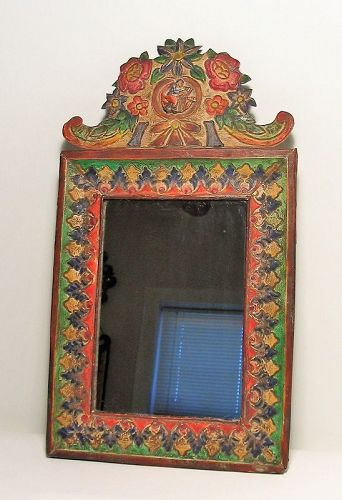 Spanish Colonial Painted Metal Mirror
W-DA3
DESCRIPTION: An antique Spanish Colonial style painted sheet metal mirror, 19th to early 20th C., continental Europe. Acanthus leaves decorate the painted border, topped by an elaborate floral crest with center figural medallion. PROVENANCE: From the Collection of Eugene V. and Clare E. Thaw. CONDITION: Good, few minor dents to sheet metal. DIMENSIONS: 19.25" high x 10.75" wide.
$325.00
Oaxacan Mexican Hand Carved Jaguar Dance Mask
W-FIG17
DESCRIPTION: A vibrant, expressive Mexican folk art mask of a yellow and red jaguar with big blue eyes, wide mouth and erect leather ears. Hand carved and painted, this vintage mask depicts a fanciful American jaguar, a popular theme for Mexican artists. The paint condition on this mask is excellent; wire is attached for hanging. View the final three photos to compare this mask with our Mexican Jaguar Mask #W-FIG4; they make wonderful companion pieces! DIMENSIONS: 11.5" tall (29.2 cm) x 10"... Click for details
$520.00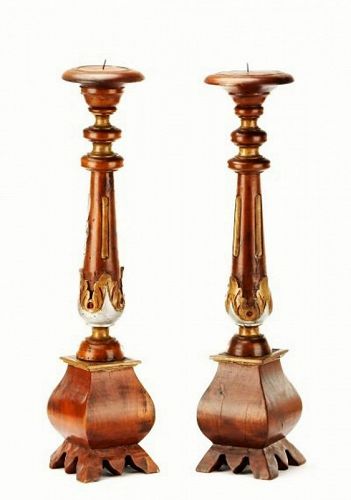 Pair of Vintage Italian Carved Wood Candle Prickets
W-DA1
DESCRIPTION: A handsome pair of walnut wood Neoclassical style carved and stained candle prickets with circular tops above turned, tapered and fluted shafts with leaf tip ornaments, above swelled bases with splayed feet. Italian, 20th century; silver and gilt highlights on each. Unmarked, good condition. DIMENSIONS: Overall height 25.25".
$465.00 Pair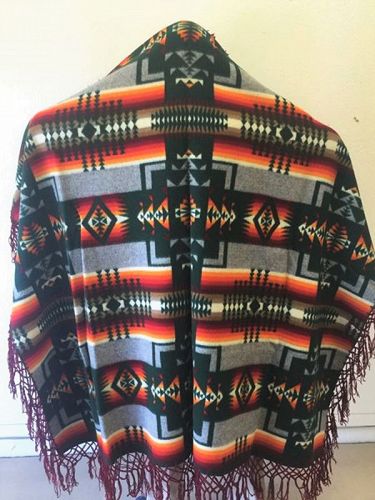 Pendleton Wool Blanket, Robe or Throw
W-TX10
DESCRIPTION: Great reversible pattern Pendleton blanket with horizontal rows of red, orange and white chevrons. The background is dark green on one side and grey on the reverse, edged with a dark red crisscross fringe on all sides. Perfectly sized for either a twin bed blanket or a wearable wrap. Pendleton label, late 1900s, good condition with no holes or tears. DIMENSIONS: 67" x 70" + 6" fringe.
$295.00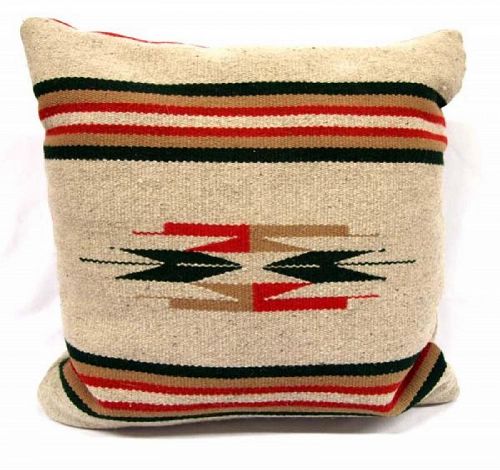 Southwestern Hand Woven Wool Pillow
W-TX14
DESCRIPTION: A Southwestern hand woven wool "mesa design" pillow, the front with a center geometric design bordered top and bottom by red, tan and black stripes. The back continues the color motif with a patchwork wool pattern. Excellent condition, bright, beautiful colors, pillow included. DIMENSIONS: 16 inches square.
$95.00
1
2
3
Next 4