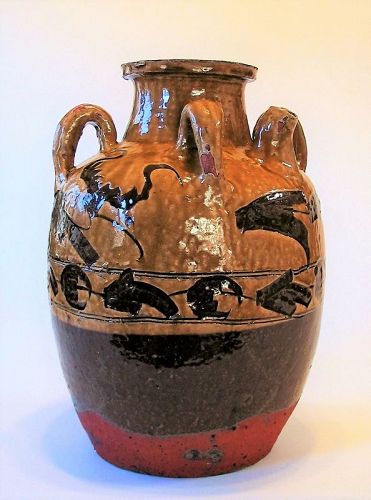 Antique Chinese Red Clay Wine Jar, 19th C.
GD38
DESCRIPTION: Long acknowledged as masters of porcelain, the Chinese also excelled at pottery making. Qing Dynasty domestic pottery used regional clays and showed distinctive regional styles. This pottery, used for the storage of oil and other household goods, exhibited tremendous, quiet beauty as well as utility. Crafted of red clay and originating from Jiangxi Provence, this handsome wine jar with four looped handles and spout is an excellent example with its incised decorations in two-toned... Click for details
$280.00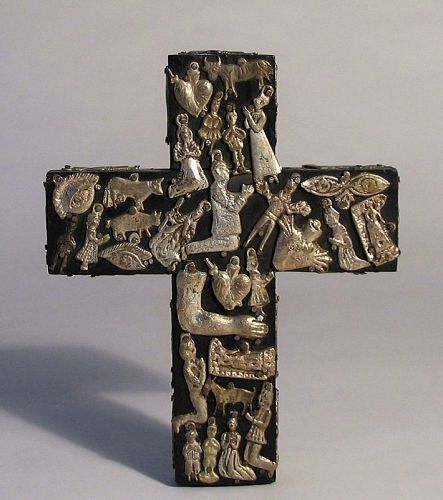 Mexican Milagros Devotional Cross (Ex Voto)
W-FIG15
DESCRIPTION: A vintage Mexican folk art wood cross with dozens of metal milagro icons attached as an act of petition and devotion. Milagros (also known as an ex-voto or promesas) are small religious folk charms associated with the Catholic Church that devotees attach to sacred objects, pin on the clothing of santos statues, or hang with little red ribbons from altars and shrines. The word "milagro" means "miracle".
As part of a religious ritual or an act of devotion, milagros can be... Click for details
$195.00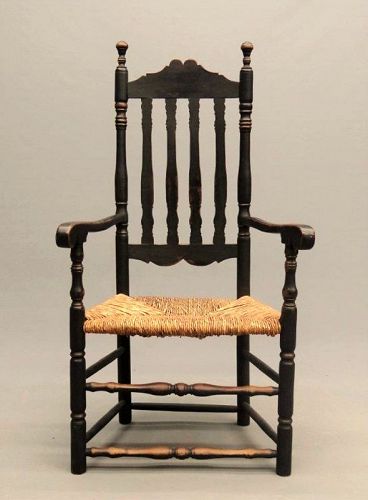 Early American 18th c. Banister Back Armchair
A-CH2
DESCRIPTION: An 18th c. banister back armchair having scalloped crest and bottom rails, turned finials, bulbous front spindles and rush seat. Good condition with age appropriate wear, original black paint. See our listing #A-CH3 for a near match companion chair to make a pair. DIMENSIONS: 46.5" high x 25" wide x 18.25 deep; 17" seat height.
$2,195.00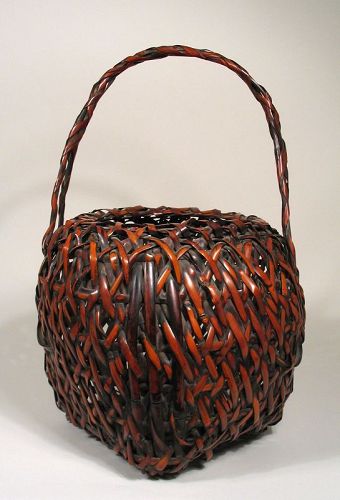 Japanese Bamboo Ikebana Basket, Meiji Period
BSK78
DESCRIPTION: A handsome ikebana basket, Meiji Period, crafted of smoked bamboo in a diagonal weave with double wrapped handle. Three vertical bamboo strips reinforce two corners, and the basket rests on a square, open weave base. Excellent condition with no breaks or losses. Ikebana ("living flowers") is the Japanese art of flower arrangement. It is also known as Kado ("way of flowers"). Japanese artists crafted Beautiful baskets such as this one as containers to hold simple to elaborate ikebana... Click for details
$420.00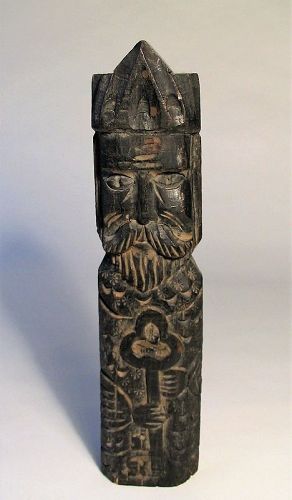 Carved Mexican Wood Santos Figure of St. Peter
W-FIG16
DESCRIPTION: An antique Mexican folk art carving of a bearded St. Peter in a bishop's hat holding a large key, symbolizing the key to the kingdom of heaven entrusted to disciple Simon Peter by Christ. This figure was probably part of a home devotional altar; figure can also be hung on a wall or entry door. Very good condition. DIMENSIONS: 13 1/8" high x 3"wide.
$225.00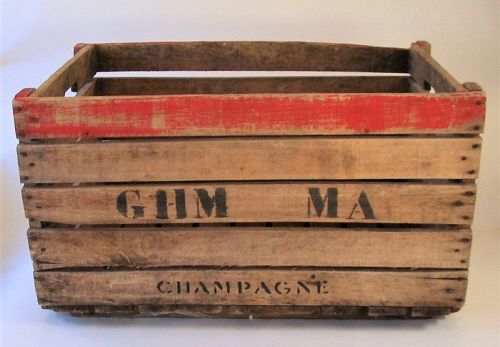 Wooden French Vineyard Champagne Crate
A-BSK10
DESCRIPTION: A sturdy wooden champagne grape box or crate used in French vineyards at harvest time. This one has touches of red paint, "GHM MA CHAMPAGNE" stenciled on both sides and handholds notched into the slats at the top. These boxes enhance a country provincial decorating style while functioning as split log holders for the fireplace or the perfect place to toss your wet or snowy boots in winter. DIMENSIONS: 15 ½" high x 27"wide x 19 1/2"deep.
$455.00
3 Previous
1
4
6
8
10
11
12
13
14
22
30
38
44
Next 4