Small Chinese Export Silver Filigree Box with Coral
JO58
DESCRIPTION: A beautiful octagonal pill (or snuff) box, the top with silver filigree wire work around inset coal stones forming the shape of a five-petal flower. The box itself is silver over copper and on the inside is stamped "Made in China." Amazingly, the original Frost Bros. retail tag remains on the inside. Frost Brothers was a high-fashion retail store based in San Antonio, Texas, that opened in 1917 and went out of business in 1988. This box dates from C. 1920 to 1945 (Republic... Click for details
$170.00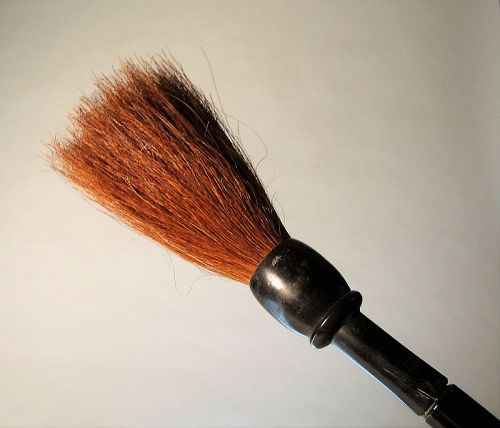 Antique Chinese Calligraphy Ox-Horn Brush
SCH154
DESCRIPTION: An attractive scholar's calligraphy brush, crafted using long brown horsehair bristles attached to a bulbous ox-horn ferrule and segmented, solid ox- horn shaft. A very handsome brush in good condition from the latter Qing Dynasty, which would have been used for calligraphy or painting. DIMENSIONS: 14" long (35.5 cm).
$325.00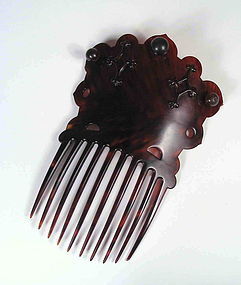 Chinese Export Tortoise Shell Comb, 19th C.
SAO206
DESCRIPTION: A large, ten pronged tortoise shell comb made for the European market (Victorian era, circa 1880-1890). The fashion of the day included large elaborate combs placed in upswept hair, and this one is a real beauty! The curved prongs and scalloped crown are from a single piece of shell which is mounted with three large round beads and two carved triangular designs. Very good condition with only a couple of tiny nits that are difficult to even see. DIMENSIONS: 6 ½" long (16.5... Click for details
$465.00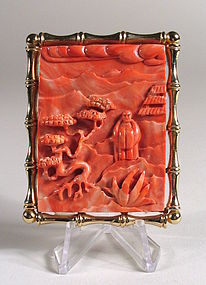 Chinese Carved Pink Coral Brooch / Pendant
JO61
DESCRIPTION: A Chinese pendant with coral colored stone mounted as a brooch in high relief with a scholar standing under a twisting pine in a mountain setting. The rectangular gilt frame is cast as four bamboo stalks and has a sturdy open "mesh" backing fitted with a stick pin and gold loop so that it can be worn as a brooch or necklace. Very fine work overall with no tarnish anywhere to the gilt frame. DIMENSIONS: 2 3/8" long (6 cm) x 1 7/8" wide (4.8 cm).
$595.00
1