Small Antique Chinese Brass Box with Carved Carnelian
JO55
DESCRIPTION: An attractive oval brass box, the hinged lid decorated with a carved carnelian stone at the center with raised brass leaves on either side. Signed at the interior lid, such a box might have been used for snuff, jewelry, cosmetics or medicines. This attractive little box is in excellent condition and dates from the first quarter of the 20th C. DIMENSIONS: 2 ¼" long (5.7 cm) x 1 1/8" wide (2.9 cm) x 1" high (2.5 cm).
$265.00
Small Chinese Export Silver Filigree Box with Coral
JO58
DESCRIPTION: A beautiful octagonal pill (or snuff) box, the top with silver filigree wire work around inset coal stones forming the shape of a five-petal flower. The box itself is silver over copper and on the inside is stamped "Made in China." Amazingly, the original Frost Bros. retail tag remains on the inside. Frost Brothers was a high-fashion retail store based in San Antonio, Texas, that opened in 1917 and went out of business in 1988. This box dates from C. 1920 to 1945 (Republic... Click for details
$170.00

Chinese Scholar's Cloisonné Calligraphy Brush
SCH1
DESCRIPTION: An attractive scholar's brush, the cloisonné handle having colorful vine and floral designs on a black ground. The ferrule and tip are both crafted from turned wood while natural bristles form the full brush. In excellent condition, this is a handsome, well made brush dating from the early 20th C. DIMENSIONS: 13.5" long (34.2 cm).
$285.00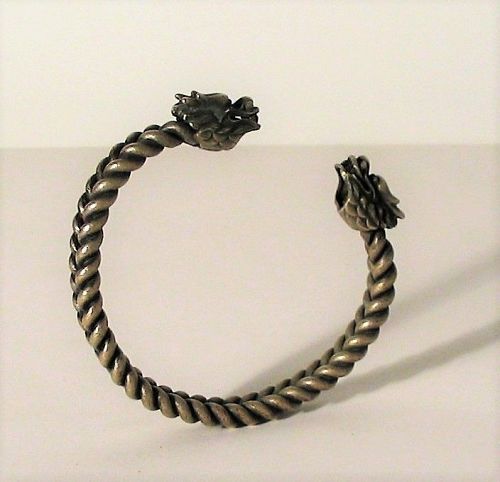 Late 19th C. Chinese Silver Tribal Dragon Bracelet
JO48
DESCRIPTION: A Chinese minority tribe antique silver bracelet, handcrafted from two sturdy silver coils, each twisted and joined to form a braided pattern, with each end terminating in a silver, four-horned dragon head. The woven coils, simulating the dragons' bodies, and the gap between the horned heads allow the bracelet to be "sized" to any wrist. Very decorative and an authentically old piece of tribal jewelry. DIMENSIONS: 3 1/8" exterior diameter (8 cm); 2.5" interior diameter... Click for details
$230.00
Pair of Antique Silver-Inlaid Wedding Vessels (Gadur), Moro People
BB165
A fine pair of early 20th C. gadur (also written as gador) urns, one of cast brass and one of bronze, each inlaid with silver bands in elaborate geometric designs. Such containers were presented as gifts among wealthy Muslim Moro families on Mindanao Island in the southern Philippines. These vessels were a sign of wealth and a testament to the craftsmen that created them. An extremely labor intensive process is required to craft these vessels, but the result is spectacular. Both feature a... Click for details
$2,800.00 for the pair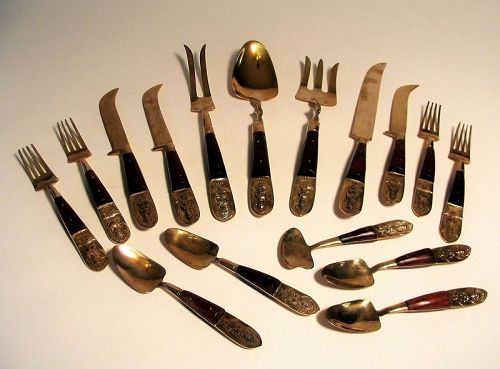 Vintage Thailand Brass & Wood Siam Flatware Set, Original Box
MS64
DESCRIPTION: A complete 29-piece flatware / cutlery set, made in Thailand during the late 1940s to early 1950s. Each utensil is shaped from solid brass and encased between rosewood slab handles, the tips of each with a raised brass figure in court dress and "Siam" stamped at the base. The set consists of dining or dessert cutlery for 8 people (knives, forks & spoons), plus a serving fork & spoon, sugar spoon, and a carving set. Original wood storage box with emerald velvet lining is... Click for details
$120.00 Set
1
2
3
Next 4