Ornate Pair Antique Wrought Iron Arched Panels
W-ARCH38
DESCRIPTION: An ornate pair of antique hand wrought and polychromed arched iron panels from a New Orleans estate. The workmanship on this pair is exquisite with a three-dimensional quality to the leafy vines and flowers. Both sides are equally crafted with double leaves and flowers so that there is no true front or back to each arched form. These could be made into entry gates with very little alteration or arched window guards. Dating from the late 19th C. and in excellent condition with no... Click for details
$4,580 Pair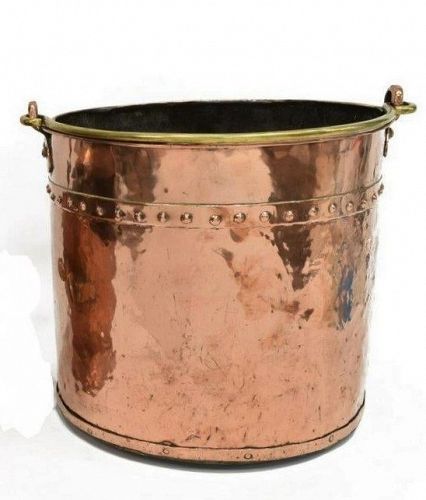 Large Antique English Copper and Brass Bucket
A-MTL14
DESCRIPTION: A handsome English hand-hammered copper bucket with sturdy brass bail handle and studded band, in good condition. Late 19th c. This bucket will make an attractive fireplace accessory for holding wood and kindling. DIMENSIONS: 12.5" high x 14" diameter.
$340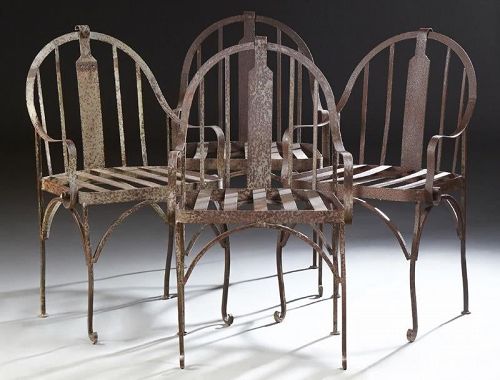 Set of Four Wrought Iron Patio Armchairs, 20th C.
A-CH7
DESCRIPTION: A set of four wrought iron patio armchairs, the arched slatted backs with wide center slat curving gracefully to end in curved arm supports. The seat is also slatted and sits above scrolled cabriole legs. DIMENSIONS: Each 38 ½" High x 21 1/2'" Wide x 22" Deep.
$1,195 for the set of four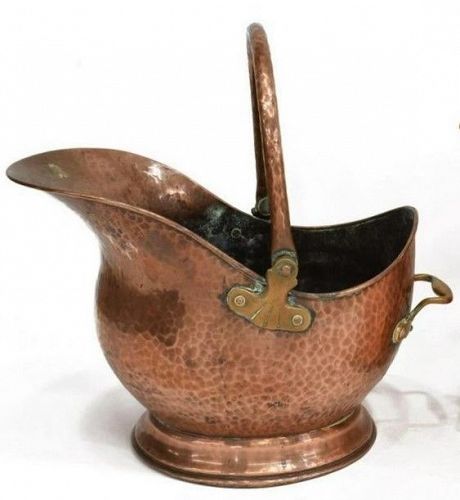 English Copper & Brass Coal Scuttle
A-MTL13
DESCRIPTION: A handsome English hand-hammered copper coal scuttle with copper handle and brass fittings, in good sturdy condition, perfect for your fireplace hearth for removing ashes. DIMENSIONS: 11" high x 15" wide x 10.25" deep.
$345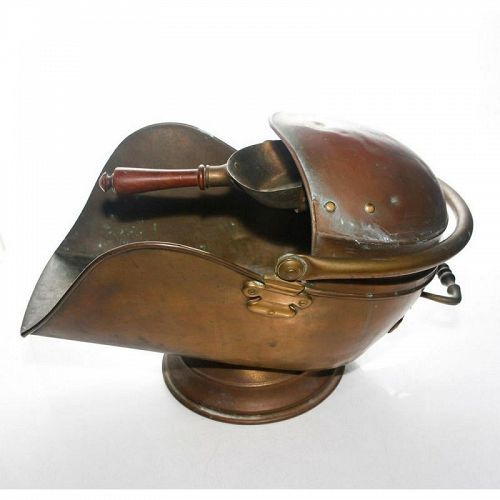 Victorian Copper Coal Scuttle Bucket and Shovel Scoop
A-MTL12
DESCRIPTION: A handsome Victorian era (c. 1890) copper coal scuttle with brass handle and hinges, having a built-in copper "pocket" on the top to hold a shovel scoop. These coal scuttles are practical today for removing ashes from your fireplace, and making a warm "hearth and home" statement. This one shows use with scattered small dents and a base repair. DIMENSIONS: 13.5" High x 19.5" long. A-MTL12 $315
$315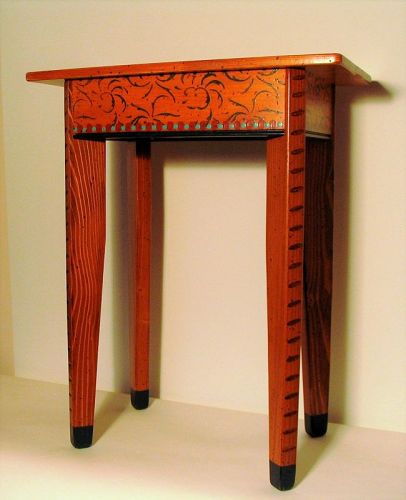 Artisan Crafted Console or Side Table, David Marsh
A-TBLS2
DESCRIPTION: Finely hand crafted small console table, perfect for an end table, bedside table, a printer, or anywhere you need a little extra surface space. Painted with green vine stencils and alternating red and light blue dots. Like new condition. DIMENSIONS: 30" high x 24" wide x 13.75" deep.
David Marsh furniture is uniquely designed using sustainable pine and reclaimed wood. Each piece is hand crafted by David and his fellow craftsmen in his Texas studio. The distinctly... Click for details
$585
1
2
3
5
7
9
11
13
15
16
17
Next 4