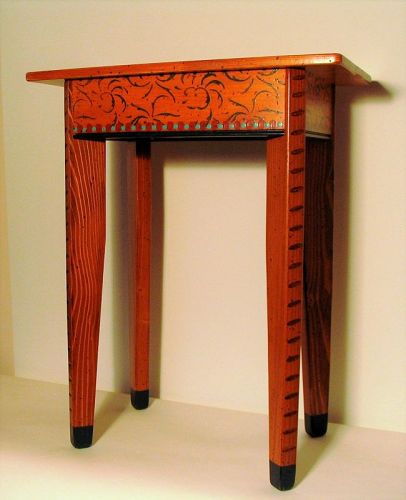 Artisan Crafted Console or Side Table, David Marsh
A-TBLS2
DESCRIPTION: Finely hand crafted small console table, perfect for an end table, bedside table, a printer, or anywhere you need a little extra surface space. Painted with green vine stencils and alternating red and light blue dots. Like new condition. DIMENSIONS: 30" high x 24" wide x 13.75" deep.
David Marsh furniture is uniquely designed using sustainable pine and reclaimed wood. Each piece is hand crafted by David and his fellow craftsmen in his Texas studio. The distinctly... Click for details
$585
Early Slate Game Board
A-FA1
DESCRIPTION: A handsome, engraved and painted slate checkers and chest game board, the solid board with beveled corners and alternating brown squares with round felt pads on back four corners. Sourced in Vermont, very good condition. DIMENSIONS: 15 1/4" x 15 1/2".
$985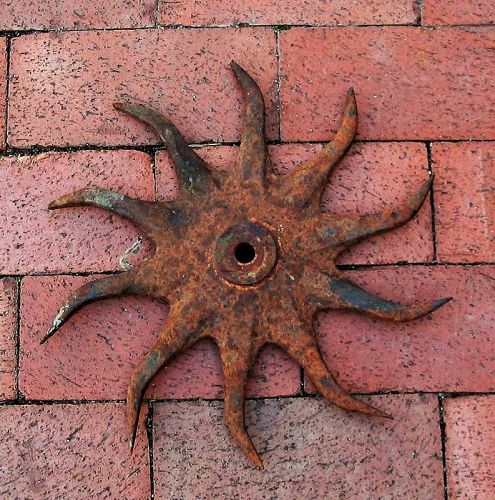 11.5" Antique Cast Iron Garden Tiller Wheel, Industrial/Garden Art
A-MTL8
DESCRIPTION: A swirling, cast iron rotary tiller wheel with ten spokes spiraling from the center. These old, artful farm implements make wonderful authentic accessories for today's Industrial, Country, or Farmhouse Décors. They also make delightful garden accents. Please see the last photo for size comparison with our 14" tiller, #A-MTL7. Light rust covering, extremely sturdy, no repairs. DIMENSIONS: 11.5" diameter.
$75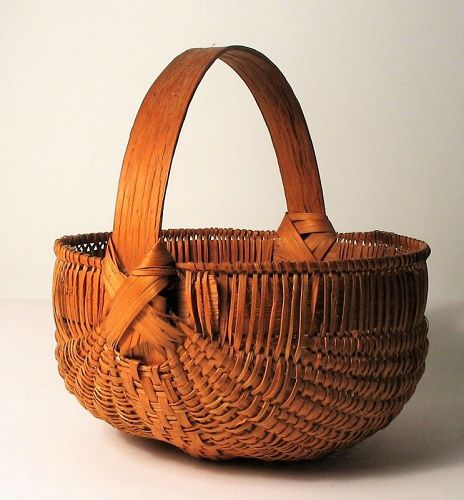 Fine Antique Oak Splint Tennessee Gizzard Basket
A-BSK5
DESCRIPTION: A hand woven gizzard basket, c. 1890-1900, originating from Crossville, Tennessee. Gizzard baskets, sometimes known as the bow basket or egg basket, are made forming the handle and rim first, then are lashed together to form a frame. Into this lashing, ribs are inserted which hold the weaving that forms the shell of the basket. Gizzard baskets are the "Cadillac" of white oak baskets and are prized by collectors, being difficult to make and time-consuming. This basket has the... Click for details
$275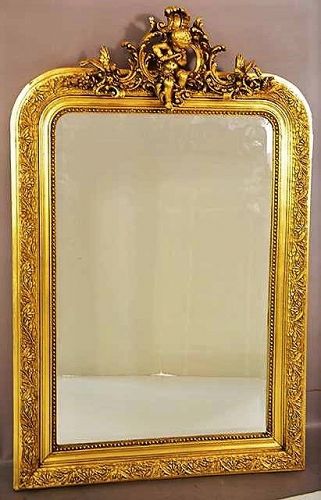 Antique French Giltwood Mirror
A-WD1
DESCRIPTION: An elegant French Louis XV style giltwood beveled mirror with center crest of birds and a cherub playing a flute, and framed with a gilt beaded and foliate border; Ca. 1890. DIMENSIONS: 46" high x 30" wide.
$695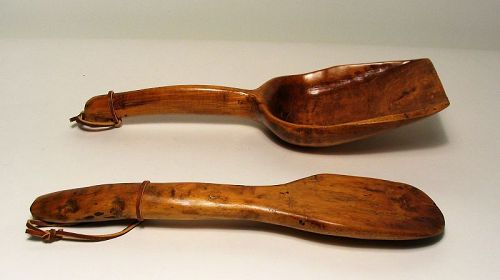 Pair Antique Maple Kitchen Utensils
A-UTL1B
DESCRIPTION: Nice old wooden spatula and shovel-shaped scoop, hand carved from maple wood. These have been waxed showing a beautiful patina, and new leather straps are attached for display. DIMENSIONS: Scoop = long x 4.24" wide. Spatula = 12" long x 2 5/8" wide.
$75
1
2
3
5
7
9
11
13
15
16
Next 4