Chinese Scholar's Cloisonné Calligraphy Brush
SCH1
DESCRIPTION: An attractive scholar's brush, the cloisonné handle having colorful vine and floral designs on a black ground. The ferrule and tip are both crafted from turned wood while natural bristles form the full brush. In excellent condition, this is a handsome, well made brush dating from the early 20th C. DIMENSIONS: 13.5" long (34.2 cm).
$285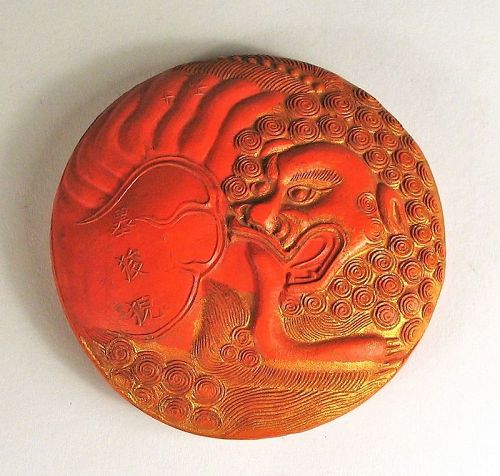 Antique Chinese Red Ink Cake with Original Box
SCH388
DESCRIPTION: A fine red and gilt Chinese scholar's ink cake in circular form with the front and back molded in relief in the form of a foo dog (shi shi) with tightly curled mane. Both the front and back have raised Chinese characters in relief. Excellent condition in original box, and dating from the first quarter of the 20th C. or earlier. DIMENSIONS: 2 ¾" diameter (7 cm).
$395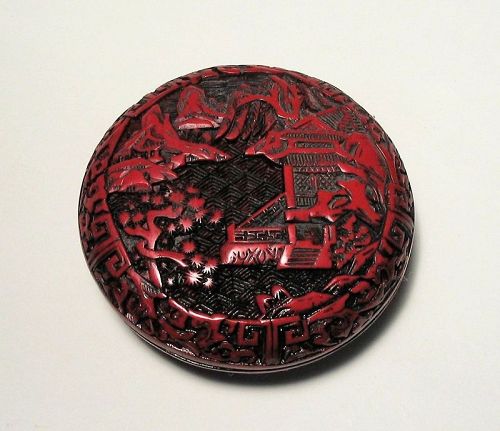 Chinese Cinnabar Seal Paste Box, Qing
SAO9
DESCRIPTION: A round, red cinnabar seal paste box, the top carved with a pavilion among pine trees with mountains in the background. Interior is black and box contains fresh seal paste we added for your Chinese seals and chops. Qing Dynasty, well carved, excellent condition. DIMENSIONS: 3" diameter (7.6 cm) x 1" thick (2.5 CM).
$215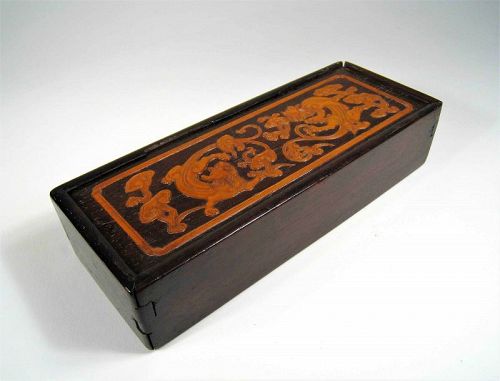 Zitan & Bamboo Chinese Scholar's Box, Early 19th C.
SCH372
DESCRIPTION: A rectangular zitan scholar's box with sliding lid decorated with yellow bamboo in the tiehuang technique. Such a box would be used to store various calligraphy tools that the Chinese scholar might use. The beautiful, deep black wood of the box has grooves for the sliding lid and is joined at the corners. Decorating the lid is a bamboo appliqué, deftly carved with two confronting curled dragons among lingzhi fungus, a Daoist symbol of immortality. Dating from the early 19th C.... Click for details
$1,495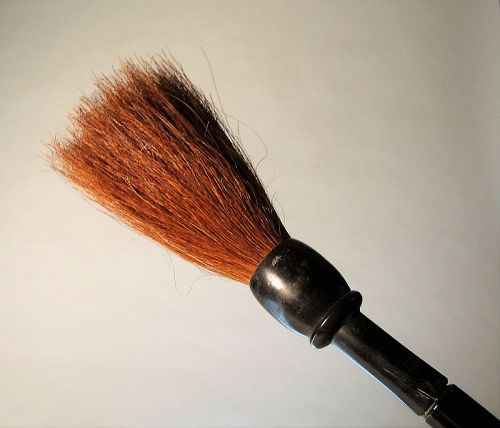 Antique Chinese Calligraphy Ox-Horn Brush
SCH154
DESCRIPTION: An attractive scholar's calligraphy brush, crafted using long brown horsehair bristles attached to a bulbous ox-horn ferrule and segmented, solid ox- horn shaft. A very handsome brush in good condition from the latter Qing Dynasty, which would have been used for calligraphy or painting. DIMENSIONS: 14" long (35.5 cm).
$325
Chinese Scholar's Ink Stone in Bell Form, Qing Dy
SCH395
DESCRIPTION: A fine and very sculptural Chinese Duan ink stone in the form of a bell with a deeply carved water well on one end, and a flaring flat surface on the other for mixing ink. The stone is raised on two elongated prong feet, between which is a five character inscription. Worth noting is the attractive coloring of the stone, best described as a plumb or eggplant color mixed with dashes of scattered sea-green inclusions, often called "eyes." CONDITION: One tiny chip on raised lip at... Click for details
$975
1
2
3
4
5
Next 4