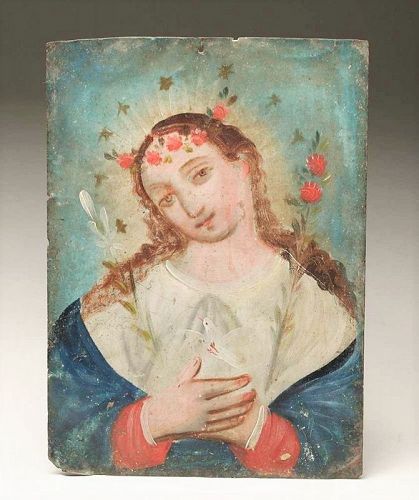 Antique Mexican Painted Tin Retablo - El Alma de Maria
W-WD13
DESCRIPTION: A beautiful rendition of El Alma de Maria on tin, capturing the mystical descent of the Holy Ghost upon Mary and the announcements of the Incarnation. The young Mary is wearing a crown of pink roses, a pearl necklace and pearl earrings. With hands crossed over her heart, she presses the white dove toward her. This is a somewhat rarer depiction, because she holds not only a staff of lilies in one hand, but also a branch of roses in the other. Symbolizing her purity and exemption for... Click for details
$480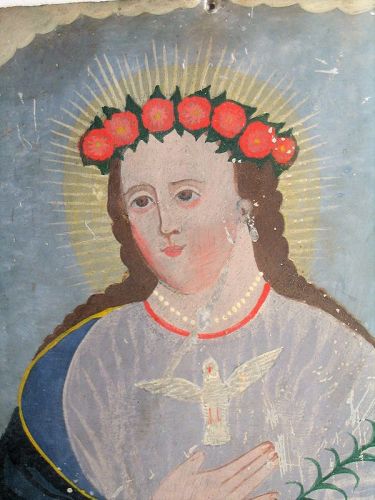 Antique Mexican Retablo - El Alma de Maria
W-WD12
DESCRIPTION: This antique 19th c. painted tin retablo features a lovely rendition of El Alma de Maria, capturing the mystical descent of the Holy Ghost upon Mary and the announcements of the Incarnation. Mary is wearing a crown of pink roses, a pearl necklace and pearl earrings. Her right hand is crossed over her heart where a white dove also appears. She holds a staff of lilies in her left hand, symbolizing her purity and exemption from worldly sins. The Virgin is dubbed a "rose without thorns"... Click for details
$650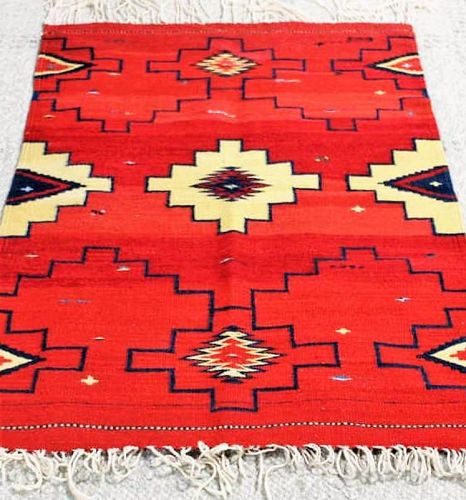 Vintage Mexican Hand Woven Carpet
W-RG1
DESCRIPTION: A hand woven flat weave Mexican wool carpet, dating from the mid 20th C, with bright red ground and geometric designs in dark blue and light beige. Originally purchased in Mexico in the 1970's by an interior designer who stored it for decades, this rug is in like-new condition. From a Scarsdale, NY Estate; rug is reversible. DIMENSIONS: 34" wide x 53" long, plus fringe.
$295
Petite Zuni Turquoise & Sterling Petit-Point Cuff Bracelet
W-JO27
DESCRIPTION: A classic Zuni double-banded silver cuff bracelet featuring clusters of beautifully matched sky blue turquoise cabochons. These are mounted in a "sunface" design, consisting of two circular rows around a "God's eye" stone in the center. Two additional stone and silver clusters form wings on each side. This beautiful, dainty cuff is perfect for a petite woman who might find other Native American bracelets too "chunky." Hallmark "STERLING" stamped on the reverse. Excellent... Click for details
$385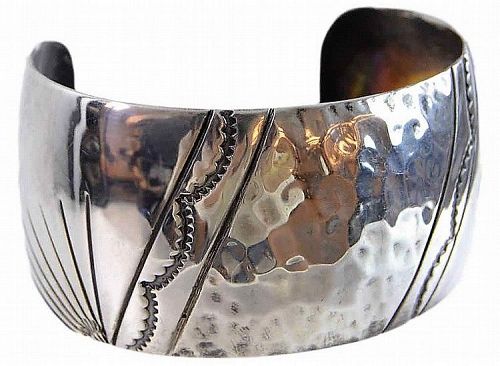 Navajo Silver Cuff Bracelet, Roger Francisco
W-JO28
DESCRIPTION: A Native American silver cuff bracelet having hammered and stamped accents; silver band is a nice, wide 1.5". Stamped "RVF" by Navajo Silver Artist Roger Francisco. DIMENSIONS: Inner circumference = 5.75"; wrist opening = 1.75". Total weight = 52 grams.
$240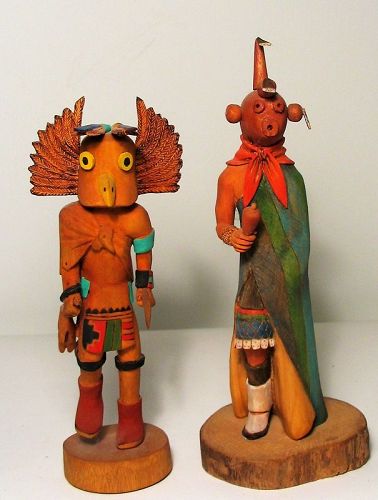 Pair Native American Hopi Carved Wood Kachina Dolls
W-FIG10
DESCRIPTION: A hand carved and painted pair of Native American Hopi Kachina (or Katsina) dolls, one in a long green and blue robe with red neck kerchief, the other in an elaborate headdress. Each is signed, one signed "Mongwa, D. Scott, Old Oraibi" and the other "D. Harvey, Koyemsi, Hopi Tewa, '96". DIMENSIONS: Tallest 10.75" high.
CULTURAL BACKGROUND: The Hopi people live primarily on three mesas in northeastern Arizona, about 70 miles from Flagstaff. Hopi katsina figures,... Click for details
$420
1
2
3
5
7
9
11
13
15
16
17
Next 4