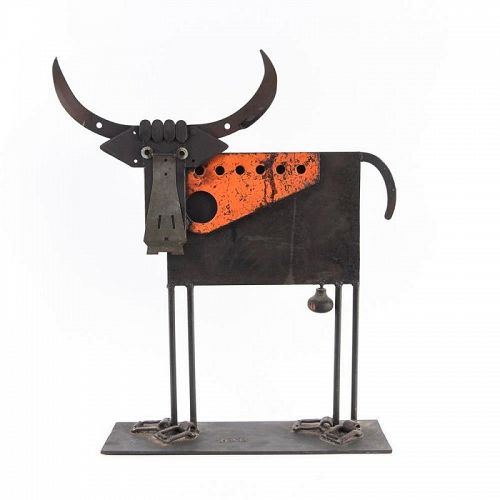 Delightful Welded Iron Bull Sculpture
W-FIG36
DESCRIPTION: An appealing welded iron sculpture of a long-horned bull, crafted of found objects including washer eyes, belt buckle hooves and an old wooden door knob. Artist signed on the base; good condition. DIMENSIONS: 29" high x 25" wide x 6" deep. W-FIG36 $640
$640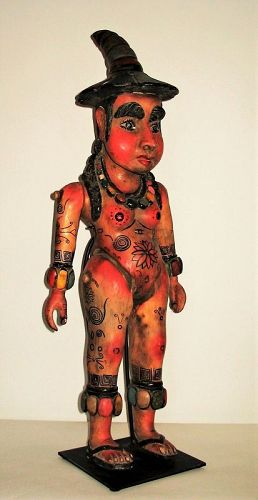 Rare Vintage Mexican Carved Wood Processional Figure
W-FIG3
DESCRIPTION: A Mexican carved wood sculpture of an indigenous female, used as a processional "pole puppet" during Mexican festivals. The polychrome decorated figure has articulated arms and legs and a hole running through the waist through which a pole or dowel would be inserted. The pole, when mounted with several puppets, would be used in festival processions, with the bouncing of the pole animating the movements of the figures. This nude figure with bushy eyebrows and hair is covered... Click for details
$1,220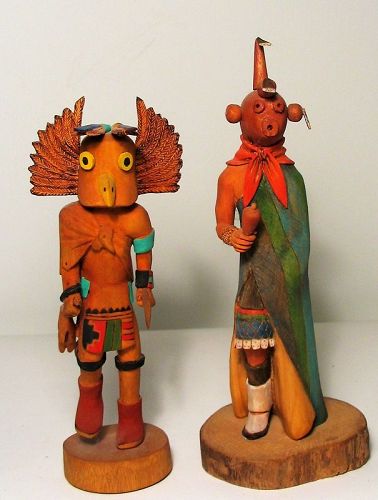 Pair Native American Hopi Carved Wood Kachina Dolls
W-FIG10
DESCRIPTION: A hand carved and painted pair of Native American Hopi Kachina (or Katsina) dolls, one in a long green and blue robe with red neck kerchief, the other in an elaborate headdress. Each is signed, one signed "Mongwa, D. Scott, Old Oraibi" and the other "D. Harvey, Koyemsi, Hopi Tewa, '96". DIMENSIONS: Tallest 10.75" high.
CULTURAL BACKGROUND: The Hopi people live primarily on three mesas in northeastern Arizona, about 70 miles from Flagstaff. Hopi katsina figures,... Click for details
$420
Antique Spanish Colonial Carved Santo Figure
W-FIG32
DESCRIPTION: An antique, hand carved, polychrome wood santos figure of the Virgin Mary in flowing red robes and sash, her left arm outstretched, standing atop a globe and stepped pedestal base. This early 19th C. santos has delicate facial features with hair of intertwining thread and metal crown. CONDITION: Good condition, some minor wood cracks, fingers on left hand chipped. DIMENSIONS: 30" high x 15" at widest point.
Sold SOLD
Antique Spanish Colonial Figure of Saint
W-FIG34
A large 19th C. Spanish Colonial carved wood santos figure of a bearded saint. The saint is draped in a long, polychrome robe with finely carved edge detailing and stands atop a stepped pedestal base. CONDITION: Very good. DIMENSIONS: 38 1/2" high (98 cm) x 15" wide (38 cm).
Sold SOLD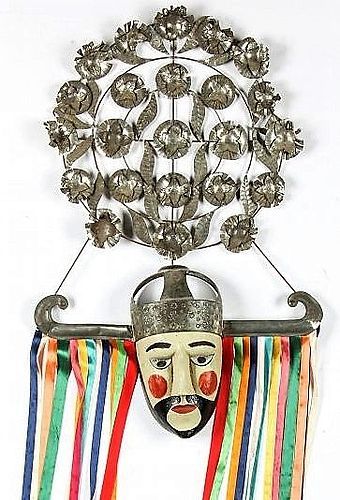 Vintage Mexican Vaquero Festival Dance Mask
W-FIG28
DESCRIPTION: An artful and flamboyant Mexican festival vaquero (cowboy / cattle driver) dance mask, the face carved from wood and painted with a black beard and bright red cheeks. Attached to the head is an elaborate tin "crown" with wide bull horns and flamboyant decorative headdress of double cut and pierced tin flowers. Embellishing the horns are rows of long, brightly colored ribbons. This mask would have been a festive, celebratory costume worn during the Dance of the Vaqueros,... Click for details
$1,295
1
2
Next 4