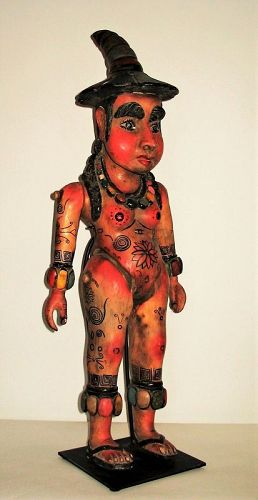 Rare Vintage Mexican Carved Wood Processional Figure
W-FIG3
DESCRIPTION: A Mexican carved wood sculpture of an indigenous female, used as a processional "pole puppet" during Mexican festivals. The polychrome decorated figure has articulated arms and legs and a hole running through the waist through which a pole or dowel would be inserted. The pole, when mounted with several puppets, would be used in festival processions, with the bouncing of the pole animating the movements of the figures. This nude figure with bushy eyebrows and hair is covered... Click for details
$1,220.00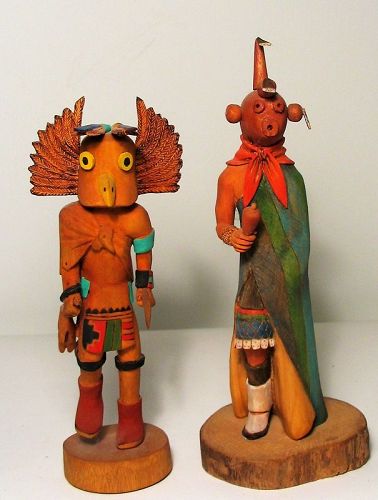 Pair Native American Hopi Carved Wood Kachina Dolls
W-FIG10
DESCRIPTION: A hand carved and painted pair of Native American Hopi Kachina (or Katsina) dolls, one in a long green and blue robe with red neck kerchief, the other in an elaborate headdress. Each is signed, one signed "Mongwa, D. Scott, Old Oraibi" and the other "D. Harvey, Koyemsi, Hopi Tewa, '96". DIMENSIONS: Tallest 10.75" high.
CULTURAL BACKGROUND: The Hopi people live primarily on three mesas in northeastern Arizona, about 70 miles from Flagstaff. Hopi katsina figures,... Click for details
$420.00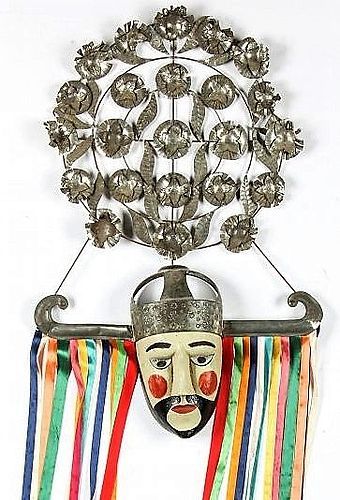 Vintage Mexican Vaquero Festival Dance Mask
W-FIG28
DESCRIPTION: An artful and flamboyant Mexican festival vaquero (cowboy / cattle driver) dance mask, the face carved from wood and painted with a black beard and bright red cheeks. Attached to the head is an elaborate tin "crown" with wide bull horns and flamboyant decorative headdress of double cut and pierced tin flowers. Embellishing the horns are rows of long, brightly colored ribbons. This mask would have been a festive, celebratory costume worn during the Dance of the Vaqueros,... Click for details
$1,295.00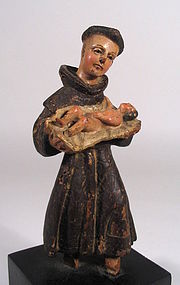 18th C. Spanish Colonial Santo, St. Anthony with Christ Child
W-FIG19
DESCRIPTION: An engaging Spanish Colonial carved santo figure depicting Saint Anthony holding the Christ Child. St. Anthony of Padua is perhaps one of the most loved and admired saints in the Catholic Church. Born in Portugal in 1195, he was a Portuguese Catholic priest and friar of the Franciscan Order who later did much of his work in Italy. Here St. Anthony is dressed in a brown friar's habit with head tilted to one side, gently holding the Christ Child in his arms. This figure, dating... Click for details
$780.00
Large 18th C. Peruvian Santo, Saint Martin De Porres
W-FIG18
DESCRIPTION: A large polychromed wood figure of Saint Martin De Porres, Peruvian, 18th C. Here he is depicted gazing upward toward heaven, arms outstretched, wearing his Dominican robe embroidered in gold with a long painted rosary dangling past his waist. His white undergarment is richly painted with flowers and gold leafy tendrils. Carved in full round, his head is set with glass eyes and he retains a good amount of the original paint. DIMENSIONS: 26 inches high (66 cm).
SAINT... Click for details
$5,600.00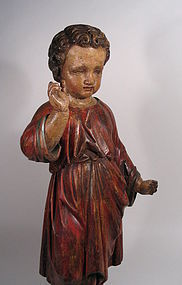 Large Spanish Colonial Santo of the Christ Child, Late 17th C.
W-FIG20
DESCRIPTION: A fine Spanish Colonial carved wood figure (or santo) of the Christ Child. This devotional sculpture was sensitively and realistically carved with the Christ Child standing, looking slightly downward with his right hand raised and wearing a draping red robe tied at the waist. Images such as these were created as objects of devotion, playing a significant role in introducing and educating indigenous peoples in the Americas to the Roman Catholic Church, which itself was an integral... Click for details
$6,250.00
1
2
Next 4