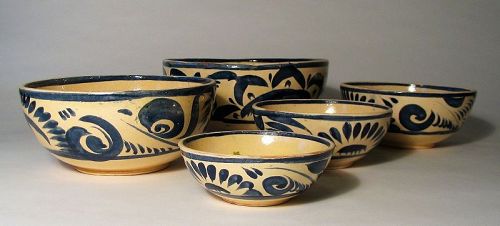 Set of Five Vintage Blue & White Mexican Nesting Bowls
W-CP5
DESCRIPTION: A lovely set of five red clay Mexican earthenware nesting bowls, dating from the 1950's. The bowls are decorated in fluid strokes of blue between blue line borders on a white/cream ground. The interiors have a line of blue around the inner circumference with dollops of green glaze. Very good condition, no chips, original imperfections that add to the charm. DIMENSIONS: Largest bowl: 10.25 diameter x 4.75" high. Smallest bowl: 5.5" diameter x 2" high.
$295.00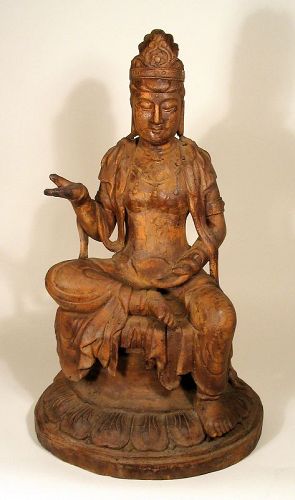 Large Chinese Carved Wood Figure of Guanyin
FIG68
DESCRIPTION: A large, carved wood figure of the Chinese deity Guanyin (also Quanyin, or Kwan-yin), seated on a throne with right leg folded and right hand extended in the abhaya mudra position, a gesture of reassurance, blessing and protection (or "do not fear"). Her hair is worn pulled up in a chignon inside her crown, and around her shoulders is draped a short shawl with flowing ribbons. In good, solid condition with minor age wear; early 20th C. DIMENSIONS: 24 ½" high (62 cm) x 14"... Click for details
$715.00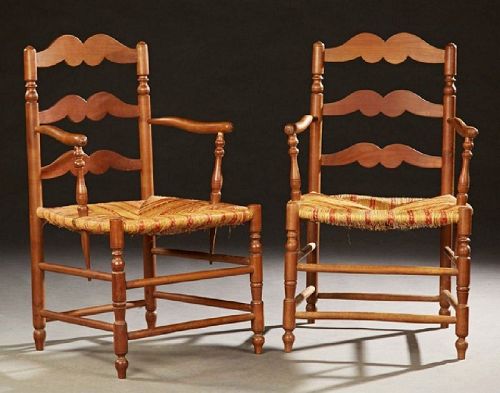 Pair of Antique French Provincial Carved Cherry Armchairs
A-CH5
DESCRIPTION: A charming pair of French Provincial armchairs, each crafted from solid, carved cherry wood and each having rush seats with red accent stripes, early 20th C. Carved turned arms attach to an arched ladderback over the red striped seats on turned tapered legs with toupie feet, joined by stretchers. Very good condition. DIMENSIONS: 34.25" high x 21.25" wide x 20.25" deep.
$895.00 Pair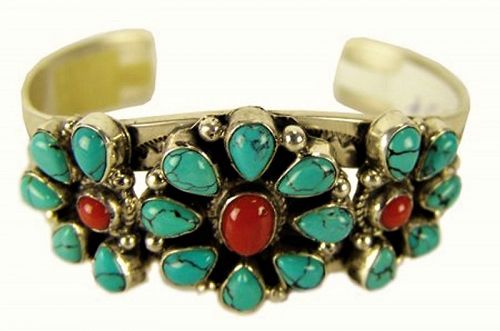 Sterling, Turquoise & Coral Navajo Cuff Bracelet by Leonard Jackson
W-JO34
DESCRIPTION: An attractive Native American sterling cuff bracelet, late 1900s, by Navajo silver artist, Leonard Jackson. This striking and somewhat delicate design features three natural stone flowers with turquoise petals and coral centers mounted onto a sturdy sterling cuff with fine hand-stamped designs. Very good condition, no chips to any stones, signed "L Sterling J." Beautiful colors, very attractive and comfortable on the wrist. DIMENSIONS: Center flower is 1" square; 2.5" inside... Click for details
$795.00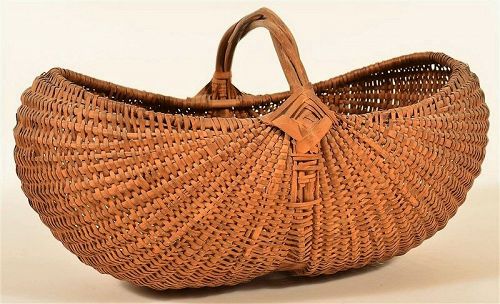 Antique Woven Oak Splint Gathering Basket
A-BSK2
DESCRIPTION: An antique American woven oak splint basket with twisted vine handle in elongated form for flower or herb gathering. You can never have too many great, old baskets! CONDITION: Good with minor age-appropriate wear, stains or losses. DIMENSIONS: 12" high x 21" wide.
$695.00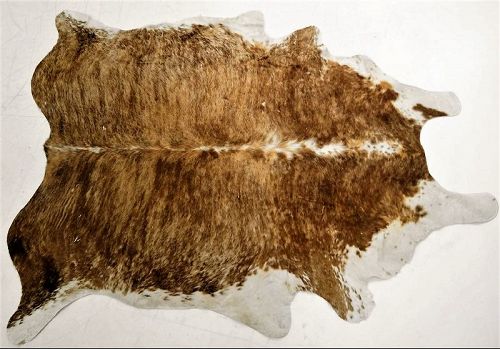 Pony Hide Rug or Throw
W-RG15
DESCRIPTION: A light brown and white pony hide rug, the soft fur longer than that of traditional cowhide. Wonderful for throwing over a sofa in your Southwestern home or Northwestern lodge, or toss it on the floor for a soft floor covering. Good condition. DIMENSIONS: 84" X 68"
$520.00
3 Previous
1
5
8
11
12
13
14
15
16
23
30
37
43
Next 4