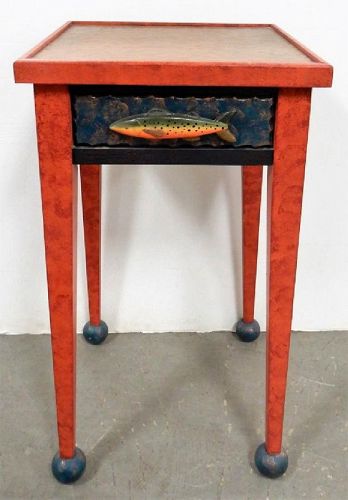 Folk Art Copper Topped End Table with Fish
A-TBLS1
DESCRIPTION: A delightful contemporary folk art table by craftsman, Richard DeWalt, in which vermilion colored tapering legs with small ball feet rise to support a copper table top. The sides and front drawer are finished in blue with a charming carved fish functioning as the drawer's handle. This would be a great accent piece for the fishing enthusiast and would also be perfect in a lake home or fishing lodge setting. CONDITION: Very good, no visible defects. DIMENSIONS: 31" high x 16" x... Click for details
$755
Pair of Antique Silver-Inlaid Wedding Vessels (Gadur), Moro People
BB165
A fine pair of early 20th C. gadur (also written as gador) urns, one of cast brass and one of bronze, each inlaid with silver bands in elaborate geometric designs. Such containers were presented as gifts among wealthy Muslim Moro families on Mindanao Island in the southern Philippines. These vessels were a sign of wealth and a testament to the craftsmen that created them. An extremely labor intensive process is required to craft these vessels, but the result is spectacular. Both feature a... Click for details
$2,800 for the pair
White & Grey Cowhide Rug
W-RG17
DESCRIPTION: A cowhide rug with thick white and grey-brown hair, beautiful for either a country, western or lodge interior. Excellent condition. DIMENSIONS: 71" x 85"
$475
Two Large Pair Vintage Wooden Knitting Needles with Red Knobs
A-UTL12
DESCRIPTION: A nice pair of vintage maple wood knitting needles in large size for bulky knits. Each has a red knob and tapering needle ends. Very good condition. DIMENSIONS: Both pair are approximately 14.25" long. $25 for two pair A-UTL12
$25 for two pair
Museum Quality Japanese Tsutsugaki Festival Banners, Edo
TX44
DESCRIPTION: Three rare Edo Period (c. 1790 – 1810) festival banners, hand woven of hemp and decorated with colored zodiac animals dyed in the freehand paste resist technique, tsutsugaki. To remain upright and highly visible in parade processions, these tall banners would have been mounted on poles from the top and along one side using a series of fabric tabs attached to the banner.
These striking banners are distinctive for their dynamic composition, energetic brushwork and ingenuity of... Click for details
$4,495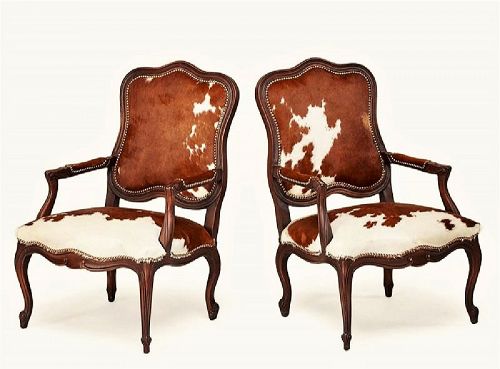 Wonderful Pair Cowhide Louis XV Chairs
W-CH5
DESCRIPTION: Pair of Old Hickory Tannery French Louis XV style walnut armchairs upholstered in brown and white cowhide with brass tacks. Upholstery labels intact, excellent condition. DIMENSIONS: 41" high x 27" wide x 27" deep.
$2,195 Pair
3 Previous
1
5
8
11
12
13
14
15
16
26
36
46
55
Next 4