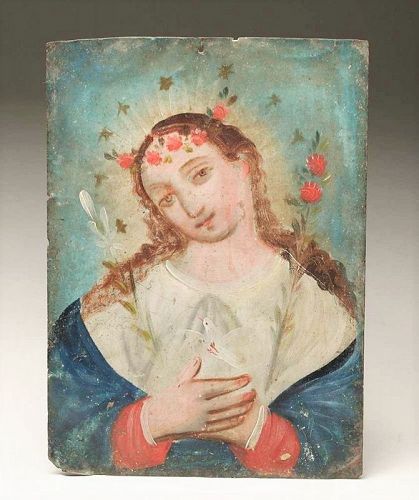 Antique Mexican Painted Tin Retablo - El Alma de Maria
W-WD13
DESCRIPTION: A beautiful rendition of El Alma de Maria on tin, capturing the mystical descent of the Holy Ghost upon Mary and the announcements of the Incarnation. The young Mary is wearing a crown of pink roses, a pearl necklace and pearl earrings. With hands crossed over her heart, she presses the white dove toward her. This is a somewhat rarer depiction, because she holds not only a staff of lilies in one hand, but also a branch of roses in the other. Symbolizing her purity and exemption for... Click for details
$480.00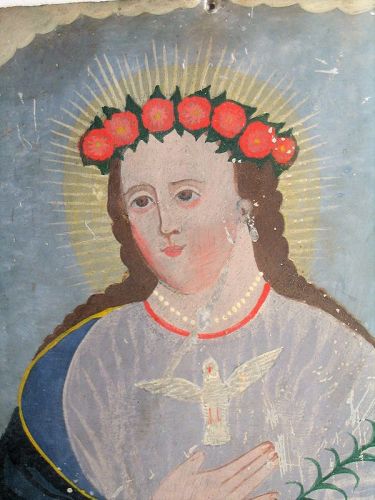 Antique Mexican Retablo - El Alma de Maria
W-WD12
DESCRIPTION: This antique 19th c. painted tin retablo features a lovely rendition of El Alma de Maria, capturing the mystical descent of the Holy Ghost upon Mary and the announcements of the Incarnation. Mary is wearing a crown of pink roses, a pearl necklace and pearl earrings. Her right hand is crossed over her heart where a white dove also appears. She holds a staff of lilies in her left hand, symbolizing her purity and exemption from worldly sins. The Virgin is dubbed a "rose without thorns"... Click for details
$650.00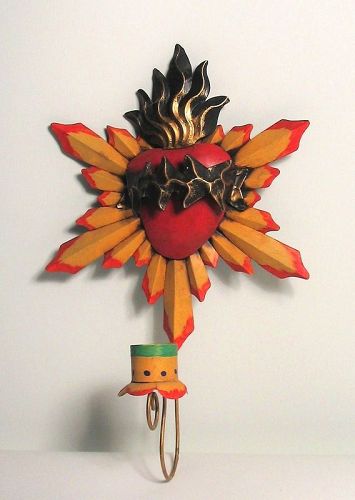 Vintage Mexican Painted Metal Sacred Heart Candle Holder
W-FIG33
DESCRIPTION: A painted metal devotional candle holder depicting the Sacred Heart of Christ with a yellow sunburst design behind a heart with flames and crown of thorns. Wall mounted with hanger on reverse; very good condition; Mexican. DIMENSIONS: 12.75" high x 9" wide.
$75.00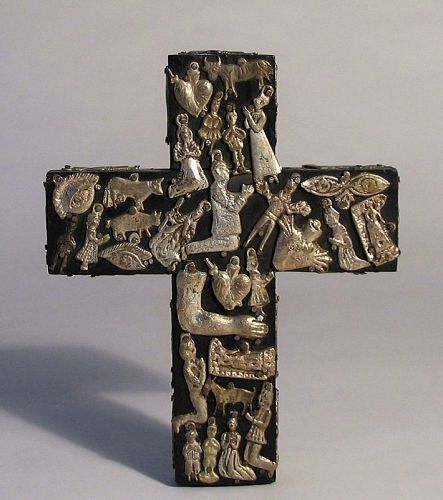 Mexican Milagros Devotional Cross (Ex Voto)
W-FIG15
DESCRIPTION: A vintage Mexican folk art wood cross with dozens of metal milagro icons attached as an act of petition and devotion. Milagros (also known as an ex-voto or promesas) are small religious folk charms associated with the Catholic Church that devotees attach to sacred objects, pin on the clothing of santos statues, or hang with little red ribbons from altars and shrines. The word "milagro" means "miracle".
As part of a religious ritual or an act of devotion, milagros can be... Click for details
$195.00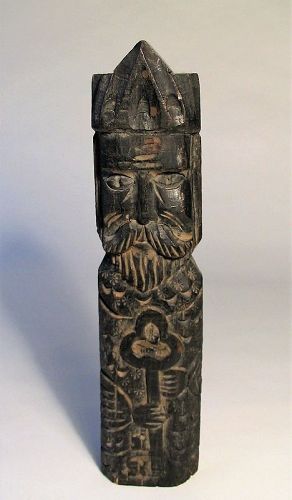 Carved Mexican Wood Santos Figure of St. Peter
W-FIG16
DESCRIPTION: An antique Mexican folk art carving of a bearded St. Peter in a bishop's hat holding a large key, symbolizing the key to the kingdom of heaven entrusted to disciple Simon Peter by Christ. This figure was probably part of a home devotional altar; figure can also be hung on a wall or entry door. Very good condition. DIMENSIONS: 13 1/8" high x 3"wide.
$225.00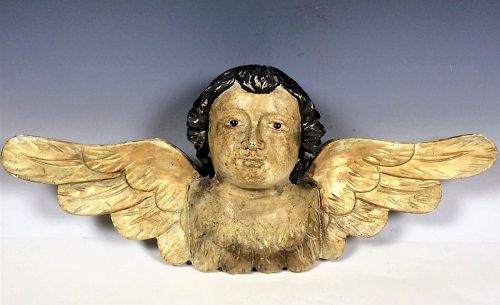 Antique Carved Wood Cherub
W-FIG24
DESCRIPTION: An engaging carved wood santo figure of a winged cherub, most likely carved in the Philippines. This figure, dating from the early 1900's, is depicted with black hair, inset glass eyes and extended wings. CONDITION: Some age appropriate losses to original paint. DIMENSIONS: 6.5" high x 16" wide.
$545.00
1
2
3
Next 4