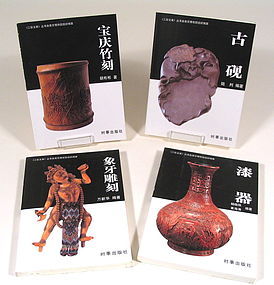 Four Chinese Books on Chinese Antiques
BK14
DESCRIPTION: Four small books written in Chinese, each relating to a different discipline of Chinese works of art. Each is richly illustrated in full color with many examples of the art forms covered. In the first photo listed here, starting at the upper left and going clockwise, is a book dedicated to bamboo arts, including brush pots, baskets and boxes. Next is a book dedicated to ink stones, from simple to elaborate. The third volume richly illustrates cinnabar lacquer pieces from the Han... Click for details
$45.00 for set of four

Vintage Chinese Bamboo Wrist Rest with Calligraphy
SCH202
DESCRIPTION: A Chinese scholar's wrist rest crafted from reddish-brown bamboo, the surface covered with fifteen lines of finely carved, raised calligraphy citing a 1962 poem by Mao Zedong. Excellent condition. DIMENSIONS: 11" long (28 cm) x 3" wide (7.6 cm).
$595.00
Large Chinese Bamboo Basket
BSK44
DESCRIPTION: This wonderful Chinese bamboo basket is one of the nicest we've ever offered. Pleasing in form and expertly handcrafted, the entire basket is tightly woven from bamboo strips in various sizes, forming a pleasing design. Chinese characters are found inside the removable, cone-shaped lid. Three long bent bamboo strips form the handle. Very attractive and in excellent condition. DIMENSIONS: 24" high including handle (61 cm) x 18" diameter (45.7 cm).
$550.00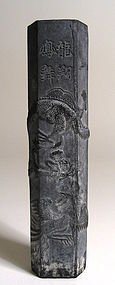 Antique Chinese Ink Stick
SCH71
DESCRIPTION: A long, six-sided Chinese ink stick with nicely detailed dragon and phoenix curling about the surface. Short, impressed Chinese inscriptions are found on two sides. One of the four treasures of the scholar's studio, ink sticks (or cakes) would be carefully ground by the scholar and mixed with water on an inkstone to paint calligraphy or scrolls with a brush. This black ink stick is in good antique condition. DIMENSIONS: 6 1/2" long (16.5 cm) x 1 1/4" diameter (3.2 cm).
$240.00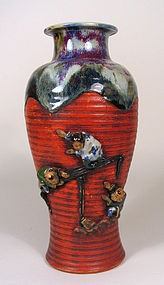 Large Japanese Sumida Gawa Vase
CP107
DESCRIPTION: A large Japanese Sumida vase with three children in high relief playing on a bridge against the red ribbed body. The neck rim is covered in a rich, thick flambé glaze that runs down the shoulders onto the traditional, cold painted body. This vase is in excellent condition with no chips and very little rubbing. DIMENSIONS: 11 1/2' high (29.2 cm) x 4 3/4" diameter (12 cm).
ABOUT SUMIDA EARTHENWARE POTTERY: This charming and highly collectable studio pottery originates from... Click for details
$1,240.00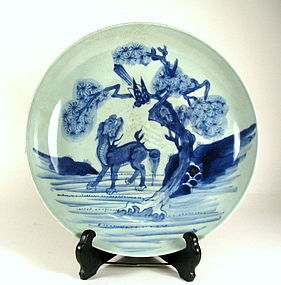 Large Blue & White Antique Chinese Plate, Qing
CP77
DESCRIPTION: A large antique porcelain plate, well decorated with a mythical Kylin gazing upward at a large bird perched in a pine tree. The decoration is in underglazed blue with a clear glaze containing a faint blue tint. The base is unglazed and unmarked showing the finely grained paste. Excellent condition, no chips, cracks or repairs; wood stand not included. DIMENSIONS: 11 1/4" diameter (28.5 cm) x 2 1/8" high (5.4 cm).
$475.00
3 Previous
1
8
14
20
26
32
38
39
40
41
42
43
44
Next 4