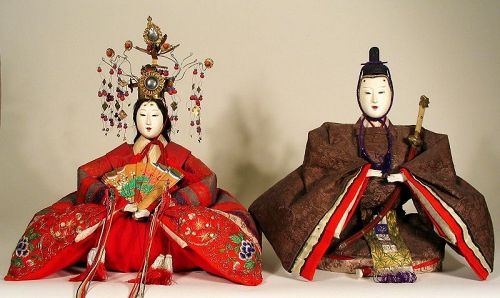 Antique Japanese Emperor and Empress Hina Dolls, Meiji
FIG61
DESCRIPTION: A pair of large Japanese Emperor and Empress dolls, or kokin-bina, presented in formal court dress. The empress' attire is quite elaborate, using fine brocade silks with hand embroidered flowers. In her hands she holds a painted fan and is crowned with an elaborate headdress representing a bird with long hanging beads attached. Both dolls have gofun faces and hands, which are in excellent condition. The accessories include the empress' crown and tasseled fan, and the emperor's... Click for details
$995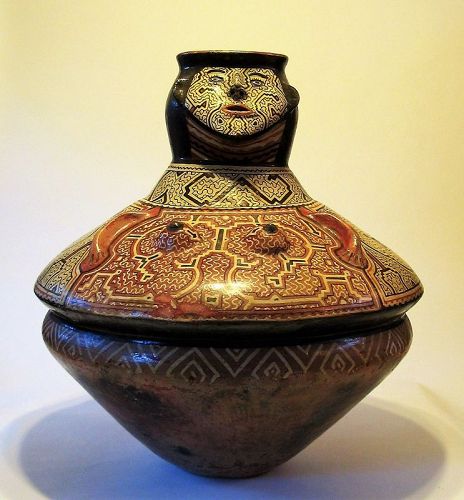 Large Peruvian Shipibo Pottery Effigy Vessel, 20th C
W-PT14
DESCRIPTION: From the Amazon rainforest of Peru, the Shipibo-Conibo are an indigenous tribe known for their distinctive pottery and textiles. Their unique, intricate geometric designs are sophisticated interpretations of their cosmic beliefs that the jungle rivers follow the same course as the stars. Collectors world-wide clamor for their coil constructed pottery, made by the women of the tribe.
This very large, outstanding female figural vessel has a wide, double lobed body and dates from... Click for details
$1,595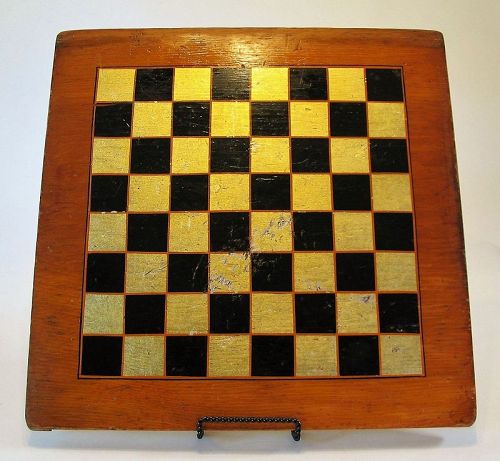 Vintage Wood Checkers Game Board
A-FA8
DESCRIPTION: A good country wood game board in original paint with alternating hand painted black and metallic silver/gold squares outlined in red pin stripes. Abrasions to area in center of board; sturdy construction. DIMENSIONS: 15.75" square x 7/8" thick.
$280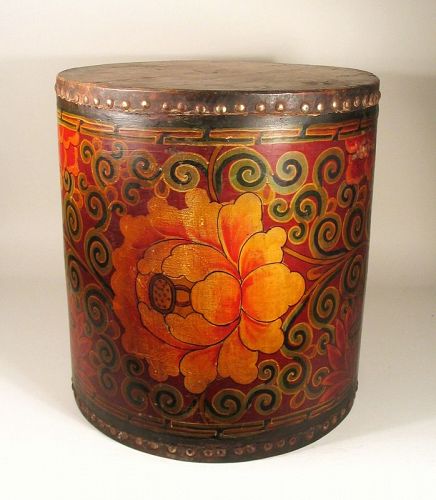 Colorful Painted Tibetan Ceremonial Drum
MS174
DESCRIPTION: An antique hand-painted ceremonial drum with vivid motifs of large flowers with curling green tendrils against a red ground. Both ends of the drum are covered in animal hide and secured with round-headed metal studs. This highly decorative drum makes a perfect little end table, or adds a touch of exotic to any décor. Very good condition with minor rubbing in spots. DIMENSIONS: 16 5/8" high (42.2 cm) x 15 5/8" diameter (39.6 cm).
$485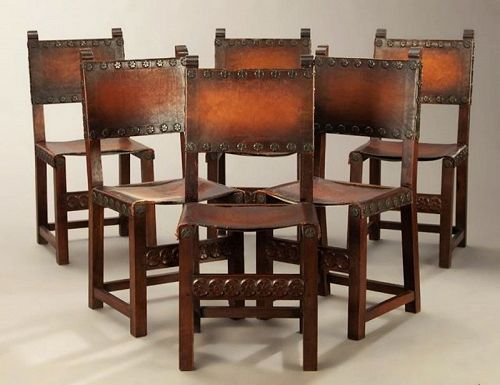 Six Antique Spanish Renaissance Walnut & Leather Dining Chairs
W-CH2
DESCRIPTION: A handsome set of six Spanish Renaissance carved walnut and leather dining chairs, 19th c., the rectangular leather backs over rectangular leather seats with large bronze floret tack trim, on square legs joined by stretchers with hand carved circular florets. CONDITION: Condition is consistent with age and use. The wood is in good condition with minor scuffs and nicks. The leather upholstery has some mild cracking and some wear at the edges. A good looking set with considerable... Click for details
$2,400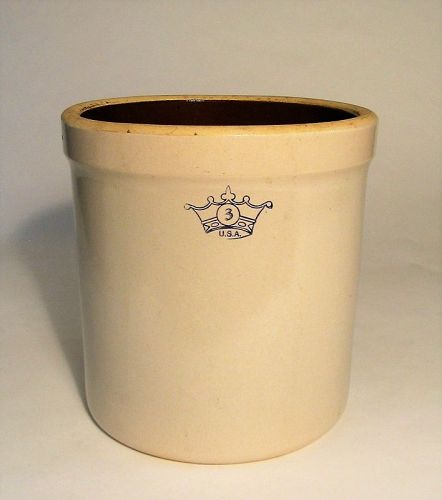 Large, Vintage Roseville Stoneware Crock
A-CP1a
DESCRIPTION: A three gallon Roseville stoneware crock with an off-white exterior glaze and dark brown interior. The bottom is inscribed: "3 gal., R.R. P. Co., Roseville, Ohio, USA." These larger crocks are perfect for your antique kitchen implements such as rolling pins, large wooden spoons, etc. Excellent condition, no chips. DIMENSIONS: 11" high x 11" diameter.
$120
3 Previous
1
6
10
14
15
16
17
18
19
26
33
40
46
Next 4