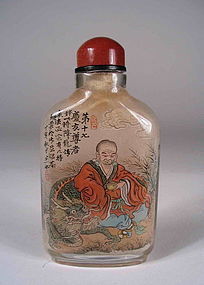 Fine Interior Painted Chinese Glass Snuff Bottle
SB117
DESCRIPTION: A finely painted Chinese glass snuff bottle in flattened rectangular form, each side featuring a lohan (a Buddhist disciple) in landscape settings, one with a crouching dragon and the other with a playful foo lion. Above each lohan is a poem in fine calligraphy with red seal marks. Aventurine stopper, in excellent condition, early 20th C. DIMENSIONS: 3 ¼" high (8.3 cm).
$750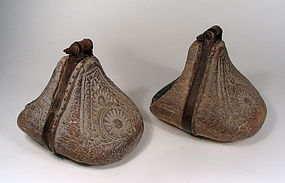 Pair of South American Carved Wood Stirrups, Early 19th C.
W-MS1
DESCRIPTION: A classic and quite old pair of hand carved South American wood stirrups. The Guacho of Argentina, the Morochucos of Peru and the Hauso of Chile all preferred large wooden "shoes" for use as stirrups rather than the more prevalent iron stirrup. These stirrups cover the whole front of the foot, which can be an advantage when riding through tall brush. This pair has good age and obvious usage; we estimate them to date from the early 1800's. Each shoe is carved from a single piece... Click for details
$385 for the Pair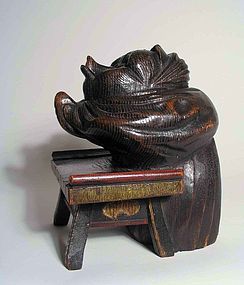 Japanese Wood Mingei Sculpture, Praying Tanuki
FIG86
DESCRIPTION: In Japanese lore, there are countless tales about the mischievous Tanuki, a real animal native to Japan. Masked like a raccoon but big and stocky like a badger, they are said to have supernatural powers to transform into any living or inanimate shape. Often they assume the form of a monk, as our Tanuki does here. This Tanuki okimono is hand crafted from a single piece of wood in the best of Mingei traditions. Dressed as a monk in a long robe, this charming Tanuki stands at an... Click for details
$1,895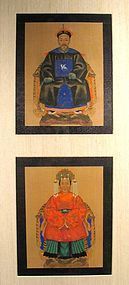 Pair of Miniature Chinese Ancestor Portraits, 19th C., Framed
WD29
DESCRIPTION: A pair of rare Qing Dynasty (early 1800's) ancestor portraits of miniature size, framed in an archival, off-white silk matt. Both figures are seated on horseshoe back chairs with tiger skin drapes, the husband in a bright blue robe with black silk overcoat, his rank badge displayed on his chest; the wife in a bright orange-red coat, teal colored skirt, and elaborate headdress. Both are well painted with detailed, lifelike features. Portraits of this size are very rare as most... Click for details
$1,660
Chinese White and Green Jade Cricket Box
JHS174
DESCRIPTION: A well carved cylindrical jade cricket box, the body carved and pierced from white jade in a leaf and flower pattern, with a dark cyan colored jade lid, pierced and carved in the same pattern. The box is raised on an ebony stand with three feet. Dating from the first half of the 20th C., this cricket box is in excellent condition. DIMENSIONS: 3 1/8" high (8 cm) x 2" diameter.
CULTURAL BACKGROUND: Keeping crickets is a tradition in China, with cricket boxes made in a... Click for details
$1,450
Antique Okinawa Snakeskin Lute, or Sanshin
MS56
DESCRIPTION: A rare and quite old Japanese lute, or sanshin, originating from the island of Okinawa. The sanshin (literally meaning "three strings") is an Okinawan musical instrument, and the precursor of the Japanese shamisen. Often likened to a banjo, it consisted of a snakeskin-covered body, neck and three strings, and was known for its calming tune. This sanshin, dating from the late 18th C. to early 19th C, Edo Period, has a rounded wooden body covered with the original snakeskin on both... Click for details
$1,295
3 Previous
1
11
20
29
35
36
37
38
39
41
43
45
48
Next 4