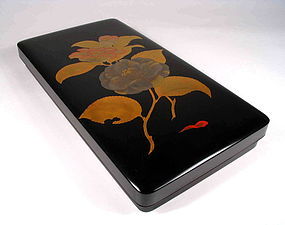 Complete Japanese Lacquer Suzuri-bako Writing Box, Meij
LC34
DESCRIPTION: A skillfully lacquered suzuri-bako (writing box) from the Meiji Period, early 1900's. The lid of the rectangular box is decorated with a takamakie floral design in gold, silver and shu (a hue of red-orange) lacquer on a black ro-iro ground. The interior of the lid and box are sprinkled in a nashiji cloud motif. This suzuri-bako is a complete set, fitted with the original water dropper and inkstone and its original kiri (paulownia) wood box with inscription. Excellent... Click for details
$2,495.00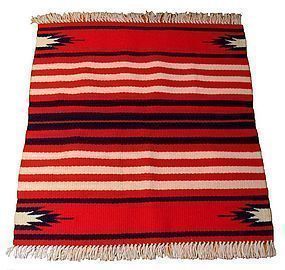 Vintage Native American Chimayo Rug
W-RG8
DESCRIPTION: A small, finely woven Churro wool rug from the weaving center of Chimayo in Northern New Mexico. The patterns on Chimayo textiles are creative masterpieces of design and color. This particular rug is of the "Rio Grande" style with white and navy bands running across a bright red ground. CONDITION: This C. 1940-1950 rug is completely reversible and is in excellent condition with no repairs, holes or stains; the fibers are thick and the colors vibrant. This size textile is... Click for details
$260.00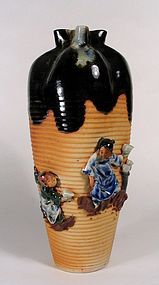 Tall Japanese Sumida Vase, Signed Inoue
CP101
DESCRIPTION: A large and handsome Sumida Gawa vase with ribbed body, high relief figures and pinched neck. A thick, traditional flambe' glaze in dark brown and blue covers the mouth and neck, and flows down the shoulders. Fine attention to detail has been paid to the handmade figures of a boy and girl standing on ledges against the ribbed body. Inoue (Ryosai) maker's mark in pear-shaped appliqué on the back. Early 20th C. (pre WWII) and in perfect condition; no chips or repairs. ... Click for details
$1,295.00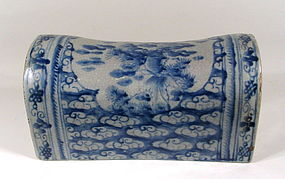 Blue & White Chinese Porcelain Pillow, Qing
CP198
DESCRIPTION: A large Chinese porcelain pillow decorated in underglaze blue with fish and aquatic plants surrounded by clouds. Dating from the 19th C., Qing Dynasty. CONDITION: A few old chips to the rims. DIMENSIONS: SIZE: 10 1/2" long (26.7 cm) x 5 1/2" high (14 cm) x 5" deep (12.8 cm).
$875.00
Chinese Black Lacquer Table Cabinet, 18th C.
CCS86
DESCRIPTION: A small black lacquer Chinese cabinet, the front doors with male and female figures in a courtyard setting gazing onto a lake beyond. The doors are surrounded by a border of pomegranate leaves and fruit with a vase on either side. The top, back and sides are lacquered black with faint floral decorations. Originating from Shanxi Province, this box is in "all original" condition with no repairs or replacements, including the original metal door fittings. CONDITION: Has light... Click for details
$795.00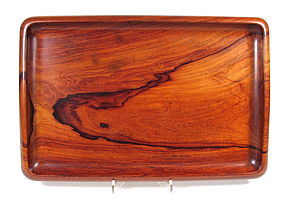 Fine Chinese Huanghuali Tray, Qing
BPB155
DESCRIPTION: An extraordinary Chinese tray, its rectangular form crafted from one slab of huanghuali wood that has been skillfully hollowed to expose the beautiful grain and form the graceful, curved edges. This elegant tray highlights the incredible beauty of this favored Chinese wood and virtually shimmers in the light. Excellent condition with a nice weight to it; from a private collection. DIMENSIONS: 13 1/2" wide (34.2 cm) x 9" deep (22.8 cm).
$3,495.00
3 Previous
1
11
20
29
35
36
37
38
39
40
41
42
43
Next 4