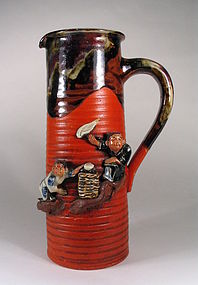 Tall Japanese Sumida Tankard, Early 20th C.
CP152
DESCRIPTION: A large and attractive Sumida Gawa tankard with a red ribbed body, graceful handle, and high relief figures of two children. A traditional flowing flambe' glaze in dark brown and beige coats the top third of the mouth and handle. Fine attention to detail has been paid to the handmade figures of children standing on ledges against the ribbed, cold painted body. On the back in blue characters is the potter's mark of Inque Ryosai, a family of three generations of potters who made... Click for details
$1,125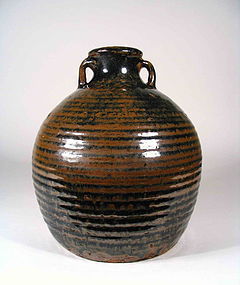 Chinese Jin Dynasty Brown & Black Glazed Stoneware Pot
CP194
DESCRIPTION: A Jin Dynasty (1115-1234 AD) pot / container decorated with a luscious, thick black and brown glaze over a bulbous, ribbed body. Two strap handles are attached to both sides of the short neck below the flared rim. Overall very good condition with small repair to rim. DIMENSIONS: 9 ½" high (24 cm) x 8 1/2" diameter (21.5 cm).
$995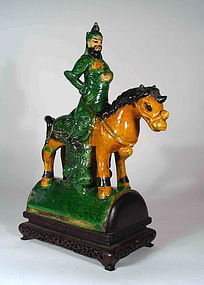 Large Ming Dynasty Roof Tile with Carved Stand
PTF142
DESCRIPTION: A beautifully mounted Chinese roof tile of a Ming warrior seated upon a horse. The bearded soldier, his right hand on his hip, sits erect upon his amber horse which stands on the curved tile base. This earthenware tile has been decorated in a sancai glaze of predominately green and amber colors. A beautifully carved custom rosewood base has been made for this large tile, the base itself probably being over 100 years old. CONDITION: Quite good condition with the usual wear one... Click for details
$2,450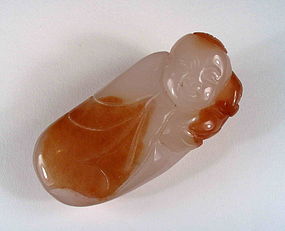 Chinese Carved Agate Rubbing Stone / Toggle
JHS107
DESCRIPTION: A simply carved agate rubbing stone in the form of a Chinese boy carrying a ruyi. The semi-precious stone is pure white with brown inclusions that have been incorporated into the design as the boy's cloak, hat and ruyi, which he carries on his shoulder. A small hole has been drilled through the ruyi at the back of the head for stringing and wearing from the belt as a toggle. Stones such as these were meant to held, rubbed and fondled, with this one fitting perfectly into the palm... Click for details
$345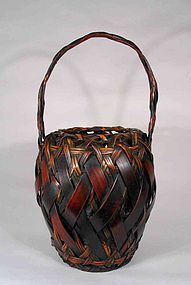 Antique Split Bamboo Japanese Ikebana Basket
BSK71
DESCRIPTION: A fine smoked bamboo ikebana basket woven in a tall ovoid form with entwined bamboo handle. The basket is crafted with a vertical diagonal weave from both wide and narrow splints in contrasting colors. This sturdy and handsome basket has a beautiful aged patina with no losses detected; early 20th century. DIMENSIONS: 18 ½" high x 8 ¾" diameter.
$495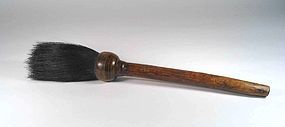 Large Antique Chinese Calligraphy Brush, 19th C.
SCH278
DESCRIPTION: A large wooden scholar's brush used to paint large calligraphy. Thick black bristles are gathered into a bulbous wood ferrule, turned from the same wood as the handle. The tip of the handle is pierced for hanging. A very nice old brush, good for display in large brush pots; 19th C., normal wear as would be expected. DIMENSIONS: 16" long (41 cm).
$195
3 Previous
1
11
20
29
35
36
37
38
39
41
43
45
46
Next 4