Navajo Silver Turquoise Bracelet By Henry Davis
W-JO11
DESCRIPTION: A stunning Navajo sterling silver Bisbee blue turquoise cuff bracelet by Navajo silver artist, Henry Davis. Ten heavenly blue cabochons are set between silver beads and scalloped silver edges which are stamped in a sunburst design. This is a truly beautiful bracelet, very wearable, and in perfect condition with no chipped stones. The inside is hallmarked "HD" and stamped "Sterling." If you desire a bracelet with matching necklace, see the last two photos where this bracelet is... Click for details
$645.00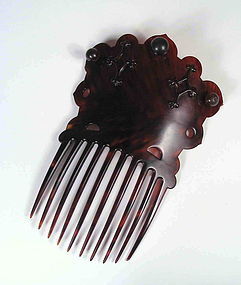 Chinese Export Tortoise Shell Comb, 19th C.
SAO206
DESCRIPTION: A large, ten pronged tortoise shell comb made for the European market (Victorian era, circa 1880-1890). The fashion of the day included large elaborate combs placed in upswept hair, and this one is a real beauty! The curved prongs and scalloped crown are from a single piece of shell which is mounted with three large round beads and two carved triangular designs. Very good condition with only a couple of tiny nits that are difficult to even see. DIMENSIONS: 6 ½" long (16.5... Click for details
$465.00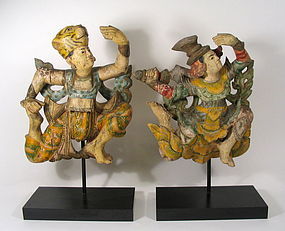 Pair of Antique Carved Dancing Figures from Thailand
FIG80
DESCRIPTION: A pair of polychrome figures engaged in joyful dance, one male and one female, mounted on display stands. These colorful hand carved figures, called "Nats" or nature spirits, are dressed in traditional Thai costumes with the male figure wearing a tiger head cap. Prior to the advent of Buddhism, the Thai people were animists who worshipped a series of nature spirits called Nats. Later these were incorporated into Buddhism and often Nat statues will be found in Buddhist temples. ... Click for details
$2,450.00 for the Pair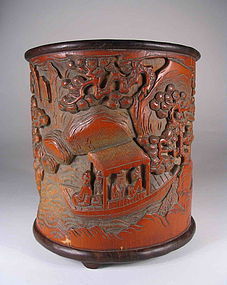 Carved Chinese Scholar's Bamboo Brushpot, Qing
SCH383
DESCRIPTION: A good Chinese scholar's brushpot, carved in deep relief with a continuous mountain landscape scene framed by gnarled pine trees and depicting two groups of scholars, some examining a scroll and others in a boat. The base and rim are encased in hardwood and the pot is engraved with a two line inscription. Very good condition, latter Qing Dynasty, 19th to early 20th C. DIMENSIONS: 6 ½" high (16.5 cm) x 6" diameter (15.2 cm).
$940.00
Large Japanese Sumida Gawa Vase, Signed Inoue
CP103
DESCRIPTION: A large and quite fantastic Sumida Gawa vase with ribbed body, four large figures in high relief, and wide flared mouth. A thick, traditional flambe' glaze in dark brown and white covers the mouth and neck, and flows down the shoulders. Fine attention to detail has been paid to the four large handmade figures, all characters from Japanese lore, standing on ledges against the ribbed body. Inoue (Ryosai) maker's mark in oval-shaped appliqué toward the base, representing a family... Click for details
$1,550.00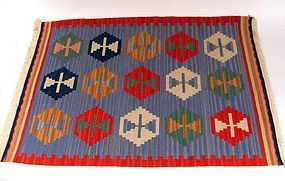 Vintage Hand Woven South American Wool Rug
W-RG10
DESCRIPTION: A colorful hand woven rug with red borders and hexagonal designs on a light blue ground. This flat weave rug is reversible and is in excellent condition (bright colors, thick pile, no stains or losses). After purchase, all of our textiles are professionally cleaned and stored until sold. Sourced in Chile while on a buying trip, this rug would make an attractive area rug or wall hanging. DIMENSIONS: 37.5" long (95.2 cm) x 25.25" wide (64 cm).
$295.00
3 Previous
1
9
16
23
29
30
31
32
33
36
39
42
44
Next 4