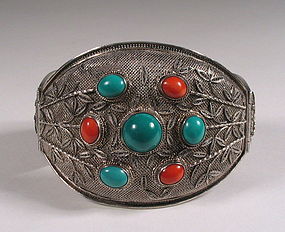 Chinese Silver Filigree Bracelet with Turquoise & Coral Stones
JO64
DESCRIPTION: A lovely, large cuff bracelet crafted from a fine silver filigree mesh with a large center turquoise stone and six smaller stones of turquoise and coral. Around these are raised silver bamboo sprigs decorating the front and two hinged sides. This bracelet is closed with a silver clasp and secured with silver chain. Stamped "SILVER, MADE IN CHINA" on opposing plaques at the clasp. Very good condition; c. 1920's. DIMENSIONS: Interior circumference is 7 3/4" (19.7 cm); adult large... Click for details
$1,050.00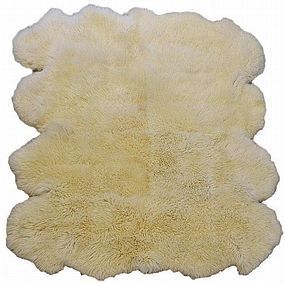 Large White Llama Fur Rug
W-RG11
DESCRIPTION: A white, luxurious, deep-pile llama fur rug with a white hide-leather back. This is the kind of wonderful fur rug you love to walk on (or lay in) during a cold winter's evening. Excellent condition with no fur loss, this rug is very soft to the touch, and would be a plush addition to the back of a sofa, or on a bedroom or lodge floor. It is in such good condition that we are keeping it clean and wrapped in plastic until it finds its new owner. DIMENSIONS: This is a large rug,... Click for details
$995.00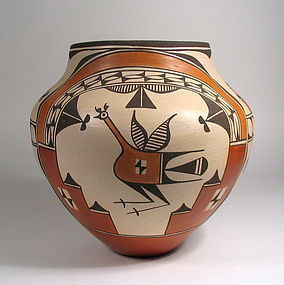 Large Zia Pottery Olla, Elizabeth Medina
W-PT5
DESCRIPTION: A large, hand coiled Zia Pueblo Olla by noted Zia potter, Elizabeth Medina. This well formed pot has high shoulders tapering to a narrow foot, and is painted in four traditional Zia colors with natural sienna, burnt sienna and black designs on a white ground. The design is divided into four quadrants, two with lively, hopping roadrunners under rainbow arcs (a signature Zia design), and two with capped feather designs appearing as orange steps outlined in black with semi-circular... Click for details
$2,150.00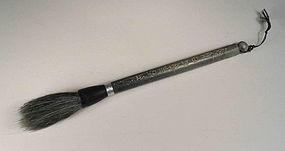 Handsome Inscribed Jade Scholar's Brush
SCH12
DESCRIPTION: A Chinese scholar's calligraphy brush, the brush crafted with natural bristles encased in a horn ferrule. These are secured with a silver band to a pitted green jade handle inscribed with archaic characters and terminating in a round knob. A quality, well made brush in excellent condition, most likely dating to the latter Qing Dynasty to early republic Period. DIMENSIONS: 9 ¼" long (23.5 cm).
$265.00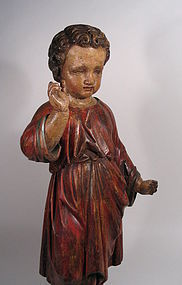 Large Spanish Colonial Santo of the Christ Child, Late 17th C.
W-FIG20
DESCRIPTION: A fine Spanish Colonial carved wood figure (or santo) of the Christ Child. This devotional sculpture was sensitively and realistically carved with the Christ Child standing, looking slightly downward with his right hand raised and wearing a draping red robe tied at the waist. Images such as these were created as objects of devotion, playing a significant role in introducing and educating indigenous peoples in the Americas to the Roman Catholic Church, which itself was an integral... Click for details
$6,250.00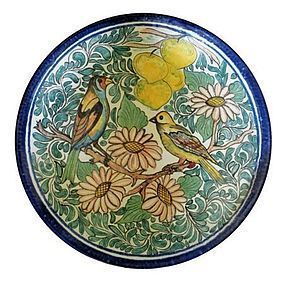 Large Hand Painted Mexican Pottery Platter
W-CP1
DESCRIPTION: A beautifully painted, very large Mexican charger (or platter) with a dark blue outer rim framing two birds perched in a tree, surrounded by scrolling green foliage, large flowers and yellow fruit. Dating from the 1960's, on the reverse is written "Mexico"; the back is pierced with holes for hanging. Excellent condition with no chips, cracks or repairs. DIMENSIONS: A large 18" diameter (45.8 cm).
$655.00
3 Previous
1
8
14
20
23
24
25
26
27
31
35
39
43
Next 4