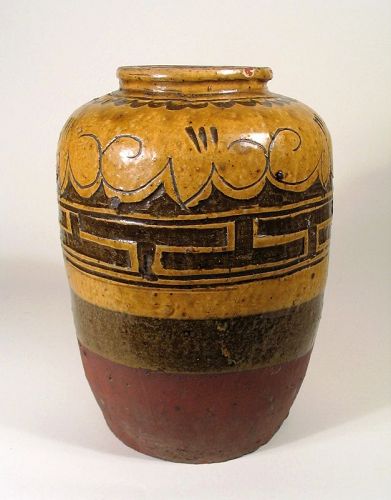 Handsome Chinese Red Clay Oil Jar, 19th C.
GD36
DESCRIPTION: Long acknowledged as masters of porcelain, the Chinese also excelled at pottery making. Qing Dynasty domestic pottery used regional clays and showed distinctive regional styles. This pottery, used for the storage of oil and other household goods, exhibited tremendous, quiet beauty as well as utility. Crafted of red clay and originating from Jiangxi Provence, this handsome jar is an excellent example with its incised geometric decorations in two-toned brown and yellow ochre glazes.... Click for details
$300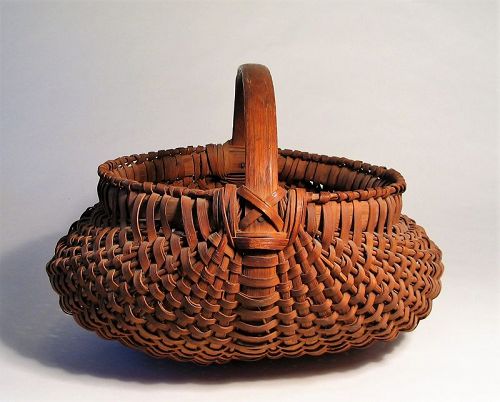 Large Antique Pennsylvania Oak Splint Field or Market Basket
A-BSK4
DESCRIPTION: A very good woven oak-splint basket in lobed buttocks form, used as a field gathering basket or a market basket for goods. This large, late 1800's to early 1900's Pennsylvania basket has a sturdy bentwood handle with bentwood-wrapped rims. CONDITION: Very good with minor age-appropriate usage wear and losses. DIMENSIONS: 20" wide x 14" high x 16.5" deep.
$730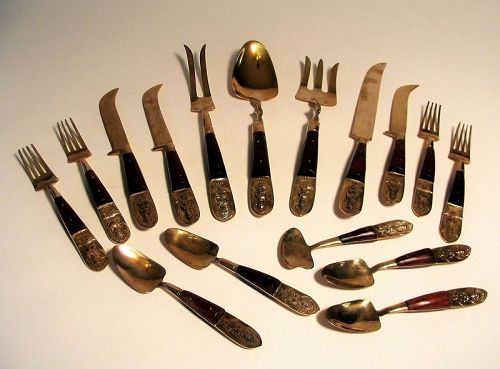 Vintage Thailand Brass & Wood Siam Flatware Set, Original Box
MS64
DESCRIPTION: A complete 29-piece flatware / cutlery set, made in Thailand during the late 1940s to early 1950s. Each utensil is shaped from solid brass and encased between rosewood slab handles, the tips of each with a raised brass figure in court dress and "Siam" stamped at the base. The set consists of dining or dessert cutlery for 8 people (knives, forks & spoons), plus a serving fork & spoon, sugar spoon, and a carving set. Original wood storage box with emerald velvet lining is... Click for details
$120 Set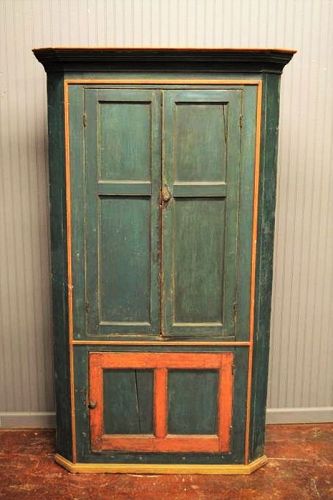 Early New England Corner Cupboard in Original Blue Paint
A-CBL2
DESCRIPTION: An early 19th C. three door country New England corner cupboard in original dark blue paint with reddish trim. The interior is washed with a pale green milk paint and has three shelves in the upper portion and storage space in the bottom. Two door panels have age cracks to the wood. A superb piece for a country interior. DIMENSIONS: 71 1/2" high x 41 1/2" wide x 19 1/2" deep.
$4,985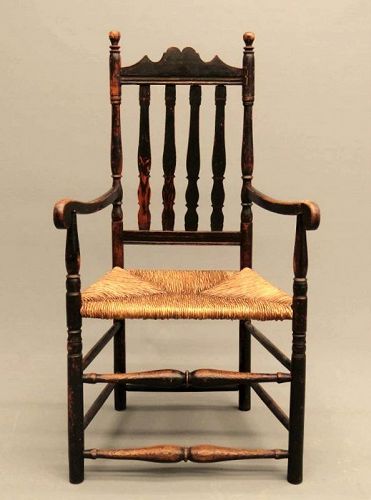 Early American 18th c. Banister Back Armchair
A-CH3
DESCRIPTION: An 18th c. banister back armchair having a scalloped crest rail, turned finials, straight bottom rail, bulbous front spindles, and rush seat. Good condition with age appropriate wear, original black paint. See our listing #A-CH2 for a near match companion chair to make a pair. DIMENSIONS: 23" wide x 19.5" deep x 44.5" high; 18" seat height.
$2,100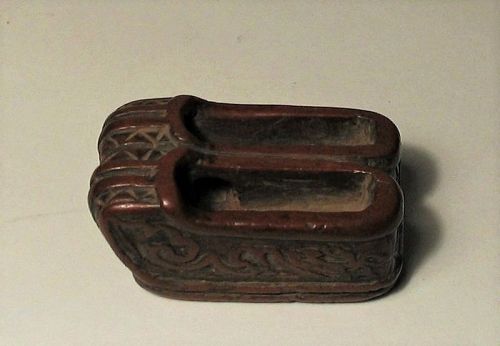 Fine Chinese Toggle of Carved Pair of Shoes
SN117
DESCRIPTION: An antique Chinese boxwood toggle (Guajian) carved as a pair of men's shoes resting side by side, a symbol of marital harmony and the wish for many sons. The shoes are elaborately carved with hollowed interior, relief banding, and incised designs on all sides including the soles. A hole running through the inner sides of each shoe forms the track used for threading cords from which this toggle would have been suspended as a counterweight to some other object. An outstanding... Click for details
$495
3 Previous
1
5
8
11
14
15
16
17
18
26
34
42
49
Next 4