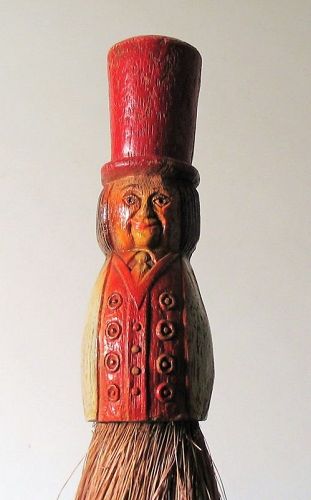 Antique Lint Clothes Brush with Carved Figural Handle
A-UTL5
DESCRIPTION: A whimsical lint clothes brush, the wood handle carved in the form of a gentleman in a formal jacket wearing a red top hat. Most of the original paint remains; the long brush bristles are horsehair. DIMENSIONS: 8" long x 1.5" diameter.
$60
Pair of Tall, Heavily Carved Chinese Doors, Early 19th C.
ARCH13
DESCRIPTION: A pair of substantial, deeply carved Chinese doors originating from Zhejiang province and dating from the early 1800's, Qing dynasty. These handsome, heavy solid elm doors still have all of their original pegs attached, which would have been set into round sockets at the top and bottom, allowing the doors to be opened and closed.
The top panels are carved with flowers and a repeating swastika pattern, the Chinese character meaning good fortune or longevity. A pair of carved... Click for details
$2,195
Antique French Wicker Fishing Creel
A-UTL11
DESCRIPTION: A good woven wicker French fishing creel with lid having a rectangular hole and leather straps attached to the rounded creel body. A long sturdy canvas and leather strap threads through two holes in the back for wearing over the shoulder. The metal maker's tag on top reads "MF, FERAX, MANUFACTURE FRANCAIS" stamped on a raised fish. Early 20th C., good condition with very minor losses to wicker. DIMENSIONS: 13.25" wide x 9" high x 7" deep.
$185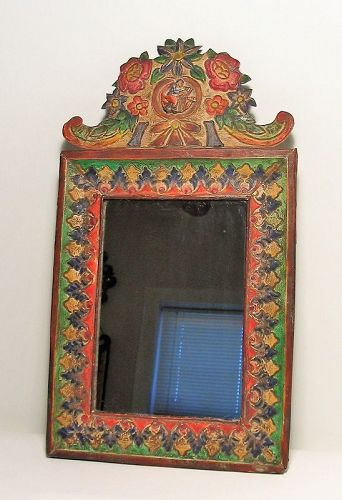 Spanish Colonial Painted Metal Mirror
W-DA3
DESCRIPTION: An antique Spanish Colonial style painted sheet metal mirror, 19th to early 20th C., continental Europe. Acanthus leaves decorate the painted border, topped by an elaborate floral crest with center figural medallion. PROVENANCE: From the Collection of Eugene V. and Clare E. Thaw. CONDITION: Good, few minor dents to sheet metal. DIMENSIONS: 19.25" high x 10.75" wide.
$325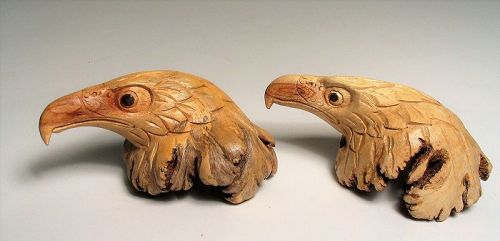 Pair of Hand Carved Burl Eagle Heads, Chinaberry Wood
A-FIG3
DESCRIPTION: Two well carved burl eagle heads with fierce, proud eyes, hooked beaks and puffed, feathered necks. On the reverse of each you can see the highly intricate structure of the burl wood from which they were taken. This folk art artisan carver captured the majesty and essence of the USA's national symbol, the Bald Eagle. The wood is from the Chinaberry tree which is native to Southern Asia, Australia and Oceania; however the tree was introduced to the American Southwest and Mexico by... Click for details
$135 Pair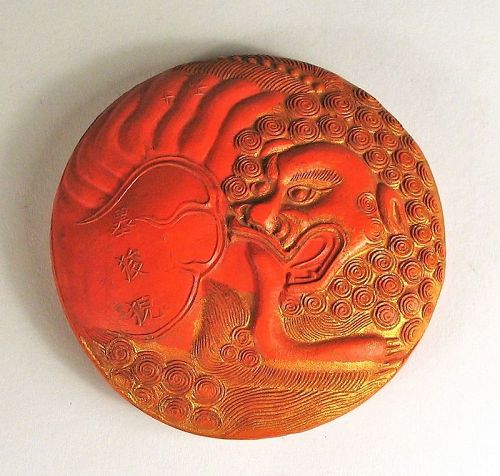 Antique Chinese Red Ink Cake with Original Box
SCH388
DESCRIPTION: A fine red and gilt Chinese scholar's ink cake in circular form with the front and back molded in relief in the form of a foo dog (shi shi) with tightly curled mane. Both the front and back have raised Chinese characters in relief. Excellent condition in original box, and dating from the first quarter of the 20th C. or earlier. DIMENSIONS: 2 ¾" diameter (7 cm).
$395
3 Previous
1
2
3
4
5
6
7
8
16
24
32
40
46
Next 4