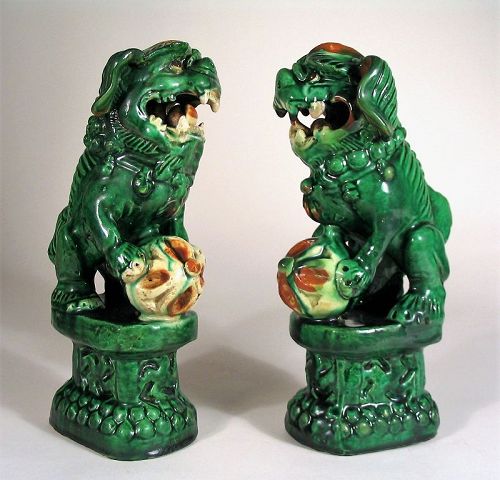 Early Pair Antique Chinese Pottery Foo Dogs, Qing
PTF148
DESCRIPTION: A fierce pair of Chinese pottery foo dogs, early Qing, 18th/19th C., covered with a heavy green glaze and seated on pedestals. Each bares its teeth ferociously while holding a ball between their front paws as well as in their mouths. Good detail with finely ribbed backs and curled manes. Very good condition. DIMENSIONS: Each approximately 9 ½" high (24 cm) x 5" wide (12.7 cm).
$985.00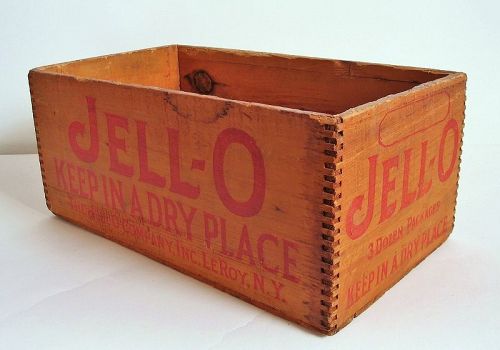 Vintage Jell-O Advertising Crate
A-BSK13
DESCRIPTION: Vintage wood advertising crate with "Jell-O" and other messages stenciled on four sides; dovetailed corners. Good condition, expected usage ware, sturdy. DIMENSIONS: 14" long x 6" high x 8"deep.
$195.00
Handsome Vintage S.E. Asian Fishing Creel
BSK79
DESCRIPTION: An attractive Asian fishing creel, fashioned from woven split bamboo with wood base and neck, and an attached tightly woven string for hanging. A creel is used for carrying fish or blocks of peat moss which function as an evaporative cooler when dipped into a creek, keeping the catch chilled. This type of creel with a woven, partially open top can also be used to catch lobsters and other crustaceans. Good condition with a nice aged patina. DIMENSIONS: 9" wide x 11" high x 6... Click for details
$225.00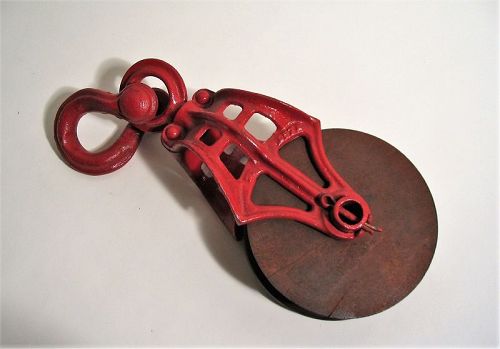 Vintage Cast Iron Pulley with Wooden Wheel
A-UTL7
DESCRIPTION: This wonderful old pulley reflects the beauty of vintage industrial design and today makes a decorative accent in a country, farmhouse or industrial decor. The pulley is a simple machine that, when used with a rope, will reduce the amount of force needed to lift a load. On this pulley, the heavily cast pierced iron shaft and swivel eye are painted red, and are attached with a snatch pin to a grooved wooden wheel. Excellent, workable condition. DIMENSIONS: 13 ¼" long; wheel... Click for details
$120.00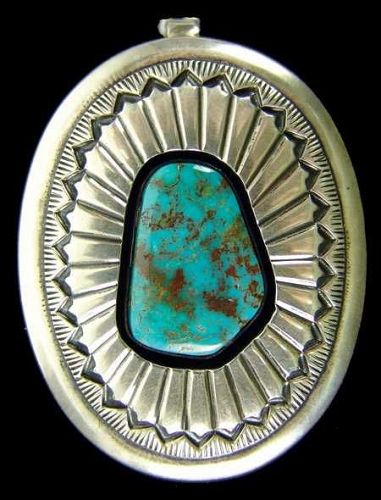 Navajo Sterling & Turquoise Pendant by Ernest Bilagody
W-JO33
DESCRIPTION: A fine hand stamped sterling sunburst design pendant with a large, high quality Cerillos mine turquoise stone set in shadowbox style. Reverse is stamped, "E. Bilagody, Sterling." A Navajo silver artist, Ernest Bilagody is based in Gallup, NM. Late 1900s, excellent condition. DIMENSIONS: 2-1/4" x 1-5/8"
$475.00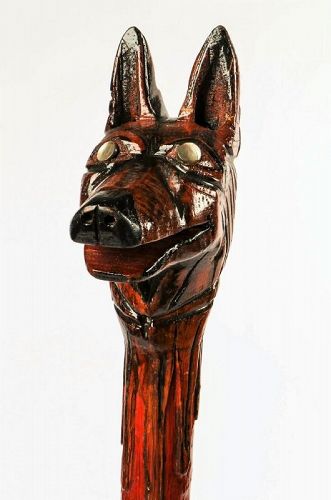 Carved Wood "Wolf" Folk Art Cane, Milton Jews
A-FA7
DESCRIPTION: A carved wood cane by Philadelphia carver, Milton Jews (American, b. 1932), with a wolf head grip having abalone eyes, and leaf carvings winding down the shaft of the stick. "J3881" is stamped on the lower shaft near the artist's stamped name, "Milton Oliver Jews." The word "Windy" is carved in bold relief on the opposite lower shaft. The cane is accented with an aluminum ring toward the neck for attaching a strap or cord to wear the cane over the shoulder, and a... Click for details
$495.00
3 Previous
1
2
3
4
5
6
7
8
9
18
27
36
43
Next 4