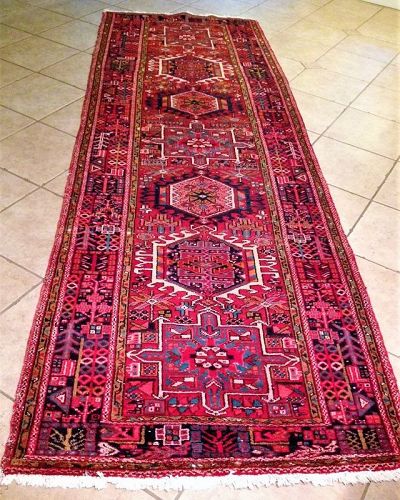 Beautiful Semi-Antique Persian Karaja Hand-Knotted Wool Runner
RG20
DESCRIPTION: A semi-antique wool Karaja runner with very good color, mostly in red with teal blue, white & black accents. Seven central medallions (a characteristic of Karaja rugs) are surrounded with a wide border having intricate designs. Karaja is the home of some of the finest runners made in Iran of which this is a good example. This hand-knotted carpet is in good condition with ample pile that will give years of service. DIMENSIONS: 3'9" wide x 11'6" long.
$2,770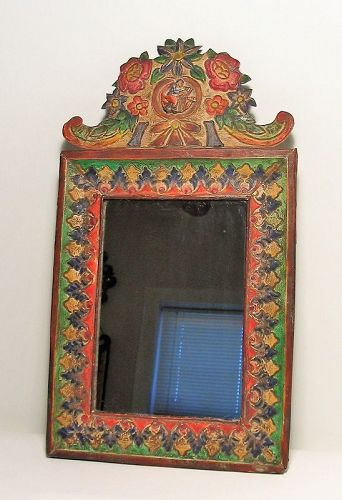 Spanish Colonial Painted Metal Mirror
W-DA3
DESCRIPTION: An antique Spanish Colonial style painted sheet metal mirror, 19th to early 20th C., continental Europe. Acanthus leaves decorate the painted border, topped by an elaborate floral crest with center figural medallion. PROVENANCE: From the Collection of Eugene V. and Clare E. Thaw. CONDITION: Good, few minor dents to sheet metal. DIMENSIONS: 19.25" high x 10.75" wide.
$325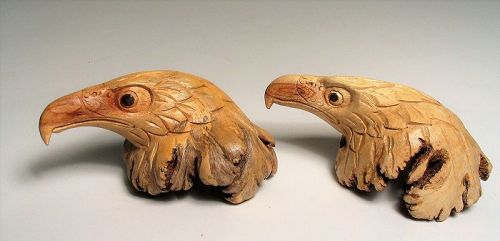 Pair of Hand Carved Burl Eagle Heads, Chinaberry Wood
A-FIG3
DESCRIPTION: Two well carved burl eagle heads with fierce, proud eyes, hooked beaks and puffed, feathered necks. On the reverse of each you can see the highly intricate structure of the burl wood from which they were taken. This folk art artisan carver captured the majesty and essence of the USA's national symbol, the Bald Eagle. The wood is from the Chinaberry tree which is native to Southern Asia, Australia and Oceania; however the tree was introduced to the American Southwest and Mexico by... Click for details
$135 Pair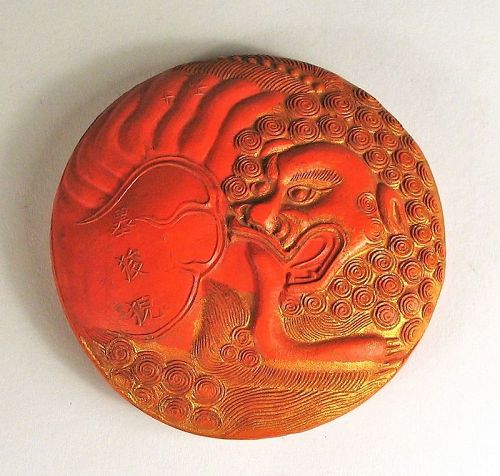 Antique Chinese Red Ink Cake with Original Box
SCH388
DESCRIPTION: A fine red and gilt Chinese scholar's ink cake in circular form with the front and back molded in relief in the form of a foo dog (shi shi) with tightly curled mane. Both the front and back have raised Chinese characters in relief. Excellent condition in original box, and dating from the first quarter of the 20th C. or earlier. DIMENSIONS: 2 ¾" diameter (7 cm).
$395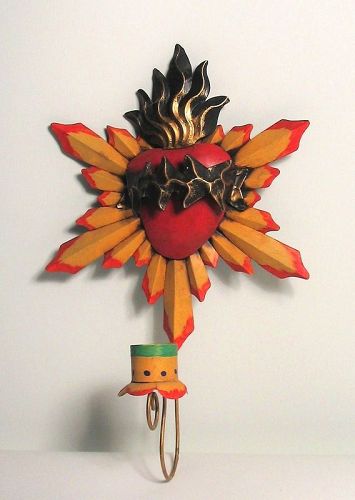 Vintage Mexican Painted Metal Sacred Heart Candle Holder
W-FIG33
DESCRIPTION: A painted metal devotional candle holder depicting the Sacred Heart of Christ with a yellow sunburst design behind a heart with flames and crown of thorns. Wall mounted with hanger on reverse; very good condition; Mexican. DIMENSIONS: 12.75" high x 9" wide.
$75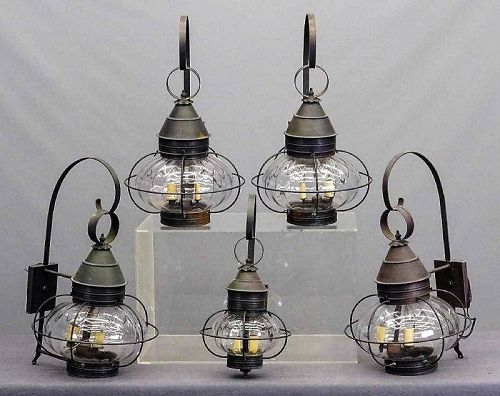 Set of Five Large Vintage Outdoor Caged Onion Lamps / Lights
A-MTL11
DESCRIPTION: A wonderful set of vintage outdoor metal and glass 'caged onion lamps.' It's rare to acquire a full set of vintage outdoor lighting in such good condition. These lanterns are of a nice larger size with tall upper metal hooked hangars and with the original (and wonderfully squatty) large glass onion globes. Contemporary reproductions of this traditional outdoor lamp tend to be smaller in size. This set comes from a New York estate, and would be an eye-catching addition to a... Click for details
$1,200 For all five
3 Previous
1
2
3
4
5
6
7
8
9
19
29
39
48
Next 4